Jul 01, 2021 08:00 PM
CHINA
Blog: Rural Living Offers No Escape From Frantic Urban Work Culture
Hu Siqin sits in a greenhouse on March 10 in Kunming, Southwest China's Yunnan province. Photo: Liang Yingfei/Caixin
Standing in socks and overcoat, Hu Siqin knocked at her neighbor's door and asked to buy some potato seeds. The look she got reminded her she was most definitely still an outsider.
As the megacities of China grew louder and more frantic, Hu headed in the opposite direction. Joining peers who attempted to make a life for themselves in China's villages, she discovered that the idyllic haven she sought was an urban fiction.
In search of green acres
"What do you want with the potato seeds?" asked her neighbor. A month had gone by since Hu had arrived in Yuning village, and the locals had no clue why this strange shoeless girl was there. The city girl, former host of huge commercial events when living in Shanghai, spent much of her time in the village hiding behind her capable friend Huang Bin.
Hu plants potato seeds. Photo: Liang Yingfei/Caixin
It was 32-year-old's second year as a farmer. In Shanghai, Hu had built an eight-year career of supply-chain management and marketing. She chaired her university's alumni association and volunteered at an eco-farm. She was a passionate practitioner of taichi. But the years as an affluent white-collar worker whom her family believed could finally stand on her own two feet, didn't give Hu to life she craved. So she headed for the exit.
"I've got some hidden traits — I am innately rebellious and reflective," she explained.
The more parties she attended, the more lonely and untrue to herself she felt. Satisfaction was instead found in the time she put in at the eco-farm, picking and processing vegetables herself. Hu turned freelance, moved to the outskirts of Shanghai, and started to live by what she could grow. In 2021, she went further, moving to the mountains of Yunnan. Her ideal was a life filled with farming and random pastimes, 50-50.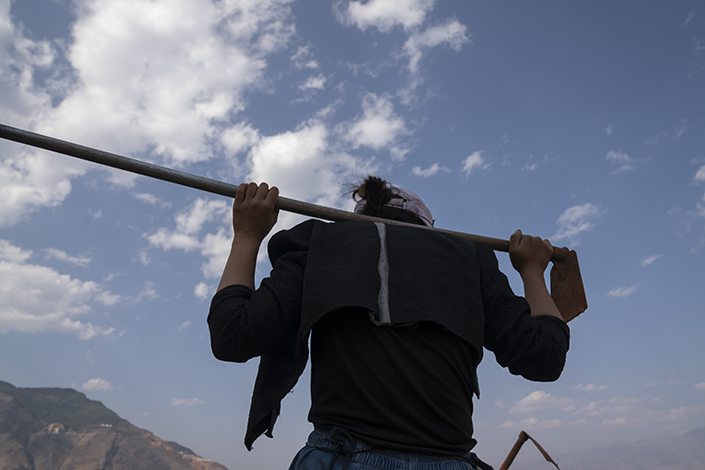 Hu prepares to plow the field on March 8. Photo: Liang Yingfei/Caixin
Yuning is located high in the Dongchuan mountains near Kunming, the provincial capital. Surrounded by forest, the village is populated by old men and women, and their cattle. The newcomers were nothing if not conspicuous. Hu's friend Huang told the neighbor they wanted to grow the potatoes to eat. Hesitantly, and perhaps because they were willing to pay, the neighbor let them in.
"Wow, so these are the seeds!" Hu exclaimed. Under dim light, the purple buds of the potatoes grew freely: some were already half a meter high. Born and raised in the city, Hu had never seen anything like it. "These are for the cattle," their neighbor explained. "The actual seeds don't bud like this." Hu smiled and stayed back, waiting for Huang to get the seeds so they could go.
Disenchanted dreams
Hu planted her newly acquired seeds all around the yard. Her rented home came with a field, a cowshed, a pigpen and a stable. She used the cowshed as a living room, furnishing it with a tent. Huang slept on straw in the loft.
Hu stands under the sun. Photo: Liang Yingfei/Caixin
Hu hardly cooked. At night, she would throw a few potatoes on the embers of the fire. Burned or not, they would be breakfast. "Simple food is fine. A roasted potato is good enough for me," she said. Aiming to minimize the amount of time spent on farming, Hu cared little about the quantity and quality of her yield: as long as there was enough to eat, it was OK. She refused to use fertilizer, believing crops should grow naturally. This would stop farming from being such a fuss, and free people up to do other things, she thought.
Hu spent the majority of her time on hobbies. Every morning, after waking, she would dance and read and sew. At noon, she surveyed her farm, taking breaks to appreciate the place, with the hope of making farming more interesting.
Hu tries to replace a lamp in the house she rents on March 10. Photo: Liang Yingfei/Caixin
It wasn't long before reality took hold. She had promised to help her landlords — retirees from the city — grow seedlings, dig the land, and treat the waste. Proving herself useful, Hu was soon offered full managerial responsibility. But this meant moving further from the "50-50" lifestyle she had in mind. The exhaustive and repetitive work corroded Hu's idyll. Deciding to travel, she quit her new role, "I was too impulsive and didn't think through my decision. It's my fault," Hu wrote in the note she left the couple. With that, Hu packed up and left. The potatoes she had planted in the yard had not yet budded.
Hu and her friend Huang Bin walk back home after finishing their work in the field. Photo: Liang Yingfei/Caixin
Wake-up call
By mid-April, Siqin was ready to leave Yunnan altogether. Standing by the water's edge in Tianlin county, she took a deep breath. The place she had started her rural journey was to be where it ended. For this plateau above Lijiang had "greatly disturbed" her.
Hu and her boyfriend take in the view of the river in Lijiang, Yunnan province, on April 13. Photo: Liang Yingfei/Caixin
She had visited here before traveling to Yuning village. Tianlin was a place that has fully inherited "dongba" traditions. Situated in the hills next to the river, the village was home to Naxi people who continue to practice their traditional lifestyle. Hu had joined the villagers in slaughtering and sacrificing animals and celebrating local festivals. Experiencing the warmth of the neighborhood, a week later, as her fellow travelers returned to their lives in the city, Hu settled by the river in a tent. She tried to live like a local: rearing horses, chopping logs, farming a small piece of land. She even planned to build a house.
The Naxi residents were extremely hospitable, helping Hu take part in all aspects of village life. They worked together, and her hosts took her around different households and told her countless stories about the place. After staying for a while, however, Hu realized that behind the tranquility, there were complicated networks among the people that were no simpler than in the city. She began to feel overwhelmed.
Hu's personal space was further reduced when the village decided she wasn't to cook or eat alone, due the potential danger of causing a forest fire. She was urged to eat with the neighbors every day. She preferred vegetables, but the Naxi people love meat. The loss of freedom to eat when and what she chose started to wear thin.
Hu's status as a single woman also began to send unwanted attention her way. Once it was known that she planned to settle there, villagers grew cagey, advising her not to stay alone as there were many single men in the village. Walking along field paths, people would come and talk to her, saying that the village might not be a suitable place for her to stay. The local Naxi tribal leader explained that the "rule of mountain and water" meant he would wash his hands of responsibility for anything she might do wrong.
Hu was nervous. She didn't know if she had offended any villager personally, but she knew she was the focus of discussion. Like a marble thrown into a lake, she was doomed to sink. Her first attempt at adapting to life in the village thus ended in failure.
Relocating to the Yuning with fewer people and fewer rigid rules, Hu expected to face less social pressure and enjoy more personal freedom. Yet, the second attempt had also ended in failure. She began to see her future elsewhere.
A view of the village where Hu tried to settle the second time, located outside Kunming. Photo: Liang Yingfei/Caixin
Her return to Tianlin was to say goodbye — goodbye to the place and to the utopia she once imagined China's countryside to contain.
She stayed at the farm of a Naxi couple on the river bank. She helped her hosts with peanut planting and fed their lambs. The gossip and invitations to dine or work together didn't bother her this time. She knew her visit would be short.
The day before she left, Hu met up with all the villagers she knew. They passed comment on her "misdeeds," such as living alone, not following the customs, and drying her pajamas on the villagers' shrine. Siqin found it impossible to argue. She was a city girl. Living independently, not bothering others wherever possible — in the eyes of the villagers, these things appeared odd and unreasonable, but to her, this was the most comfortable way to live.
With her new knowledge, Hu was over the countryside. She knew now that escaping the city did not mean liberation by any stretch of the imagination.
Departing from Yunnan, Hu said she was still unwilling to be tied up to any one place for long — she wanted to explore the world first.
She traveled to Chengdu and applied for a job, but got cold feet at the requirement to check in and out and so canceled the interview. "Maybe I'll be a barista, or a masseuse, or a shepherd. All of these are things I want to experience."
Online, she is known as, "No spare part." Her social media account bio reads: "Admits she's a cog in the machine, but still does not surrender!"
Translated by intern Zhao Shunji.
Contact editor Heather Mowbray (heathermowbray@caixin.com)
Download our app to receive breaking news alerts and read the news on the go.
Get our weekly free Must-Read newsletter.
Share this article
Open WeChat and scan the QR code

Caixin China Biz Roundup: Hong Kong 'Homecoming' Listings