EHang Drone Wins Approval to Fight Fires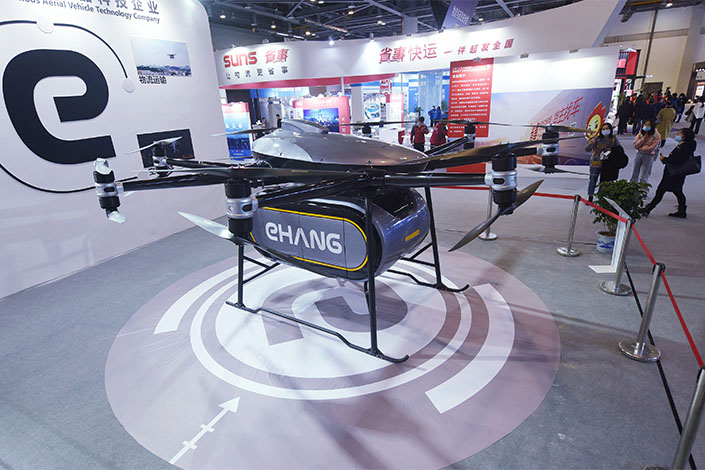 A variant of EHang's flagship autonomous passenger drone has passed a government-recognized technical verification, paving the way for its commercialization as an aerial vehicle capable of fighting fires in high-rise buildings.
The verification, conducted by the China National Firefighting Equipment Quality Supervision Testing Center affiliated with the Ministry of Emergency Management, took 10 months, during which the EHang 216F completed 52 tests involving flight control, hovering accuracy, high- and low-altitude flights, electromagnetic compatibility and resistance against radiant heat and smoke, EHang said in a statement Tuesday.
Completing the verification gives EHang an edge in its efforts to accelerate the commercialization of the EHang 216F domestically and overseas, said the company. The Guangzhou-based startup is touting its autonomous aerial vehicles to several foreign governments for possible involvement in their urban air mobility systems, under which autonomous drones are used for tourism, passenger transportation and aerial logistics.
EHang unveiled the EHang 216F in July 2020, describing it as the world's first large-payload, self-flying vehicle for high-rise firefighting.
The EHang 216F is capable of flying a maximum altitude of 600 meters (1,968 feet) and carry up to 150 liters (39.6 gallons) of firefighting foam. It uses a laser-guided targeting system to lock the direction of its spray, and can be controlled remotely, making it faster than human firefighters in responding to a blaze, the company said.
Related: EHang Unveils Long-Range Self-Flying Vehicle for Intercity Travel
Contact reporter Ding Yi (yiding@caixin.com) and editor Heather Mowbray (heathermowbray@caixin.com)