Opinion: As Nature Fights Back, World Needs to Mobilize to Cut Emissions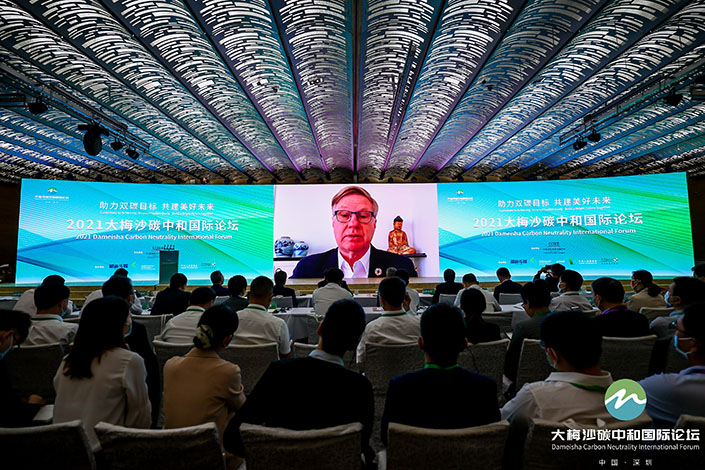 Former U.N. Undersecretary - General Jan Mattsson speaks via video link at a forum Sunday in Shenzhen, South China's Guangdong province. Photo: Caixin
Over time, humankind has become increasingly disrespectful of nature. Nature is now fighting back, and people are gradually realizing that it has the upper hand. If we don't act promptly, there will be irreparable consequences for the planet and its people. We must mobilize on a broad front across nations and sectors of society to reduce emission of greenhouse gases.
The commitment of the Chinese leadership is laudable. The dual goals set by China — carbon emission peak by 2030 and neutrality by 2060 at the latest — are ambitious and certainly not trivial to meet. The current electricity shortages in China are stark reminders of this reality for people and businesses.
I've witnessed over the years not only the success story of economic development in China but also the responsibility China takes in its role as a leading nation in the world. I worked with the United Nations in Beijing at the time and recall well our close interaction with the government before and after China decided to sign the Montreal Protocol in 1991, committing to replace ozone-depleting gases, like freons in refrigerators. China had 10 years to achieve this goal and was able to move faster.
Even though the challenges are greater now, I do believe that carbon neutrality is something China can and will achieve precisely because it has set its mind to it. China has a history of living up to its commitments. Ideally the carbon neutrality target could be reached even before the 2060 timeline. It will require resolute action, not only by government at different levels but by business, and by every citizen in their personal consumption. Innovation and behavioral change that break away from destructive practices and habits, will be of the essence.
Part of China's success story in recent decades is that she has always carefully studied different practices in other parts of the world, adapted those that make most sense and increasingly invested in local innovation, and research and development.
Frankly, taking a global view, there are plenty of examples in industrialized countries of what not to do. Yes, we can learn from these too. Turning to good practice however, no country is a great all-round model of what to do. Some are better than others, but none is perfect or even good enough. Not yet. But there are positive experiences that can serve as inspiration.
At the level of government, I would single out a few areas of importance:
- Make progress toward ambitious net-zero targets for countries, like Finland by 2035, or Germany by 2045 — if you look at a larger, traditionally coal-based industrial country.
- While more and more cities are setting carbon neutrality targets, they all should. Copenhagen is an interesting model, with carbon neutrality already targeted for 2025.
- Set high carbon taxes, like Sweden, which was the first to introduce fuel taxes. China and most countries have hesitated about broader industrial carbon taxes but they would be helpful.
- Adopt subsidies for electric cars, where Norway is in the lead, and energy conservation or renewable energy, like in the EU, where the bulk of such subsidies have been made.
- Phase out coal-fired power plants like in France, the U.K. and Italy. Many more countries have pledged to stop building new plants, and China recently committed to stop investing in them abroad.
- Support regulation of carbon markets and innovation in carbon trading. Follow the outcome of COP26 for steps toward better regulated markets and learn from fast developments in the area. China has made progress this year, but work remains to be done, and carbon credits are too cheap in China to provide the best incentives.
- The last in my short list of opportunities for strong government action would be in the area of innovation support, where again the EU as a good example.
Financial institutions and investors play an increasingly important role internationally. This is a positive development, with stock markets and investors expecting adherence to responsible social and environmental standards simply because it makes sense for their profit line.
For investors, and for companies, I recommend the World Benchmarking Alliance (WBA) for inspiration from good business practices that contribute to sustainability. The WBA has identified the 2000 most influential companies around the world. Depending on your sector, take a look at those industry leaders who are doing the best job, learn from them, and try to do better than them. This will not only attract good investors, but also top staff who are increasingly concerned about these things, and consumers who are mindful of their carbon footprints.
All industrial sectors have the possibility and obligation to reduce their carbon footprints. While fossil-based energy generation, transport, steel, cement and other high-emitting industries are top priorities, there are other examples, such as the construction industry, where better building designs, construction methods and materials can make a big difference from a climate viewpoint.
I would like to make a strong pitch for science-based net-zero targets, data-driven smart city innovation and new, innovative ways of measuring greenhouse gas emissions.
I have argued that everyone has a role in achieving carbon neutrality. I must however point out the special responsibility of those industrialized countries that over the years, since early industrialization, have emitted most greenhouse gases. We know that carbon dioxide stays in the atmosphere for hundreds of years.
Obviously, those who have contributed most to this accumulation have the biggest responsibility. The rich industrialized countries need to put more money on the table for climate adaptation and mitigation in the global south. Their financial contributions have so far been inadequate.
In summary, there is both a great need and great opportunity for international cooperation. This includes agreements under the U.N. umbrella, funding, transparent sharing of reliable and timely data on emissions and sinks, sharing of best practices and technology, and it includes responsible business practices along complete supply chains across countries.
Jan Mattsson is chairman of Everimpact and a former undersecretary-general of the United Nations. The article is based on his remarks delivered at the Carbon Neutrality Dameisha International Forum on Sunday.
The views and opinions expressed in this opinion section are those of the authors and do not necessarily reflect the editorial positions of Caixin Media.
If you would like to write an opinion for Caixin Global, please send your ideas or finished opinions to our email: opinionen@caixin.com
Download our app to receive breaking news alerts and read the news on the go.
Get our weekly free Must-Read newsletter.
You've accessed an article available only to subscribers
VIEW OPTIONS
Share this article
Open WeChat and scan the QR code