On a December night, a glistening beam of light appears on a bare precipice under an ink-black dome and dances across the surface like a piece of gossamer in the wind. As the darkness becomes denser, the light grows stronger, finally casting a scene of flowing water on the near-vertical precipice. The glittering flow seems to cling to the gray cliff.
Liu Jiayu, creator of three-dimensional light projection "In the Flow," is a 31-year-old multimedia artist. She made the work by projecting images of running water on the cliff's surface. "I hope that my work can activate, instead of terminating, viewers' imaginations," the young artist said in a behind-the-scenes documentary.

Liu's work In the Flow
Creation of 'In the Flow'
Last July, Liu was invited to Alila Yangshuo, a hotel in Guilin, South China's Guangxi Zhuang autonomous region, to participate in an event. As she was pondering where to create her next work, she was attracted to the karst mountain her hotel room overlooked.
"I suddenly noticed that the balcony faced a mountain. Against the mountain's dark backdrop, a beam of faint white shone upon its surface. Maybe it was at that very moment I experienced an illusion — I saw white light flowing with an indistinct shade of blue appearing at the precipice," Liu recalled. "I decided immediately that it was the work I wanted to make."
Alila Yangshuo
Karst is a geographic landscape characterized by caves and sinkholes formed from the dissolution of limestone and other soluble rocks. These jagged karst landforms have given Guilin a reputation as one of the most beautiful cities in China. A Chinese saying goes "Guilin's scenery is the best under the heaven."
But it is not an easy task to create art on such a huge precipice. First of all, Liu and her team used a drone to create a 3D model of the mountain. Next, they used this model to map out a representation of a flowing stream of water with the same color-gradation effect often seen in traditional Chinese paintings. They also had to find an appropriate spot to arrange six projectors in a way that could precisely project the color-graded segments on a rockface 100 meters away.
In early October, Liu and her team conducted the first 3D drone scan. However, only when they tested the projectors on Dec. 21, did they find the plants along the bottom of the cliff had grown taller and obscured the projection. After four days of elaborate adjustments and continuous tests, they finally presented an ideal version that later became "In the Flow." On the evening of Dec. 26, a rock-climbing instructor was invited to climb the cliff to express the creator's intention to "encourage more people in adversity."
Liu and her creations
Born in Shenyang, Liaoning province, in 1990, Liu moved to Beijing at the age of 10. In 2012, she studied information experience design at London's Royal College of Art (RCA). The courses — programming, data visualization, spatial physics installation and sound creation — were all completely new to Liu.
Under this pressure, Liu put her nose to the grindstone. "I was always the first to arrive in the morning, and the last to leave at night," she said in an interview. However, soon after she began studying programing, she found it was not as difficult as she thought. "Once you know how expensive it is to hire a coder, you will naturally find a way to do it yourself," she said.
In 2014, Liu graduated from RCA, producing as her final piece "Within Invisibility."
Liu's work Within Invisibility
"Within Invisibility" is an installation consisting of 80 fans, which churn out wind based on real-time wind speed data from 40 Chinese cities. If you visit this installation at the RCA's Hockney Gallery, you can "see" the wind from 40 Chinese cities.
Liu's work Within Invisibility
Over the past few years, Liu has been prolific. In 2017, she found a small stream running through the Great Wall on the outskirts of Beijing. First, she dammed the stream at certain points to perform a 3D field scan of the dry riverbed. She then used this scan to create a concrete sculpture 8 meters long by 3.5 meters wide. Liu used programming software to generate a fluid simulation and rendered it in real time. Finally, with six high-definition projectors, a stream flowing through the Great Wall was flowing into a London gallery. "The Riverside" was Liu's first digital projection work.
Liu's work The Riverside
Making use of technology, Liu is able to turn remote objects into data and use that data to create her installations.
In her 2017 work "Iceland," Liu Jiayu transplanted a digitized iceberg from Iceland to a tropical landscape in Sanya, Hainan province. With her innovation, even the sunny island on the other side of the world was able to enjoy a "digital iceberg."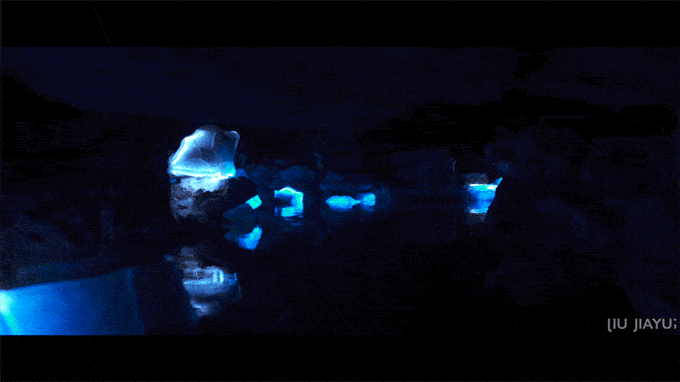 Liu's work Iceland
That year she also produced "Ocean Wave," which transplanted a wave into an interior space. As technical as the process's details may be, viewers really felt as if they were inside an ocean wave — even though the "wave" was actually made up of subtle varied-gradient blue and white bands of light captured by time-lapse shooting.
Liu's work Ocean Wave
In 2019, at the invitation of the government of the U.K. city of Manchester and British art institution Future Everything, Liu created the immersive mixed reality interactive work "Tracing the Sky," which presented a nightscape via augmented reality technology. It was later on display at the Manchester International Festival.
Through 3D scanning and digitization, Liu was able to bring Victorian-era buildings thousands of miles away to viewers in a hall. Immersed in the space's light and shadow, viewers can listen to natural sounds in real time. It took six months for Liu and more than 30 technicians to complete the work, and achieved major technological breakthroughs in augmented reality and architectural structure capture.
Liu's work Tracing the Sky
With the increasingly tight connection between art and technology, Liu's installations and films have been widely reported on by international media. Her works have been exhibited in many galleries, including the Victoria and Albert Museum, Watersman Art Centre, Helen Hamlyn Centre for Design and the York Art Gallery. Liu was also shortlisted for the Lumen Prize and Aesthetica Art Prize and has collaborated with numerous brands and commercial projects.
Many viewers are surprised by the aesthetic and poetic substance conveyed by Liu's tech-based works. A line which was originally used to describe "Tracing the Sky" seems to capture her view of the world and artistic approach most perfectly — "Mountains and rivers, lakes and oceans can all be brought into poetry."
Liu Jiayu
This article was first published by Xiangwai, an art-sharing platform. To read the full version in Chinese, click here.