Cheers, Jeers for a Not-Your-Daddy's PE Fund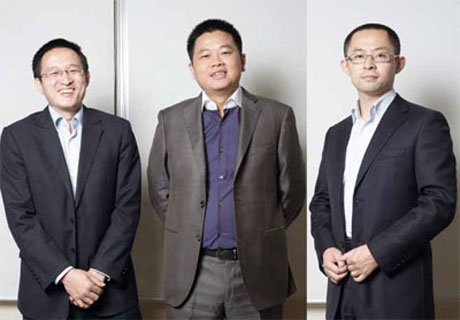 From left to right, Wu Gang, chairman of Jiuding Capital, and fund partner Tan Zhenyu and Huang Xiaojie
(Beijing) – China's private equity sector is shivering in a figurative winter for initial public offerings – the traditional cash-out route for exiting PE investors – that's now in its second year with no end in sight.
But so far the freeze has not affected a maverick PE fund backed by a team of young Chinese financiers whose unusual strategy has turned heads and, in some cases, enraged competitors.
Jiuding Capital, with about 20 billion yuan under management, is doing well in spite of angry rivals and critics who say the fund's executives are breaking rules, hurting the market and setting themselves up for a big fall given the lack of IPO demand.
Jiuding indeed has been forced to adjust its business, company Chairman Wu Gang said. The fund recently diversified by launching two venture capital funds, for example, and has been looking at other business opportunities.
Moreover, to beef up revenues, the fund increased client management fees to 2 percent annually – the industry standard in China – from what had been a discounted, one-time charge of 3 percent that left competitors grumbling.
Internally, the fund's partners are debating whether to stick to or modify their successful but controversial "assembly line" investment model, through which financing is arranged for a never-ending stream of new and rising companies touting IPO plans. Targets range in total investment size from 500 million to 1 billion yuan, a source said.
Some partners say the fund should change with the times by focusing instead on satisfying client demands for fixed income services, mergers and acquisitions, and venture capital initiatives.
And Jiuding officials have confirmed, without being specific, that its 2012 fund-raising plan was adjusted in June after market conditions weakened.
Yet the firm is still on track with plans to invest billions of yuan this year and at last count, Wu said, had about 3 billion yuan waiting and ready for the right investment targets.
Controversial or not, it seems, Jiuding's formula works.
"It's precisely because Jiuding is a strong competitor with a spot-on strategy willing to employ any means to achieve success in its investments that (the firm) is attracting so much attention and outrage in the industry," said a PE sector researcher.
Catch the Wave
Wu, 35, left a job at the China Securities Regulatory Commission (CSRC) and with several partners formed Jiuding in 2009, catching the stock investment enthusiasm generated that year with the opening of the ChiNext growth board, a fund-raising avenue for start-ups linked to the Shenzhen Stock Exchange.
Support for Jiuding's first U.S. dollar fund – worth US$ 123.6 million – came from Vertex Venture Holdings, a subsidiary of the Singaporean sovereign wealth fund Temasek, and other international institutions.
Today, the Beijing-based fund is 76 percent controlled by Tongchuang Jiuding, a company jointly held by Wu and his brother Wu Qiang; former graduate school classmates Huang Xiajie and Zhao Zhongyi; Tan Zhangyu; and Cai Lei. Only Zhao is not from Sichuan Province.
Jiuding started small and soon shifted from start-up, ChiNext-style investments into large-scale, mature industrial concerns, including chemical makers and machine manufacturers.
"We had probably 20 investment projects in 2009 and 40 in 2010, including a dozen or so companies with which we signed investment letters of intent," Wu said. "But we invested in nearly 100 companies in 2011."
Jiuding's staff arranges – with assembly-line speed – financing deals with established companies they judge as qualified for public listings. They've often quintupled their money.
The fund has backed companies as diverse as Gifore Agricultural Machinery Chain Co. Ltd., Henan Billions Chemicals Co. Ltd., Zhejiang Jiangshan Chemical Co. Ltd., and Goldcup Electric Apparatus.
So far, 50 out of the 60 companies Jiuding invested before 2011 have or are in the process of listing.
You've accessed an article available only to subscribers
VIEW OPTIONS
Share this article
Open WeChat and scan the QR code