How the Hammer Falls as China Nails Corruption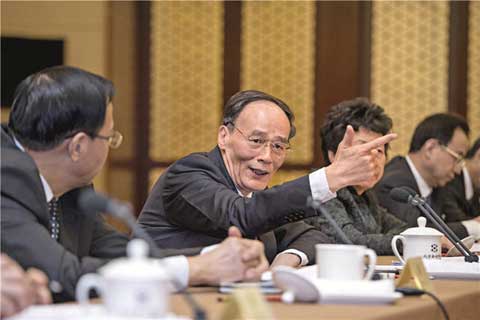 Wang Qishan at this year's CPPCC meeting in March
(Beijing) -- Curiosity is one reason the website of the Central Discipline Inspection Commission (CDIC) attracts up to 2 million page views every day.
Another reason is fear. Some website visitors, for example, want to know whether they or anyone they know has been targeted by a government campaign to root out corruption led by the CDIC Inspection Team.
Since the campaign began in December 2012, 33 high-level government and state company officials – all in positions at the deputy provincial level or higher – have come under investigation for violating laws or Communist Party rules. Each has been removed from office and detained. Some have been kicked out of the party.
Scores of executives, managers and bureaucrats on lower rungs of the ladder have been affected as well by CDIC, which reports directly to party brass and functions outside the realm of the nation's judicial system.
The campaign began shortly after the 18th National People's Congress with the December 2, 2012, detention of Li Chuncheng. Li, who was then serving as a deputy party secretary for Sichuan Province, was taken into custody by CDIC officials less than a month after being named an alternate member to the party's 205-member Central Committee.
In recent weeks, the campaign has intensified. Losing their jobs in June were Jiangxi Province party official Zhao Zhiyong; China People's Political Consultative Conference (CPPCC) Vice Chairman Su Rong; Shanxi Province Deputy Governor Du Shanxue; Shanxi Province CPPCC Vice Chairman Ling Zhengce; and Guangzhou's party secretary, Wan Qingliang.
Perhaps the most powerful party official to fall in recent weeks was Xu Caihou, who served on the 25-member Politburo and as vice chairman of the Central Military Commission, the party's highest authority on the military.
No one knows for sure who might fall next, which makes the website – http://www.ccdi.gov.cn/ – a must for anyone following the anti-corruption crackdown. These followers include members of the general public, ardent campaign supporters and a few cautious critics.
The critics include some party members who fear the CDIC may be going too far. Some of them argue that the crackdown could threaten everyday operations at targeted companies, the nation's economy and even government stability in China.
Anxiety is running high, for example, at the state-run oil company China National Petroleum Corp. (CNPC), where chief accountant Wen Qingshan was placed under investigation in December and deputy general manager Bo Qiliang was probed in May. Previously removed were more than a dozen executives, including top brass like the company's petroleum planning department general manager Wu Mei, Indonesia operations general manager Wei Zhigang, and Iran operations general manager Zhang Benquan. Other CNPC executives axed since 2012 included Wang Yongchun, Li Hualin, Ran Xinquan and Wang Daofu.
CNPC sources said that high-level managers are so worried about these investigations that they have drawn up a contingency plan for filling any position left vacant after a CDIC inspection. As part of the plan, all mid- to upper-level company managers must contact department heads daily. Anyone who does not report is considered gone, and replaced the next day by a pre-approved successor.
Going Too Far?
Amid the anxiety at CNPC, other state companies and government agencies in the bull's eye of CDIC inspectors, some officials have asked whether it might be time for the campaign to slow down, easing the pressure on the nation's party members. These go-slow voices include party supporters who worry that the campaign could tarnish the public's view of the government and party. Others wonder whether the campaign is hurting economic growth and the productivity of officials, some of whom are laying low in hopes of avoiding the inspectors.
"The shock created by the anti-corruption campaign inside and outside the party is unprecedented," said Professor Cai Xia of the Central Party School's Party Construction Education and Research Department. "The shock and deterrence it has exerted on the thinking of cadres is also unprecedented.
"It's evident that, at this point, very few cadres are risking any violations of party discipline rules."
But supporters of the campaign point to its necessity at this stage of China's modernization – and its long-term benefits.
One source close to the CDIC said most of the corrupt activity uncovered in government agencies was related to sales of government-owned land, mine development and transportation infrastructure projects. State-owned enterprises have been implicated in underhanded schemes involving project bidding, equipment procurement and overseas acquisitions.
"These areas just happened to be at the center of gravity during China's high-speed urbanization and industrialization era," the source said. "No nation has ever been able to avoid paying this kind of price during such a period. Not Britain, the United States, South Korea or Japan. This period is always rife with corruption."
Corruption among China's officials is hurting economic growth, said Andrew Wedeman, a political science professor at Georgia State University. Corrupt authorities use their power to deprive the marketplace of money, he said, so an economy subject to discretionary power opens doors to corruption.
Graft distorts pricing and resource allocation, impeding the quality of economic development. It is difficult to ascertain the degree to which it has harmed the soft environment of economic development, such as social psychology and governance systems.
"Bringing corruption under control requires rules and regulations," Wedeman said. "But it also requires developing a culture in which officials do not think about using their power for private gain. And that is a very slow, frustrating process."
Arduous Struggle
CDIC General Secretary Wang Qishan, who began his term last year just as the campaign was getting under way, described the government's anti-corruption strategy this way: "We must be deeply aware of the long-term nature, complexity and arduousness of the struggle to build a party-style, honest government and oppose corruption," he said at a 2013 conference.
"We must persist in treating both the symptoms and the root causes" of corruption, Wang said. "The current crackdown is to win time for the therapy to solve fundamental problems."
Some see the campaign and the government's latest market reforms, such as the effort to find private investors for certain state-company assets, as two sides of the same coin. They point to the broad theme of reform pushed by President Xi Jinping since he took office in late 2012.
Ren Jianming, a public management professor at Beijing University of Aeronautics and Astronautics, said the campaign "has been an important safeguard and has provided support for efforts to reform the political and economic systems." He called it "a breakthrough for reforming the political and economic systems."
Over the past year, Ren said, the crackdown has proven to be a useful deterrent against corruption. "If this continues," he said, "we can expect corruption will be under control."
A lot of challenges have yet to be overcome, Ren said. "A great deal of work is still needed to implement deep institutional and systemic reforms, to eradicate the causes of corruption and to get rid of the dirt in which corruption grows," he said. "Macro reforms to the political system, state governance modernization, power structure reforms and democratic governance are all very difficult.
"At the micro level, there is major resistance to beginning substantive reforms in areas rife with corruption."
The party's Central Committee has entrusted the CDIC, whose inspection team unit dates to 2003, to follow an anti-graft strategy spelled out in a December 2013 document.
Inspectors dig up evidence of wrongdoing and report to superiors at the CDIC. Suspicious activity involving high-level officials may be reported to the party's central leaders or even Xi, the party's general secretary.
The document called for stopping graft's spread by "building a system for punishing and preventing corruption, and continuing to put pressure on efforts to punish" dirty officials. It also urged "preventing corruption by strengthening institutional innovations and guarantees; improving the party discipline system by improving the way incidents about leaders and cadres are reported; promoting programs through public institutions related to newly appointed leaders and cadres; establishing administrative procedures for officials whose spouses work abroad; and also reforming inspection agencies connected to local governments."
On June 30, the Politburo took another step by approving reforms to the CDIC system and leadership. Cai said the move is designed to strengthen the anti-graft campaign. "A mere internal purge is not enough" to control corruption, he said. What is really needed is a system for strengthening the CDIC's authority and functions.
The Politburo's action "will strengthen the CDIC's autonomy and reduce interference," Cai said. "But we still must develop intra-party democracy" so that "intra-party authorities can operate publicly and transparently, (and) party members can supervise leaders and cadres."
'Everyone Was Stupefied'
In the run-up to the crackdown, authorities in early 2012 deposed former Politburo member and Chongqing party boss Bo Xilai, who was convicted of bribery, embezzlement and abuse of power and is now serving a life sentence. Party inspectors then looked closely at officials in Sichuan, such as Li Chuncheng, and executives at CNPC.
At a July 2012 meeting of CNPC executives in Chengdu, then-chairman Jiang Jiemin set ambitious goals for stepping up oil and gas field development in the region. Attending was the soon-to-be-sacked Li and other CDIC targets, including CNPC executives and provincial legislature Standing Committee Deputy Director Guo Yongxiang.
A few months later, Li, Jiang and Wang Yongchun were picked as alternate members of the party's 18th Central Committee. A few weeks after that, Li was ousted. A source said that as investigators approached Li, he tried to get rid of his mobile phone SIM card.
Reportedly, officials started probing Li for his ties to a real estate project near Chengdu after getting a tip from someone with links to the city's party organization and government.
Li was charged with helping a hometown acquaintance named Shi Zhenhua win a contract worth tens of millions of yuan to renovate the Chengdu government conference center and party building. Shi also got a good deal on a parcel of commercial land sold by the government.
The Li investigation led anti-graft officials to several other well-known business and government officials in the region.
For example, one of China's richest men, Wang Junlin, then chairman of Sichuan liquor producer Langjiu Group Co., was taken into custody. Authorities also deposed Li Chongxi, the chairman of the province's political advisory body.
The list of Sichuan officials who were eventually ousted also included Chengdu Construction Engineering Group Chairman Zhang Jun; Chengdu Exhibition and Travel Group Chairman Deng Hong, Hanlong Group Chairman Liu Han; Chengdu Xingrong Investment Chairman Tan Jianming; Sichuan's former deputy governor Guo Yongxiang; Guoteng Group Chairman He Yan; Mingxing Power Cable Group Chairman Li Guangyuan; Chengdu HT Investment Group Chairman Ping Xing; Bank of Chengdu Chairman Mao Zhigang; Chengdu Investment Holding Group Chairman Wu Zhongyun; city of Ya'an party secretary Xu Mengjia; Ya'an Vice Mayor Pu Zhong; and the director of the Chengdu Bureau of Quality Inspection, Sun Jiancheng.
Li Chongxi's fall in December 2013 was especially shocking in Sichuan's political circles. He had been a long-standing party member who ranked higher than Li Chuncheng and was considered untouchable.
"The realms of politics and business in Sichuan have undergone a great purge," said a Sichuan official who asked not to be named.
The closer investigators looked at corruption in Sichuan, the more dirty business they found, until eventually party investigators working with the National Audit Office (NAO) turned their attention to CNPC, which is closely linked to the Sichuan government.
"Colluding politicians and businessmen are everywhere," a CDIC official said. "But the situation in Sichuan, where with one tug a long thread can be pulled out, is unique."
Wang Yongchun's detention was announced through the official Xinhua News Agency in August 2013. Days later, the State-owned Assets Supervision and Administration Commission (SASAC) disciplinary commission announced a probe of CNPC's then-deputy general manager Li Hualin, and the company's chief geologist and exploration institute director Wang Daofu.
Others in the state-run oil sector targeted in the corruption crackdown included Ran Xinquan, who was state-run PetroChina's vice president and general manager of its Changqing oilfield subsidiary; China Huayou Group general manager Wang Wencang; and China National United Oil Corp. party secretary Shen Dingcheng.
"Everybody was stupefied" by the sweep of top oil executives and Sichuan party leaders, said a mid-level CNPC manager.
Executives across the industry, especially those who had dealings with people targeted, began looking over their shoulders as well. The CDIC made watching easier by launching the website in September 2013.
Investigators have since focused on CNPC operations in the Daqing and Changqing oilfields, as well as the company's overseas branches. Hundreds of CNPC cadres have been questioned in the course of the probe.
Financial records experts from NAO have helped CDIC's "hunt tigers and swat flies" movement, as the anti-corruption campaign has been called. NAO inspectors helped bring down CNPC's Jiang after he joined SASAC, as well as Guo Zhenxi, director of the finance and economics channel at state-run broadcaster CCTV who was detained in early June on suspicion of bribery.
Jiang was audited shortly after leaving CNPC for a new job as head of SASAC. Inspectors looked at his records from the previous decade at the oil company, extending the usual seven-year span for such probes, according to a CNPC source.
The audit's findings were discussed at a June 2013 meeting between NAO and CNPC officials. Auditors had found numerous party rule infractions tied to Jiang, Wang Yongchun, Li Hualin, Ran Xinquan, Wang Daofu and others.
The NAO followed-up on the CNPC probe by dispatching hundreds of auditors to examine the books at government-owned energy concerns including State Grid Corp. and China Power Investment Corp.
The NAO released 17 documents in June 2013 describing problems at several state-owned companies and government agencies. In all, these findings led to various forms of discipline targeting 190 executives at 11 companies owned by the central government.
Three months later, state media said Jiang, 58, had been found guilty of violating party rules and the law. He thus became the first member of the party's Central Committee to fall since the campaign began.
Afterward, the investigation pace accelerated. Party congress meetings encouraged the faster pace, and the website helped spread the message.
The CDIC used the website to announce that former China Resources Group Chairman Song Lin was under investigation, one day after he claimed he was not a target. Former Shanxi Province vice governor Du Shanxue and Shanxi CPPCC vice chairman Ling Zhengce attended a public event on June 17, two days before their names appeared as suspects on the CDIC website.
News about the arrests of the Sichuan officials Su Rong and Li Chongxi, as well as a former deputy minister of the national public security agency, Li Dongsheng, appeared on the website the day after they were taken away. The arrest of a former party secretary for the city of Guangzhou, Wan Qingliang, was announced online that same day.
Up-to-date, sometimes real-time news about the anti-corruption campaign's activity has given the public a window to the fast-moving anti-corruption movement. The names of fallen officials can be checked and compared. And if you don't know anyone whose name appears on the website today, check back tomorrow.
You've accessed an article available only to subscribers
VIEW OPTIONS
Share this article
Open WeChat and scan the QR code

Caixin China Biz Roundup: Chinese Ambassador Warns U.S. Against Meddling in Taiwan