E-Commerce Firms, Investors Take Note as China's Shoppers Look Overseas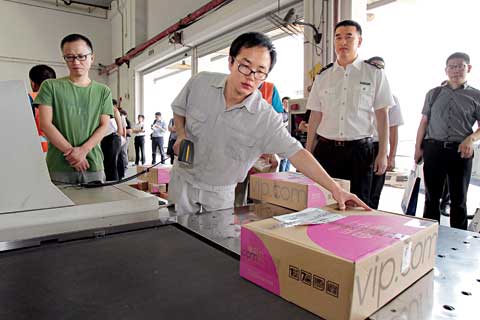 Foreign goods that Chinese shoppers bought online pass through customs in Guangzhou
(Beijing) – Sitting in her home in northern China, Miss Pang has just bought her boyfriend a birthday present with the click of a button, having gone through the usual business of inputting her credit card details.
However, this time, instead of shopping on a Chinese website, she has bought the gift from an American one.
Many Chinese people like Miss Pang have been using the Internet to buy foreign products on overseas websites. The goods get shipped back to China through intermediaries and end up at their doorsteps like any other online purchase.
This is assuming buyers can overcome problems related to language and overseas payments, and the purchases do not get held up at customs.
Despite these problems, the trend has caught the attention of entrepreneurs and investors, who are betting China's e-commerce firms can work out the wrinkles.
In 2010, angel investor Tisiwi Ventures put money into e-commerce company Ymatou.com, a site that helps Chinese buyers talk with overseas sellers and then arranges deliveries.
Pang Xiaowei, a founding partner at Tisiwi, hopes the Internet will make it possible for people to buy products from anywhere in the world, such as olive oil from Spain or luxury handbags from the United States.
To boost the fledgling business, in 2013, the central government introduced pilot programs in several large cities that offered tax breaks for cross-border e-commerce companies, and lower tariffs and fewer customs delays for goods bought through them.
Last year, established online shopping giants like Alibaba Group's Tmall International and JD.com Inc. started letting shoppers buy products from overseas.
Smaller companies have also entered the market, such as Miyabaobei.com, a seller of baby products that specializes in formula, and Metao.com, which focuses on sales of foreign brands.
The market is huge. Nearly 20 million Chinese people bought 1 trillion yuan worth of foreign products through the Net last year, Chen Naike, vice chairman of the Zhejiang Federation of Returned Overseas Chinese, told the legislature in March. China has the largest population of online shoppers buying from foreign sellers of any country in the world, he added.
Investors have noticed the opportunity. Ymatou.com raised US$ 100 million in January, after getting around US$ 800,000 in 2010 and US$ 10 million in 2013.
Fierce Competition
Although smaller e-commerce companies can raise large amounts of capital, if they do not specialize they will founder when they go up against giants like Tmall International, said Wang Duo, an executive from investment firm SAIF Partners.
Xu Xin, founder of investment firm Capital Today, agreed with Wang, citing Alibaba and JD.com's superior shipping capabilities.
The larger companies are also working together. Amazon.com, the industry leader from the United States, is set to open a store on Tmall International in April. Amazon said it would send products including clothing, alcohol and kitchenware directly to China and sell them on Tmall.com.
Tmall said that working with Amazon allows it to trade access to its large base of customers for access to a large supply of American brands.
Smaller companies like Miyabaobei.com and Metao.com have chosen to set up their own international supply chains, ordering directly from the manufacturer, after failing to get global brands to sell on their sites.
Metao.com offers shoppers the latest products, founder Xie Wenbin said. The company says the website's shopping experience and better services will give it an edge in attracting customers.
Beijing-based online cosmetics retailer Jumei.com buys its supplies directly from the manufacturer in order to gain buyer confidence regarding product quality.
Cosmetics are one of the most scrutinized goods. If a fake or poor quality product is sold on the website, the buyer is likely to head to a competing site.
Some of Jumei's products are unique to the website, which gives it an advantage over competitors and, since it is China's leading online cosmetics seller, it can also decide prices for some of its merchandise.
Some companies step back from sales and delivery altogether and simply offer a trading platform where buyers can connect with sellers.
Tao World, a mobile application designed by e-commerce company Aimeizhuyi, helps Chinese people link up with overseas individuals who can help source and ship the items they wish to buy.
Ymatou provides a similar platform for buyers and sellers to connect with each other, but only allows sellers who have been trained and verified by the company. It has its own channels to ship the goods, with logistics centers in New York, San Francisco, Los Angeles and Houston, and partnerships with China Post and a few airlines.
(Rewritten by Guo Kai)
You've accessed an article available only to subscribers
VIEW OPTIONS
Share this article
Open WeChat and scan the QR code

06:09 PM

06:08 PM

05:37 PM

05:19 PM

05:01 PM

11:50 AM

11:17 AM

Oct 27 05:51 PM

Oct 27 05:22 PM

Oct 27 05:13 PM

Oct 27 04:53 PM

Oct 27 04:46 PM

Oct 27 12:27 PM

Oct 26 06:48 PM

Oct 26 06:37 PM
GALLERY