BOJ's Kuroda Rules Out 'Competitive Devaluation'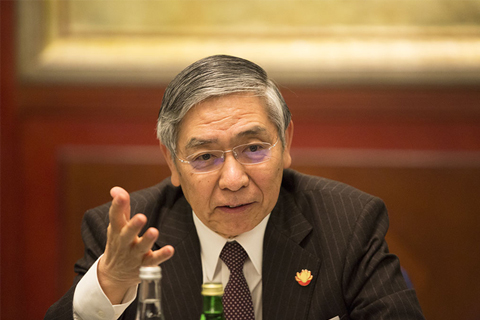 (Shanghai) – Bank of Japan Governor Haruhiko Kuroda says the recent G-20 meeting of finance ministers and central bank governors reached a consensus against "competitive devaluation" of currencies.
"I think this has been widely shared by not just the G-20 countries, but also other countries," he told Caixin on February 28, a day after the meeting ended in Shanghai.
Much of the discussions at the meeting centered on Japan's negative interest rates and what the BOJ will do next, given that it does not have much room to maneuver left.
Kuroda, 71, said the bank is assessing the impact of its policies and will lower rates further "if necessary" to achieve its target of 2 percent inflation.
He also addressed a variety of topics, including the exchange rates of the yen and yuan. The following are excerpts of Caixin's interview with Kuroda.
Caixin: How do you assess this G-20 meeting?
Haruhiko Kuroda: We discussed global economic outlook and various risks and challenges facing the global economy, including financial volatility, reverse capital flows and declining commodity prices. We came up with a very clear and strong communiqué. We G-20 countries continue to implement growth strategies and conduct structural reforms to achieve strong, sustainable and balanced growth. If you look at the communiqué in great detail, you find that the G-20 countries, for instance, we use all policy tools, monetary, fiscal and structural, individually and collectively, to achieve these goals. "These goals" mean strong sustainable and balanced growth, and taking actions to foster confidence to preserve and strengthen the recovery. I think China's Ministry of Finance and central bank put on a really well-prepared meeting and contributed positively to a good result for the meeting.
Are you worried about competitive devaluation among major currencies in Asia?
I think, as the G-20 communiqué reiterated, that G-20 countries will not engage in competitive devaluation to increase the competitiveness of exports or anything. This idea has been widely accepted by not just the G-20 countries, but also other countries.
Including major Asian countries?
First, I don't think the yuan will depreciate as some people argue. The Chinese government's exchange rate policy is quite transparent, and they would not allow the currency to depreciate. So I don't think they will ignite currency depreciation, or competitive depreciation, in Asia. And I think, by the way, that among the G-20 countries, there are six Asian countries – Japan, South Korea, China, Indonesia, Australia and India – and all of them subscribe to this G-20 pledge of not engaging in competitive depreciation.
What's your view about the "New Plaza Accord"? Do you think it's viable? Is it desirable?
Again, the communiqué is quite clear on this. For instance, it says: "We reiterate that excessive volatility and disorderly movements in exchange rates can have adverse implications for economic and financial stability. We will consult closely on exchange markets. And: "We reaffirm our previous exchange rate commitments, including that we will refrain from competitive devaluation, and we will not target our exchange rates for competitive purposes."
The Plaza Accord was actually a G-5, not even G-7, agreement to depreciate the U.S. dollar, which was in kind of an excessively appreciated situation. So the G-5 countries engaged in coordinated interference. But that was among G-5 countries, and that was the situation prevailing in 1985. The current situation is completely different. So I think the communiqué made quite good statements regarding this.
Many central bank governors at the G-20 meeting called for more fiscal expansion. Do you think fiscal policy will boost Japan's economic growth effectively?
A few weeks ago, the National Diet – Japan's parliament – passed a supplementary budget to the current fiscal year to the order of more than 3 trillion yen, about 0.6 percent of the GDP. And the Diet is deliberating on the 2016 budget, which will be the largest have ever we had, totaling 97 trillion yen.
Also, the government has proposed legislation to reduce the corporate tax burden. The BOJ, as you know, has been implementing QQE (quantitative and qualitative monetary easing) and recently added one dimension, negative interest rates. So we are implementing QQE with negative interest rates to achieve the 2 percent inflation target at the earliest possible time.
The government has been implementing many structural reforms and has submitted dozens of bills to foster and strengthen structural changes, including labor market reform. So I can say that Japan squarely pledges to comply with the G-20 agreement to use all policy tools, monetary, fiscal and structural, individually and collectively, to achieve these goals, strong and sustainable, balanced goals.
You said recently that China can implement more capital controls to stabilize the yuan exchange rate. Why?
This was in Davos (during the World Economic Forum) in January, and I was asked by a moderator. My answer simply reiterated the theory of the so-called trilemma: you cannot have an independent monetary policy, a fixed exchange rate and the free flow of capital. Since China wants to make the yuan stable, and it also intends to continue with accommodative monetary policy, it might need some sort of capital flow management or other forms of prudential policy. But that is a kind of theoretical argument. Whatever is decided by the Chinese government is their decision and policy. I never propose or recommend anything. I think China's exchange policy is quite clear. Governor Zhou (Xiaochuan) made it clear in his interview with Caixin. Very clear.
What do you think about the yuan's internationalization? China and Japan have been negotiating bilateral currency swaps. Will we see a deal soon?
On the first point, I think the yuan's internationalization has been making steady progress in many fields. The yuan has been fairly widely used for international transactions so much so that the International Monetary Fund decided that it will be included among the component currencies of its Special Drawing Rights. Until now, the SDR valuation was decided with reference to only four currencies, the U.S. dollar, euro, yen and British pound. Including the yuan in the SDR basket recognizes its international status.
We appreciate that the yuan is widely used, and I think Japanese banks and companies will be increasingly engaged in yuan transactions in the coming years.
On the currency swap arrangement, negotiations are still going on. I cannot say anything about this. What I can say is that since the expiration of the previous swap agreement, both central banks have been discussing a new swap agreement. I hope that new swap agreement will further deepen financial cooperation between China and Japan.
How is the negative interest rate policy working so far? Has it been effective?
I think so. Actually, when we decided to introduce negative interest rates toward the end of January, on January 29, the idea was to reduce the starting point of the yield curve. Through QQE, the yield curve has already been declining. Now by affecting the short end of the yield curve with negative interest rates, immediately the entire yield curve declined further. In response to this declining yield curve, commercial banks have already reduced the interest rate on housing loans and corporate loans by 20 and 10 basis points, respectively.
So, as I said, the impact of new monetary policy framework has had the intended effect on the financial market and this reduction of real interest rates will further stimulate corporate and housing investment in the coming months.
But the yen is still appreciating. Is that something you expected?
I think we have to differentiate the impact of negative interest rates on financial markets from the movement of exchange rates. Exchange rates are affected by many factors. Even after the decision by the BOJ to introduce QQE with negative interest rates, the yen fluctuated and the stock market fluctuated globally.
There are many factors that may have created such movement of the exchange rate. One of them is, of course, the continued decline of oil prices and also the so-called uncertainties in the Chinese economy. But I do not think that China economy is faced with serious difficulty. China is still growing 6 to 7 percent. The market has had different interpretations about this. Some European banks have problems, and finally market watchers are now saying the U.S. Federal Reserve Board may not raise interest rates so much. So these factors may have affected the stock market globally and exchange market globally, but I do not think our new policy brought about appreciation of the yen.
What's your view about the yen being perceived as a safe heaven?
The Japanese economy is certainly recovering but very moderately, slowly. U.S. economic growth is much more robust, and the European economy is also growing. So some are doing better than the Japanese economy. And yet, the yen appreciated against the dollar and the euro. Why do people think it's a safe heaven? Perhaps because the Japanese economy, although it's growing slowly and recovering moderately, may not fluctuate so much. I hope after the release of the G-20 communiqué the market will become more stable and exchange rates will reflect economic fundamentals better.
So the yen's value may fall?
I don't talk about the exchange rate movement because it's so difficult to predict.
Do you worry about the impact of negative interest rates on the banking sector?
Our interest rate policy is actually a very well-conceived scheme. Only a marginal increase of excess reserve is subject to a minus 0.1 percent interest rate. The large part of the excess reserve continued to receive a positive 0.1 percent interest rate. So the direct impact of this new scheme on banking profitability is minimal. On the other hand, you may say that since the entire yield curve is declining, and lending rates are declining, that may reduce the profitability of the banking sector. But if you look at banking sector profitability in the last three years in which we continuously implemented QQE to reduce the entire yield curve, and actually lending rates continued to decline, and yet the banking sector enjoys very high profit. So as I said, the direct impact of negative interest rates is minimal.
So far, unlike the European banking system, the Japanese banking system enjoys good profits with substantial capital. And I must say that the Japanese banking sector is probably at this stage one of the soundest, healthiest in the world.
Will you cut interest rates further if necessary?
If necessary, but at this moment I must say that we are carefully watching and assessing the impact of our new policy on the financial market and on the real economy. That is of course our objective: To stimulate the economy and achieve the 2 percent inflation target at the earliest possible time. According to our latest forecast, the 2 percent inflation rate target will be achieved around the first half of fiscal 2017. As you know, many countries' inflation rates have declined because of sharply falling oil prices. But we think that oil prices will bottom out and will gradually rise, as shown in the oil futures market. I think our inflation rate will gradually rise and reach 2 percent around the first half of fiscal 2017.
There have been discussions about an extremely unconventional monetary policy tool known as "helicopter money." Will Japan go that far?
No, I don't think so. You see, yes, the Bank of Japan has been purchasing large amounts of long-term government bonds to lower the yield curve. But we never directly finance the government deficit or directly finance expenditure. Helicopter money, the idea itself, of course, you can say that it is interesting, but we will never do that. And by the way the current law, fiscal law, prohibits the Bank of Japan from directly financing the deficit.
Do you think the U.S. Federal Reserve will raise interest rates in March?
I think you should talk to Janet Yellen. She has said consistently, continuously that the result of interest rates or the Federal Reserve Board's monetary policy will continue to be data dependent. If the data warrant, they could further raise interest rates; if not, they will not. So I think the Fed's monetary policies are quite transparent and clear. And if they raise interest rates, that means they see that the economic recovery is stronger than many people say. And if the data warrant them raising rates, that is good because that means the U.S. economic recovery is quite strong, robust and sustainable.
Intern researcher Harry W.S. Lee and intern reporters Tan Xinyu and Gao Meng contributed to this article
You've accessed an article available only to subscribers
VIEW OPTIONS
Share this article
Open WeChat and scan the QR code