Views: What Do Chinese Women Think of Hillary Clinton?
The recent high-profile shooting at a gay bar in the United States and the brutal killing of a female parliamentarian in Britain on June 16 have added a further twist to the already heated American presidential election campaign that is closely followed by Chinese media.
Hillary Clinton, now the first female presumptive nominee from a major U.S. political party, is a household name in China. Her winning streak in the primaries have made headlines in China and as she continues to trade barbs with the maverick Republican candidate Donald Trump, how do Chinese women view her rise to power in this unprecedented election season? Do they take her success as a symbolic shattering of the glass ceiling in politics, or is she, regardless of gender, simply perceived as just another presidential candidate with a clear track record on China policy?
Caixin talked to several Chinese women about their views on Clinton. Following are excerpts of their answers.
Zhu Wenli
46, Professor at the School of International Studies at Peking University in Beijing, whose research interests include U.S. politics and diplomacy
What significance does Hillary Clinton's presumptive nomination have for women around the world, if any?
It is indeed significant. If Clinton can win the election, it will certainly be a huge encouragement to all women, which breaks the thickest glass ceiling in politics. It also sends a message to the whole world: you'll waste your talent and networks if you give up for gender reasons.
Do you follow the U.S. election process? What impact would a Clinton victory have on China-U.S. relation?
I follow developments in Sino-U.S. relations very closely because I study related issues. Some people worry that China-U.S. relation will worsen if she is in power. But I think Clinton was no longer what she was like twenty years ago. Her past ideologies usually reflected what positions she was on. (If she is the president,) the bilateral relation should be restrained.
Do you keep track of her campaign promises?
She has adjusted her campaign promises along the way. At first, she was influenced by Bernie Sanders to cater to left-wing liberals. Now she has given in to the right wing, on immigration and anti-terrorism issues, in order to fight against Donald Trump. But I always believe what hasn't changed is the mild, liberal political philosophy and the pragmatic, international economic vision. Her campaign was an imitation of "triangulation", of which her husband Bill Clinton took advantage of to get re-elected in 1996, (when he positioned his ideology above or between the left and right wing stances)
Pick one word you think could best describe her: Capable.
Is there a Chinese female politician that you admire?
In ancient China, the women involved in politics were not respectable, because it was a tactics-oriented community. It is better now, and female politicians are more respectable. But I'd rather not name any one.
Wen Di
25, Researcher at the Faculty of Social Sciences of The University of Hong Kong
Key message: A female can also reach the top position in their field, if she is good enough.
I think Hillary has shown the power of women by becoming the presumptive nominee. To have that power one doesn't have to be masculine or act like men, but resort to the strengths that come from being a woman.
I was impressed by an interview she gave to the weekly U.S. magazine, Glamour. She said when she served as the Secretary of State, one of her primary tasks was to build relationships around the world. She got along well with people partly because of her tenderness as a woman. The network she had cultivated has helped her as she climbed the political ladder.
She is an example of how women can leverage on their power, tenderness and kindness, to be successful.
Impact on China-U.S. relations: Sino-American ties might be further strained, judging from her views and policies when she was the Secretary of State. If she is elected for the top job, she might have the same tough stance, which might worsen the South China Sea situation (where China is contesting territorial claims by the Philippines and Vietnam over disputed islands).
Campaign agenda: When she was the Secretary of State, her attitude was "pivot to Asia", in which the United States acted as a counterweight to stop China and Russia from expanding in the region. To oppose China's actions in the South China Sea, the U.S. conducted more military drills and infrastructure development in its own bases in Hawaii and Guam.
As for domestic affairs, Hillary stood for Obamacare (to reform health insurance). As for immigration, she wants some change too, but she is not as xenophobic as Donald Trump (the presumptive Republican candidate). She wants more institutionalized immigration policies to attract top-level talent, instead of the current populist immigration stance.
One adjective: Versatile.
She displayed different traits, while wearing different hats. She showed her concern for children with her push for laws protecting children's rights as a First Lady.
But, the tough side of her personality emerged when she ran for a senate position from New York and became the Secretary of State thereafter.
She is an elegant woman, but she is also a real person: her fashion taste doesn't work sometimes and she is a fan of mobile phone games. But when she is debating with Donald Trump, she stands out for her sharpness and humor.
I don't support all of Hillary's opinions, but I appreciate her as a person with wide-ranging capabilities.
A Chinese female politician that you admire:
Lei jieqiong.
She is the former vice chair of the Chinese People's Political Consultative Committee (the top advisory body to the government). One of her main contributions was to make sociology a major in universities in China.
Zhang Yadi
30, PhD candidate at the School of Public Affairs at Zhejiang University in the eastern city of Hangzhou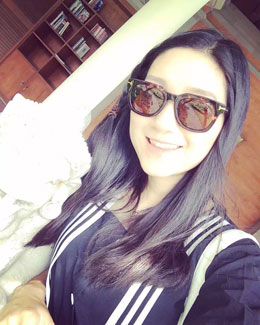 Key message from Clinton's nomination: There have been female prime ministers and female chancellors for many years in Europe, but the United States has just seen its own female presidential candidate for the first time.
I remember when Bill Clinton was re-elected as the U.S. president, American citizens were very dissatisfied with Hillary for not taking her husband's family name. In the end, Hillary had no choice but to give in. To me, this incident showed that Americans actually hold quite traditional attitudes towards women. In that sense, Hillary Clinton becoming the first female presidential candidate should be a sign of change.
Impact of a Clinton victory on China-U.S. relations: I don't follow the election campaign quite closely. I personally think that if she becomes the president, she might take an even tougher stance against China. After her pivot policy to Asia, more disputes have arisen in this region.
Take on her campaign agenda: I don't know much about it. But judging from her career path, she has had a typical rise to power. She has taken every step up steadily with confidence and is very experienced. I have watched her campaign videos, and I was touched.
One Adjective: Elite.
A Chinese female politician that you admire: To me, there is so far no genuine female political figure in China.
Xiang Jianguo
61, Head of the Secretary-General's Office at China Energy Fund Committee (a private think tank)
Key message from Clinton's nomination: I don't think it has any specific message, because she is not the first female political leader. I like Park Geun-hye better, because she is both tough and tender.
Impact on China-U.S. relations: I don't think she'll make drastic changes to Sino-American relation as a president, because the two economies are too big for that.
But neither China nor the United States has enough mutual trust, a fact that cannot be changed by just one or two new presidents… Also she has a very tough stance. In the end, the one that has the real control over the United States is not the president.
Campaign agenda: I didn't follow Clinton very closely during this election, because Donald Trump has got more attention. As a political figure, she was in the limelight earlier, from being the wife of Bill Clinton to the Secretary of State, so people now have more interest in Trump.
One adjective: tough
Favorite Chinese female political figure: I don't admire anyone that much. If I must name someone, it might be Liu Yandong. Though she is one of China's vice premiers, she has that tenderness as a woman.
Zhang Qian
25, Human Resources Manager at a private mutual fund
Key message: There have been a bunch of countries and regions that have elected female political figures recently, including Taiwan, South Korea, and Myanmar, so I don't see any special message from Hillary. This just shows that nowadays, women are more acceptable to rise to a top political position.
Impact on China-U.S. relations: Not very much.
Campaign agenda: I don't know much about it.
One adjective: Target-oriented
Favorite Chinese female political figure: Peng Liyuan (China's First Lady). I think she is nice, very kind to ordinary people.
Gao Xianda
26, social worker for an NGO promoting female rights in China
Key message: My preferred interpretation of the message is: this is indeed extraordinary.
American society has shown enough openness and gender equality that a woman can get out of the private domain and get into the public domain, even into the political domain, which was traditionally seen as the exclusive battlefield of men. I wish that all women can get the message: as a woman, I can.
Another take is quite individualistic: Anyone who is qualified has a shot at running for the highest office irrespective of gender. In this case, it doesn't have any special message to females across the world.
Impact on China-U.S. relations: I wanted to follow the election, but I am too busy. I know that female-friendly policies or feminism is a bullet point in her campaign, and that she might implement some policy that improves women's rights if elected, but I don't think it may affect Sino-American ties.
I don't think the American society will elect a dress-wearing president who is a tender-hearted woman. I tend to believe that if Hillary Clinton wins the election, it is not because she is a woman, but because she is more like a man.
Campaign agenda: I really don't know.
One adjective: Endurance, cleaning up the mess of her husband.
Favorite Chinese female political figure: Tang Qunying, who was the first female member of the Chinese United League (an underground resistance movement founded by Sun Yat-Sen in the early 20th century, which later evolved into the Chinese Nationalist Party, or Kuomingtang).
In the creeds of the League, it wrote "gender equality". But this article disappeared when Kuomingtang held the first national conference. Tang found it and burst in to the venue and slapped Song Jiaoren (the leader in charge).
Tang was dedicated to gender equality in China and founded a few female rights newspapers. Today China has seen great progress in gender equality, which is the result of contributions by predecessors like Tang.
Note: The interviewees' views are their own and don't reflect those of their employers'
Share this article
Open WeChat and scan the QR code