Picky Families in New Reality-TV Dating Show Cause a Stir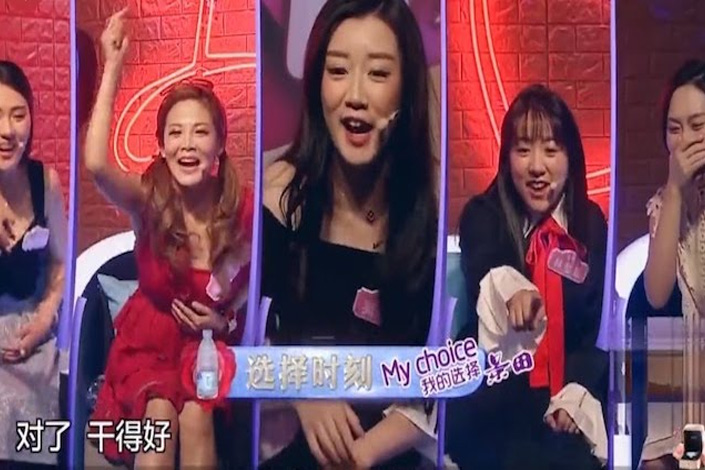 Contestants participate in the reality show Chinese Dating. Photo: Youtube
Long popular on Chinese television, dating shows have started to adopt a more traditionally focused format to widen their appeal by including not just singles looking for love, but their parents as well.
The reality-TV show Chinese Dating, which sparked fresh debate after its first episode aired on Shanghai-based Dragon TV, brought this phenomenon to life. In the program, contestants vying to find a partner are screened by the parents and siblings of the potential match before finally getting to meet him or her.
The parents are often picky, and their criteria for giving their nods of approval are often diverse, if not downright peculiar. Such criteria includes considering the temperature of a potential female mate's hands as a sign of reproductive ability, and examining traditionally acknowledged merits such as demonstrating the economic wisdom to run a household.
"One ends singlehood, the whole family is honored, and your parents' approval secures your pick," well-known reality TV show anchor Jin Xing proudly gushed as the series kicked off on Dec. 24.
However, this message and the idea of parental choice met with ridicule from many free-choice advocates, who argue that the underlying message of the show suggested that "being single brings shame on your family."
Unfortunately, the pressure brought by this mentality is still very real for a great many young Chinese singles as they hit their mid-20s.
Wang Yuanfang, an art designer in her late 20s, has led a happy life as a single woman since she came to work in Beijing in the autumn of 2013. Her father sent her a seriously worded message at the end of 2016 to try to persuade her to prioritize "finding a mate" as her top task for 2017, arguing that "the advantages of a female vanish with age."
Parents also feel pressured to adhere to mainstream societal norms, Wang said. "My father pushed me hard about finding a husband after he came back from a party where he discovered he was the only one out of his group of friends who wasn't a grandfather," she said.
This may explain why some Chinese parents are eager to do their part to find a partner for their children, who often don't see any reason themselves to rush into marriage.
A common sight in Beijing and Shanghai parks on the weekend are parents who turn public spaces into temporary matchmaking markets, where they display makeshift signs detailing their children's age, physical details, education, salary and other assets in the hope of impressing other parents with their offsprings' shining résumés.
The Communist Party has a long tradition of supporting freedom to choose one's own a spouse, and it banned arranged marriages by law in 1950 — a move seen as revolutionary at the time. Despite this, family influence on love and marriage still largely persists in Chinese society with a softened substitute of the arranged marriage — the blind date.
Today, many young Chinese are becoming reluctant to accept blind dates as a desirable way to find life partners. "The objective is too obvious," said Zhang Xiaomei, 34, a media professional working in Beijing.
This sentiment was mirrored by another Sina Weibo user in an online comment: "I object to blind dates. It's hard to go deep from a starting point of judging appearances and material requirements."
Others agree. "Blind dates may work for some people, but for those seeking for more independence and control in their lives, parental arrangements are definitely not a good choice by their very nature," said Coby, 29, an NGO worker posting advertisements praising singlehood at Beijing's busy Dongzhimen subway station with a group of like-minded friends.
China's rapid social and economic progress has contributed to this shift in attitude. Younger Chinese from the post-1980s and '90s generations, most of whom are from single-child families, have been brought up differently from their parents. Increased wealth, better standards of living and more free time have afforded them the chance to concentrate on romance that were likely a luxury for their parents in the past.
Contact reporter Pan Che (chepan@caixin.com)
You've accessed an article available only to subscribers
VIEW OPTIONS
Share this article
Open WeChat and scan the QR code

China Stories: The Rural Hardship Behind the Mine Murders That Shocked China