Beijing Tightens Tax Rules in Bid to Contain Runaway Housing Prices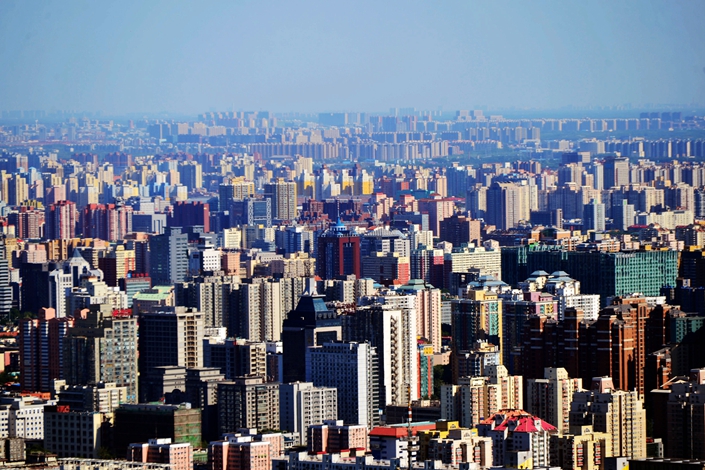 The Beijing municipal government has tightened the requirements for nonresidents to buy a home in the city. So-called out-of-towners now must have paid income tax for 60 months in a row before they can buy a residence in the nation's capital. Photo: IC
(Beijing) — Beijing has made it harder for people who are not officially registered as local residents to buy homes in the city by tightening tax-payment prerequisites.
The move comes as the municipal government struggles to contain runaway housing prices.
The Chinese capital in 2010 first placed restrictions on homebuyers without a Beijing hukou after a central-government stimulus to tackle the global financial crisis saw a deluge of speculative cash flood into the property market. Hukou is the residence registration in China that grants access to public services and social safety coverage.
In February 2011, the city government imposed a policy that required non-hukou holders, often referred to as "out-of-towners," to provide documentation proving they had paid income taxes and social security contributions for five consecutive years before they were allowed to buy one — and only one — home in Beijing.
While social security contributions are generally made on a monthly basis, the rules governing income tax have been less strictly enforced, with lump-sum payments at least once a year accepted as meeting requirements.
But as of Wednesday, out-of-towners must have paid income tax for 60 months in a row before they can purchase a home, the Beijing Municipal Commission of Housing and Urban-Rural Development and the Beijing Local Taxation Bureau said in a statement.
Those who change jobs will be given a three-month moratorium. They will have the option to top up tax payments at a later date, according to the statement, published Wednesday.
Buyers such as some private business-owners who pay income tax on a quarterly basis must provide proof of payment for 20 straight quarters, it said.
The statement focused solely on income tax payments and made no mention of changes to social security contribution requirements.
The announcement marks the latest tightening step by authorities in Beijing to rein in fast-rising home prices.
The average property price in the city has climbed for 17 consecutive months, jumping more than 63% to 60,738 yuan ($8,820) per square meter in February from 37,221 yuan in October 2015, the China Securities Journal reported Thursday, citing data from industry group the China Real Estate Association.
Home costs in Beijing are among the most expensive in China, and the municipal government has introduced harsher measures than other cities to cool the overheated market.
It has raised down-payment requirements and suspended mortgages with durations longer than 25 years. It has also revised the definition of second-home buyers to subject more people to higher down-payment and mortgage interest rate terms.
Some analysts have blamed price increases in existing-home sales in Beijing on a shortage of supply, strong demand for properties near elite primary schools and real estate agencies pursuing higher commission fees, which are charged in proportion to the total selling price.
The government this week cracked down further on school-district house transactions and on Wednesday shut down 11 real estate agency outlets in the city for violations such as "operating without a business license."
Contact reporter Fran Wang (fangwang@caixin.com)
You've accessed an article available only to subscribers
VIEW OPTIONS
Share this article
Open WeChat and scan the QR code

Sep 25 06:34 PM

Sep 25 05:21 PM

Sep 25 04:57 PM

Sep 25 04:50 PM

Sep 25 04:49 PM

Sep 25 01:26 PM

Sep 24 05:25 PM

Sep 24 05:02 PM

Sep 24 04:50 PM

Sep 24 04:42 PM

Sep 24 04:35 PM

Sep 24 04:28 PM

Sep 24 01:00 PM

Sep 23 06:43 PM

Sep 23 06:37 PM
GALLERY