Rural School Trampling Death Brings Overcrowding Issues to Fore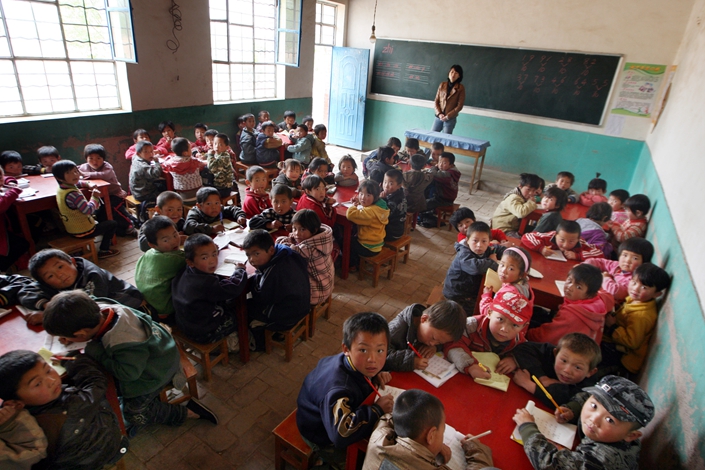 Young students are crowded in a shabby classroom at a primary school in a poverty-stricken area of Xihaigu, the Ningxia region, on May 9, 2011. A deadly stampede at a county primary school in central Hunan province shed light on the continuing problem and dangers of overcrowding at many of China's public schools.Photo: IC
(Beijing) — A stampede at a primary school in central Henan province that left one child dead and 22 others injured has revived safety concerns about overcrowded schools in rural areas.
The tragedy at Puyang County No. 3 Experimental School happened Wednesday morning after 1,700 students were told they had just 10 minutes to use two restrooms before a test, according to a statement by the county government.
The school's two restrooms have a total of only 39 squat toilets, according to parents.
The students raced to get to the restrooms, with some tripping and falling, leading others to trample them.
One student died on the way to the hospital. Of the 22 injured, five were in critical but stable conditions, the county said. While the ages of the children were not released, the students at the school range generally between 6 to 11 years old, in grades one through six.
The government is investigating. But some analysts said such a catastrophe was inevitable, given crowded conditions at many public schools.
At least 10 stampedes have been reported in the news media since 2009, according to a search by Caixin. In one especially deadly stampede in 2014, six students were killed and another 26 were injured in the Mingtong Primary School in Kunming in the southwestern province of Yunnan, according to Xinhua Daily Telegraph, a daily newspaper owned by the official Xinhua News Agency.
Amid rising concern over school safety in the public, the central government moved to clamp down on class size in recent years, pledging to phase out all classes of more than 66 students by 2018, and more than 56 students by 2020.
However an influx of rural students into schools close to towns and cities will continue amid the country's rapid urbanization, meaning schools will continue to be crowded unless more new schools are built, according to Wu Zhihui, a professor of education at Northeast Normal University.
Education authorities throughout the country began closing thousands of small village schools in 2002 and relocating students to schools closer to towns and cities.
The Education Ministry later backed off closing more rural schools after incriminating reports by academic research showed that the school consolidation had limited access to basic education for millions of children in impoverished regions.
Two-thirds of the rural schools in the country, or about 300,000 schools, were shut down by local authorities from 2010 to 2015. Statistics from the ministry showed a series of problems followed, including overcrowding at schools in county downtowns and cities.
Chinese students study in one classroom with a head teacher at primary and middle schools, with other teachers moving among the classes to give lectures.
The Puyang county school where the stampede occurred is considered one of the few good schools in the area. It is highly sought-after by parents whose schools in rural townships or villages were closed by local government.
The school's website says 1,704 students attend 24 classes — or 71 students in each class on average.
That is far higher than an Education Ministry standard in 2008 that called for classes to average 45 students.
The school has only 62 teachers, meaning each teacher is required to look after more than 27 students on average, in violation of government rules limiting one teacher to 21 students.
Several residents told the Beijing News that some classes have more than 80 students.
Overcrowding isn't unique to Puyang county's schools. It plagues many other rural counties and cities in Henan and many other regions in central and western China, according to Yang Dongping, director of the 21st Century Education Research Institute.
A middle school in Shancai county, also in Henan, once has 120 students in each class on average, and the most crowded classroom had 160 students, he said.
Overcrowded schools not only compromise teaching quality, but also undermine safety, Yang said.
Building a downtown primary school costs a government about 200 million yuan ($29 million), and 300 million yuan for a middle school, according to Wu, head of the Research Institute of Rural Education Development at Northeast Normal University.
"But as populations in towns and cities keep growing, the demand for public services such as schools will be so high that county and city governments have their finances dried up if they are left alone to tackle" problems, he said.
The central government must offer more support to local governments, particularly those in impoverished rural counties, to address problems linked to overcrowded schools, Wu said.
Contact reporter Li Rongde (rongdeli@caixin.com)
You've accessed an article available only to subscribers
VIEW OPTIONS
Share this article
Open WeChat and scan the QR code