Merck Gets Booster from Chinese HPV Vaccine Approval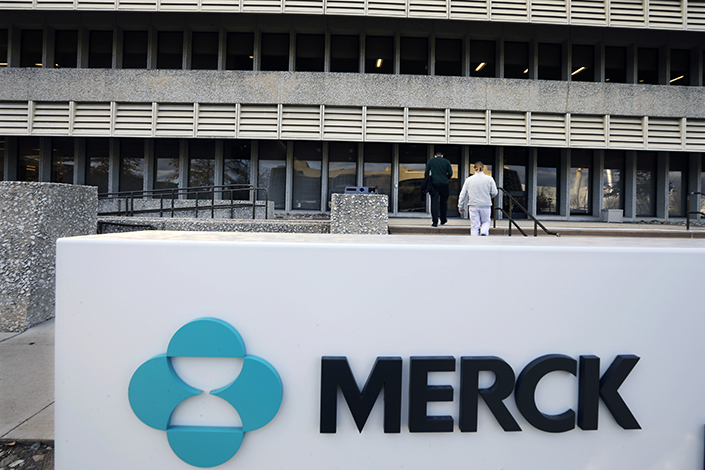 A sign at the Merck company facilities in Kenilworth, Warwickshire, England, on May 2. Photo: IC
(Beijing) – China's drug regulators have approved the commercial sale of Merck & Co.'s vaccine that protects against the human papillomavirus (HPV), almost a year after its rival GlaxoSmithKline obtained approval of a similar product in the country.
Merck received its greenlight from the China Food and Drug Administration on Tuesday, allowing it to launch its Gardasil vaccine that contains four HPV antigens and is eligible for anyone between age nine to 45.
It is more effective than GSK's Cervarix vaccine, which was approved last July, which only covers two HPV strains and has an age cap of 25.
The vaccine guards against a sexually transmitted virus that can lead to cancers of the cervix, genitals and throat.
The GSK product is not yet available in the China market. Insiders told Caixin that the pharmaceutical giant has been making efforts to have the vaccine included in the country's subsidized immunization program, but has failed to reach an agreement with the government on pricing.
GSK denied those assertions, saying that it is "actively preparing" for the launch. It hired Chongqing-based Zhifei Biological Products Co. as an exclusive dealer, in charge of all marketing and sales in China.
Zhifei will also become the exclusive distributor of Merck's Gardasil, which will be available on the market within six months, according to a Zhifei statement.
For now, there is not an HPV vaccine available in China, a decade after the United States was the first to have it introduced in 2006.
After breast cancer, cervical cancer is the second-most common cancer among Chinese women, according to researchers at the Cancer Hospital in Beijing, a unit of the Chinese Academy of Medical Sciences. Most cervical cancers are caused by HPV.
Moreover, China is home to the world's largest group of cervical cancer patients, with more than 28% worldwide, according to the Chinese Center for Disease Control and Prevention.
But China's regulators have delayed the introduction of HPV vaccines on the mainland. Sources close to GSK and Merck told Caixin that each company applied but failed to win drug administration approval to sell their vaccines in 2006 and 2007, respectively.
Chinese consumers eager for the HPV vaccination in recent years have gotten around the restrictions by traveling to Hong Kong or abroad to countries where Cervarix or Gardisil are sold. Others bought vaccines from Hong Kong sellers through Chinese e-commerce websites, Caixin has learned.
Even if the two approved vaccines are available soon, China remains behind many other locations, as a more broadly effective Gardasil 9-valent vaccine, also developed by Merck, which contains five more genetically-engineered HPV antigens than Gardasil, was launched in Hong Kong in February.
For now, GSK and Merck are the only developers of the vaccine, although Merck dominates the global HPV vaccine market at a 94% share, according to research firm Evaluate Pharma. But other domestic drug makers are seeking to grab a slice of the market.
Three domestic Chinese companies – Walvax Biotechnology Co. Ltd., Xiamen Innovax Biotech Co. Ltd. and Zhejiang Pukang Biotechnology Co. Ltd. – have also applied to conduct clinical trials for HPV vaccines. Once homegrown vaccines enter the market, prices will come down substantially, market analysts said.
Contact reporter Coco Feng (renkefeng@caixin.com)
You've accessed an article available only to subscribers
VIEW OPTIONS
Share this article
Open WeChat and scan the QR code