Tencent Unveils Plan to Create Electronic Sports Gaming Empire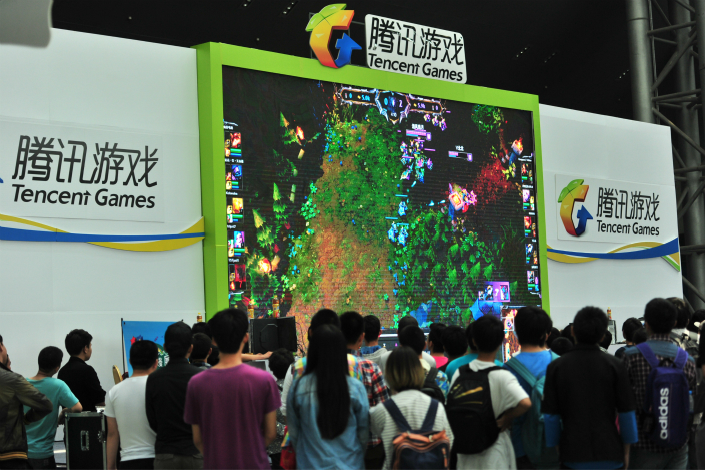 Under a new plan, Tencent aims to create a 100-billion-yuan esports industry in China within five years. Photo: Visual China
(Beijing) — As organized, multiplayer video game competitions — also known as esports, or electronic sports — continue to gain recognition in China, entertainment giant Tencent Holdings Ltd. has accelerated its esports expansion with the unveiling of a new five-year plan.
The plan, which involves setting up esports leagues, tournaments and associations, nurturing players and constructing esports-themed industrial parks, was published by Tencent E-Sports, a subsidiary established in early December.
Tencent is the world's largest mobile gaming company by revenue, according to research firm Newzoo. With the new plan, it aims to create a 100-billion-yuan esports industry in China within five years, the company announced on Friday at a press conference.
The plan was based on Tencent's expectations that China is set to become the world's largest esports market. Tencent predicted there will be 220 million esports players in China and 335 million globally by the end of this year.
China's total revenue from the esports industry surged 52% year-on-year to 50 billion yuan ($7.3 billion) in 2016, according to research firm IDC. It was primarily pushed up by the country's livestreaming boom, with major leagues and tournament events relying largely on livestreaming apps and sites for viewer numbers.
The industry's value has grown as the value of tournament sponsorship deals has increased, and fees for livestreaming players and broadcasters have risen considerably, said Cheng Wu, head of the company's filmmaking unit.
Gao Li, general manager of Tencent E-Sports, said there was a lot of room for the company's esports revenue to grow. Gao disclosed several agreements with the government and major companies. Tencent has signed deals with Chinese smartphone maker Vivo, which will soon roll out a customized mobile phone model for the King of Glory Professional League, a league for Tencent's self-developed multiplayer online game, King of Glory.
Chinese sports authorities will also cooperate closely with Tencent over the next five years to establish unified standards for the industry and platforms for professional game players, said Ding Dong, director of the information center of the State General Administration of Sports.
The gaming giant has invested heavily in this field since 2015, when it bought U.S. developer Riot Games, acquiring League of Legends, the world's most-played online video game.
Tencent boosted its presence in the industry by acquiring an 84% stake in Supercell, a Finnish mobile game developer, a minority stake in U.S. gaming company Activision Blizzard, and developer Epic Games.
Its knock-out product, League of Legends Pro League, China's top professional league for the game, attracted 5 billion viewers in 2016, while King of Glory attracted 15 million viewers on the opening day of its latest tournament, Cheng said.
Contact reporter Song Shiqing (shiqingsong@caixin.com)
You've accessed an article available only to subscribers
VIEW OPTIONS
Share this article
Open WeChat and scan the QR code