Deaths of Four Kindergartners in Baking Buses Trigger Outcry Over State of Rural Schools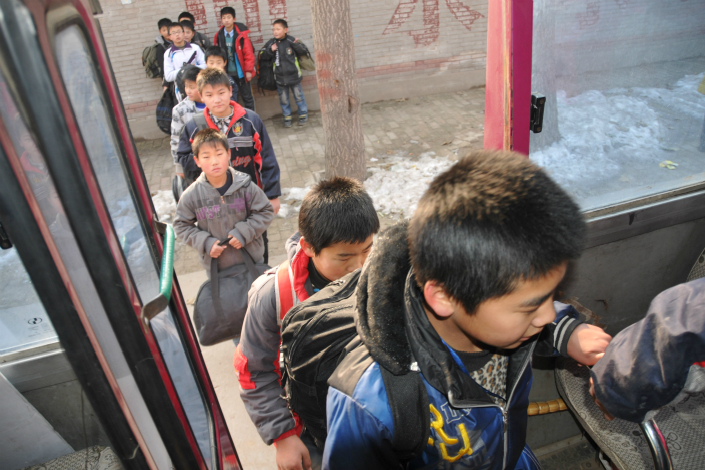 The deaths of four Hebei province preschoolers within two weeks after being locked in sweltering school buses has provoked outrage nationwide. Above, students of Qiaodong No.3 School board a school bus after class in Xingtai, Hebei province, in December 2011. Photo: Visual China
(Beijing) — Two-and-a-half-year-old Ren Xiangyu was helped onto a school bus by her grandmother just before 8 a.m. on July 12. Eight hours later, the bus driver found her dead — locked inside the sweltering vehicle as temperatures soared to 42 degrees Celsius (108 degrees Fahrenheit).
Deaths of three other kindergartners, or preschoolers, under similar circumstances in separate instances in a span of just two weeks — all in northern China's Hebei province — have triggered an outcry nationwide on the lack of oversight of rural kindergartens in China, which serve nearly 70% of all preschoolers in China.
Xiangyu's death on July 12 was reported by the Beijing News on Monday.
A day after her death, a 3-year-old girl was locked for six hours in a school bus operated by a rural kindergarten in Langfang, also in Hebei. When the child was discovered, her body was already stiff. Her face had turned blue and was partially covered in blood, according to the owner of a glass shop across from the kindergarten. It is unclear whether the blood was from bruises as the child struggled to get out.
There were two other similar deaths in separate villages in the province from June 28 to July 13, according to Chinese media reports. Authorities have released little information over the exact cause of deaths.
But many angry netizens have pinned the blame on negligent teachers.
"It would have never happened if anyone involved had been a bit more responsible," one internet user said on Weibo, China's version of Twitter. Said another netizen: "Was it so difficult for (teachers) to make a thorough check before locking up the vehicle?"
Nearly half of all kindergarten teachers in the country teach in a rural classroom, but there is still a severe shortage of rural teachers, experts said.
Partly in response to the public outcry, local authorities have moved swiftly, arresting several suspects. This includes the founder of Xiangyu's school, Tianbao Kindergarten. They have also suspended several officials in charge of the school.
Many kindergartens in Jingzhou village in Hebei were also told to close indefinitely pending a further investigation. It is unclear how many other schools have been affected. Authorities said only that they had discovered three kindergartens in the area, including Tianbao, had operated without a license for years, and the vehicles used to transport children weren't registered as school buses.
China's "problematic process" for licensing kindergartens may have allowed these institutions to operate for years without being detected, according to professor Fan Mingli at Hebei University's School of Education.
Kindergarten operators can choose to register with one of three government agencies: the provincial civil affairs bureau, the industry and commerce department, or the education authority. But only the education authority is charged with monitoring schools, and the lack of coordination between the three licensing bodies has led to problems, said Pang Lijuan, a professor at Beijing Normal University.
"Only the education authority is tasked with oversight, but doesn't necessarily know about schools that have been licensed by the other two agencies," she said.
The deaths also put the spotlight on a host of others ills plaguing rural kindergartens in the country.
Kindergartens, mostly privately owned, operate on shoestring budgets, Pang said.
That's because unlike schools offering classes from grades one through nine that get guaranteed funding under the country's compulsory education law, kindergartens — particularly those in impoverished areas — are administered by township governments and have access to very little public funding, she added.
The demand for kindergartens in villages has also soared in the past two decades as many young parents leave to work in cities, said Song Yingquan, an associate professor at Peking University.
But estimates show that 16 million children between the ages of 3 and 6 — mostly from rural China — have no schools to go to, Song said.
Contact reporter Li Rongde (rongdeli@caixin.com)
You've accessed an article available only to subscribers
VIEW OPTIONS
Share this article
Open WeChat and scan the QR code

Caixin-Sinica Business Brief: China Mourns Death of Former President Jiang Zemin