China Faces Daunting Challenges as Senior Care Comes of Age
Two women sit in front of an artificial mountain at the Laowulao Elder Care Facility in Beijing's Fengtai district in July. Photo: Cecilia Chang/Caixin
On a muggy July afternoon, 91-year-old Zhao Zhuxian sat quietly in an outdoor courtyard at the Laowulao Elder Care Facility, the largest senior citizens home in Beijing's Fengtai District.
"I don't want to live here at all," she told Caixin Global while resting in a rock garden. "I was kicked out by my kids."
Zhao was forced to vacate her family's three-bedroom apartment to make room for a newly married grandchild and spouse. "I don't have any other choices," she said, and then bluntly added, "Living at home is way better than living here."
Zhao's predicament points to one of the many reasons why demand for elder care is rapidly increasing in China, and why efforts to meet that demand are incredibly challenging for care providers, government policymakers and seniors alike.
As the nation's population of 1.4 billion ages and urbanizes, the number of people living in elder care facilities for health, family, housing and other reasons is steadily climbing. Demand is also rising for senior citizen medical care services.
Xiong Qianchu, 77, and her husband, 85-year-old Huang Xianhai, live in a twin room at the Laowulao Elder Care Facility in Beijing. Photo: Cecilia Chang/Caixin
As demands grow, new opportunities are emerging for businesses offering senior care services and products. According to the China Research Center on Aging, the value of the nation's market for elderly consumers is projected to jump to 106 trillion yuan ($15.9 trillion) in 2050, up from 4 trillion yuan in 2014.
Playing a key role in the market are senior citizen homes, which in 2016 numbered nearly 140,000 nationwide, up nearly 21% from the year before, according to the central government's Ministry of Civil Affairs.
But will the flurry of new construction keep pace with the booming demand for elder care facilities? Demographically speaking, it won't be easy.
More than 230 million Chinese are now aged 60 or over, and that number is expected to swell to about 400 million by 2050, according to the World Bank.
Low fertility rates since the 1960s and improving life expectancies are main factors contributing to the increase in the seniors segment of the nation's population.
The World Bank says China's fertility rate in 2015 had plummeted to 1.6 births from six births per woman in 1965 as a result of the one-child policy. And according to the World Health Organization, the average life span in China is rising: Life expectancy for Chinese was 76.1 years in 2015, while the world average was 71.4.
Seniors relax in the shade at the Laowulao Elder Care Facility in Beijing in July. Photo: Cecilia Chang/Caixin
Complicating efforts to house seniors is the fact that many elderly in China suffer from poor health. The National Committee on Aging said China was home to more than 40.6 million disabled or partly disabled senior citizens in 2016, accounting for 18.3% of the elderly population. Eye disease, malignant tumors and cardiovascular disease are common.
Demand for housing and health care are thus key areas of concern for the government yet brimming with business potential for the elder care industry.
Labor supply poses another challenge, as nationwide demand for workers trained to care for seniors currently far exceeds supply.
Chai Yuyang, an elder care industry analyst at Beijing Normal University, said about 10 million workers will be needed to supplement the current labor supply, which numbers only a few hundred thousand.
The government is thus encouraging an expansion of the labor pool for elder care services by, for example, lifting elder care worker certification requirements. The Ministry of Human Resources and Social Security canceled certification rules for these workers in 2015.
Empty beds
A shortage of high-quality facility operators has been cited as a possible reason why some senior care homes are always full while others struggle with high vacancy rates.
Seniors practice calligraphy at the Laowulao Elder Care Facility in Beijing in July. Photo: Cecilia Chang/Caixin
A report by the Singapore bank DBS said China is not short on living space for senior citizens. The government counted 7.3 million beds at elder care facilities nationwide in 2016, up 8.6% from the year before.
But China does not have enough high-quality service companies and care providers to meet demands among elderly people who are selective about where they want to live, or who have the financial resources to afford a pleasant environment, DBS said.
In general, bed vacancy rates are higher in elder care facilities in suburban and rural parts of China than in urban districts. For instance, suburban Beijing's Laowulao reported a 55% bed vacancy rate in 2016.
Population distribution also plays a role. A senior housing industry analysis by the consultancy Deloitte found most elder care facilities are designed to serve middle- to high-income brackets. But most of China's elderly citizens are on lower-income rungs and live in rural areas.
A 2010 nationwide census pegged China's urban population at 50.1% of the nation's total. The census also said only about 44% of people aged 65 and over were living in cities or towns, with the rest in rural areas.
Cost is also a limitation, although elder care in China is less expensive than in many other lands. A bed at a private elder care facility in Beijing can cost thousands of yuan per month, while public facility costs are much lower, according to Dr. Chen He, who works for School of Public Health, Peking University.
In addition to affordability hurdles, social stigma prevents some elderly Chinese from choosing nursing home life. For example, some turn down the option because they do not want neighbors to think they're being neglected by children.
Moreover, most elder care facilities provide only basic living and care services, such as assistance with bathing and eating. Medical services are rarely part of the package. And often completely unmet are demands for other lifestyle amenities such as educational programs, recreation and entertainment.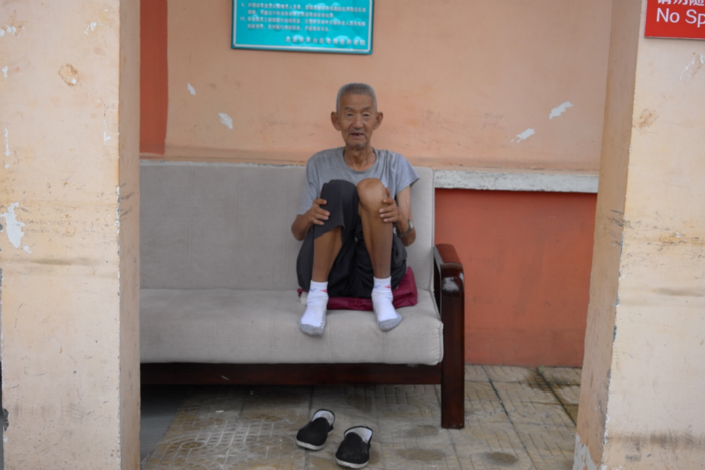 Huang Tongqin, 77, relaxes on a sofa at the Laowulao Elder Care Facility in Beijing in July. Photo: Cecilia Chang/Caixin
Accessibility is also an issue. Disabled and healthy seniors alike, as well as their families, prefer an easily accessible facility in an urban district. But most homes are located in relatively hard-to-reach areas such as distant suburbs.
In cities, it's a challenge to find an empty bed in a downtown nursing facility that also provides medical services. Gao Huijun, who manages five elder care facilities in central Beijing, told the Xinhua News Agency that most beds in his homes have been taken, and that there's a waiting list for future openings.
High-end facilities are also full, as demand is high for nursing care that includes medical services along with educational and entertainment opportunities. Every bed is taken at an upscale home called Gongheyuan in Beijing, for example, which charges between 9,800 yuan and 30,000 yuan per month. The home's waiting list recently had more than 50 names.
Public nursing homes are relatively affordable and in high demand. But special eligibility criteria means only a small percentage of seniors are allowed to live in public facilities. For example, some facilities take only seniors with no income or who have no close relative.
Medical care
Demand for senior medical care has also outstripped supply. A National Committee on Aging report in 2014 found only 10% of all elder care facilities provided health care and rehabilitation services.
To address the problem, government agencies, including the National Health and Family Planning Commission and Ministry of Civil Affairs, have encouraged elder care facility operators to cooperate with hospitals or provide in-house medical services.
The ministry is also working with hospitals to build a comprehensive medical care system for seniors by 2020. The ideal elder care model under the ministry's plan would take into account that 90% of seniors can care for themselves or get family help in their own homes, while about 6% can benefit from in-home doctor visits and community hospitals, and no more than 4% need professional medical care in elder care facilities.
In 2016, the ministry and family commission launched a project through which 50 areas nationwide were chosen to host facilities pilot that provide elder care and senior medical services. The pilot was later expanded to 90 areas.
The government has also encouraged the transformation of public hospitals such as Longfu Hospital to care for senior health needs.
One city that's successfully integrated elder and medical care is Nanjing, on the central east coast. Zhou Chunhua, director of the city's Civil Affairs Bureau, told a local newspaper that the integration push has included "most nursing homes" in the area. And in the northeastern city of Shenyang, according to the Liaoning Daily newspaper, 61% of the city's nursing homes now offer medical services.
The Laowulao facility in Beijing expanded into the medical care arena by buying a private hospital last year. One beneficiary is Xiong Qianchu, 77, who lived at the facility with her husband. Both are retired engineers.
"My husband has been sick for five years. He has cerebral infarction. It's extremely hard for me to take care of him by myself," Xiong said.
"My children are too busy to take care of us," she said. "One day, I read an advertisement about the elder care facility in a newspaper" and that the price for two was 6,800 yuan monthly. The couple receives 10,000 yuan monthly in pension payouts.
"We decided to live here," Xiong said. "Living here is really convenient, and we can afford it."
Dr. Chen He at the School of Public Health, Peking University, said senior medical care can be delivered through community-based and facility-based services. The former option is challenging, though, given doctors' tight schedules and lack of financial incentives to offer senior care.
A better option, in Chen's view, is for hospitals to operate elder care facilities.
"Considering costs, it's easier for a hospital to run an elder care facility than for a facility to build or buy a hospital," she said.
Promoting a different perspective is Lü Zhongying, deputy chief at the Beijing No. 4 Social Welfare Institute. He favors elder care facilities that staff doctors who specialize in caring for the aged over letting hospitals run senior homes.
"Doctors in hospitals or community medical centers are not elder care doctors," he said. "Their skills may be good, but they aren't familiar with old people.
"At a state-backed facility such as ours." Lü said, "experienced doctors spend decades treating senior patients. We can even tell a senior patient's health condition by looking at his face."
Indeed, Beijing No. 4 was one of the first public nursing homes in China to provide residents with medical care in-house as well as at a hospital next door through an agreement with the hospital's operator. A bed at the home costs only 1,500 yuan a month.
Investor interest
Lü is also one of many elder care experts who thinks more private companies should get involved in elder care by operating facilities that target seniors who do not have serious health conditions.
Real estate developers and insurers have heard the call. More than 30 Chinese property developers are now in the market for elder care facilities, and more than 80 others have expressed a willingness to invest in the industry, according to a Deloitte report.
For instance, developer Poly Real Estate has launched projects in Beijing and Shanghai. The Beijing facility in Hexihui has 200 rooms and 400 beds, and is equipped with a clinic, ambulance station, and physical rehabilitation center.
The insurance company Taikang Life built the Taikang Elder Care Community in Beijing with a park, school, rehabilitation hospital and other facilities.
Local governments have been earmarking some of the land they routinely sell to developers for senior housing since 2014. Beijing, Shanghai, Shenzhen, Zhejiang province and Fujian province have sponsored sales of "senior housing land."
But Chai, the Beijing Normal University analyst, suggests the government should do more by drafting strategic land plans and encouraging construction of elder care facilities.
Integrating the medical and elder care systems in China is obviously a work in progress.
"In China, the elder care industry is not mature yet. But let's wait and trust the market," Lü said. "The industry will mature within 10 years."
One appreciative resident of the current elder care system is 89-year-old Chen Yujuan. She's received long-term medical services while living at a Beijing elder care facility and rehabilitation center called Longfu Hospital.
Longfu was a basic public hospital before, under a local government order, it was renovated and reopened in 2000 as a geriatric hospital. It's now a full-service, geriatric care and rehabilitation facility. More recently, it opened satellite centers in the city's Tiantongyuan and Beiyuan areas, and signed cooperation agreements with 12 nursing homes in the Dongcheng district.
Chen recently suffered a stroke and fell. A hospital refused to treat her, saying there were no available beds. Another hospital accepted Chen and gave her a month of treatment before asking her to leave. But paralysis made even minor tasks such as brushing teeth impossible.
Fortunately, a bed at Longfu was available, and Chen found a new home. She said she now feels "lucky and grateful" — a feeling that supporters of elder care development in China are working hard to spread nationwide.
You've accessed an article available only to subscribers
VIEW OPTIONS
Share this article
Open WeChat and scan the QR code