Guo Wengui's Former Assistant Files Rape Lawsuit in New York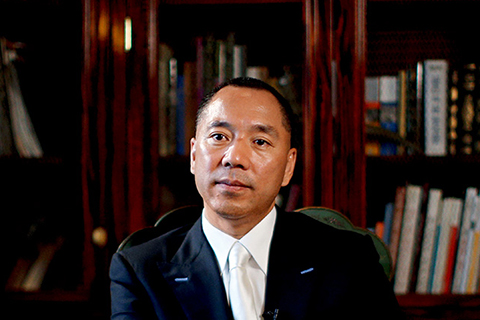 Guo Wengui. Photo: Visual China
A former personal assistant to fugitive Chinese billionaire Guo Wengui has filed a lawsuit in New York state that accuses him of sexual assault — just days after news reports that Guo filed an application seeking political asylum in the U.S.
The woman's lawsuit came soon after police in China opened an investigation against Guo on the rape allegations.
In the document filed in New York State Supreme Court, the woman's lawyers claim that Guo's asylum application is a trick for Guo to avoid "answering for his crimes" against the woman in China.
The lawsuit document, seen by Caixin, said the 28-year-old plaintiff — who was employed by one of Guo's China-based entities — was "lured" to New York for what she believed would be a one-week trip, but was forced to stay and then became Guo's captive for three years.
Guo, also known as Miles Kwok, seized the woman's passport, and monitored and limited her access to a phone and laptop computer.
Guo warned the woman that if she were to return to China, she would be arrested, jailed and tortured, according to the suit.
The woman claimed to be sexually attacked and raped in Guo's residences in New York City and London until she fled Guo's London home and sought help from the Chinese Embassy there and returned to China.
According to an Associated Press report on Aug. 31, police in China have opened an investigation into Guo's alleged rape case, and Chinese officials have been requesting a second Interpol arrest notice for Guo.
The AP report said Chinese officials are asking U.S. officials not to extend Guo's tourist visa, which is expiring this year.
Guo didn't respond to AP's request for comment.
Guo applied for political asylum on Sept. 6. The application will give Guo the right to stay in the U.S. even while authorities there are considering it, Guo's lawyer, Thomas Ragland, told Caixin on Monday.
Guo, a property businessman, went to the U.S. in 2014, allegedly to avoid investigations into his associates, including Ma Jian, a former vice minister of state security. Ma has been removed from office for allegedly accepting a huge amount in bribes. He is still under investigation pending trial.
The AP report said Guo is being investigated by Chinese authorities for at least 19 criminal allegations, including bribing, kidnapping, fraud and money laundering.
Contact reporter Wu Gang (gangwu@caixin.com)
Editor's note: A Caixin report in 2015 revealed how Guo and Ma Jian, at the time a vice minister of state security, formed a close alliance, using national security power to meddle in business deals. In response to Guo's subsequent attacks on Caixin, Caixin filed lawsuits against Guo and his companies, accusing him of fabricating and disseminating false information.
You've accessed an article available only to subscribers
VIEW OPTIONS
Share this article
Open WeChat and scan the QR code

Caixin China Biz Roundup: Alibaba's Mass Job Cuts