Suicide of Woman in Labor Prompts Chinese Hospitals to Rethink Pain Management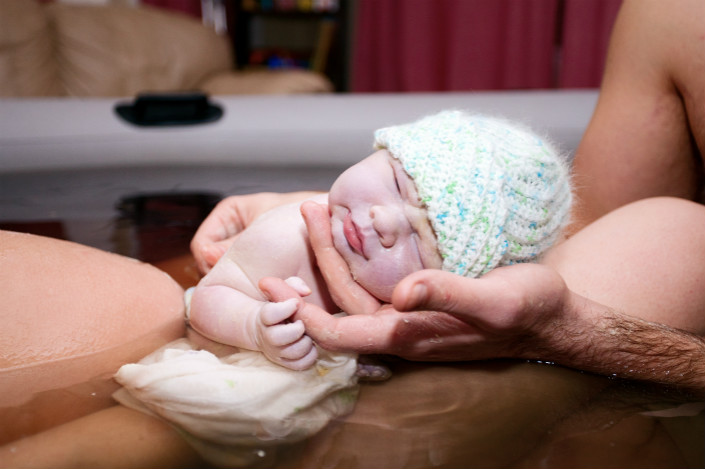 A baby is born via water birth. Many experts have called for more water births to ease the mother's childbirth pains, but fewer than a third of hospitals in China have the necessary facilities. Photo: Visual China
"Breathe in and exhale slowly. Now imagine you're walking on a white sandy beach. Feel the waves wash over your feet." This is how He Chunlei, a certified hypnotherapist in Shanghai, trains pregnant women to manage the inevitable pain during childbirth.
"When the waves come, they bring comfort; when they recede, they take pressures away. Three, two, one, time to relax," she tells a class of expectant mothers.
The recent suicide of a woman in labor has got China talking about why options for pain management during childbirth weren't widely available.
Less than 10 percent of natural births in China were carried out under epidural analgesia to reduce pain, compared to about 80% in the U.S., due to a shortage of aestheticians, especially at public hospitals, Song Xingrong, director of the anesthesia department at Guangzhou Women and Children's Medical Center, told China Daily. The country had 85,000 aestheticians in 2016, but hospitals required about 300,000, according to the National Health and Family Planning Commission.
He Chunlei, a certified hypnotherapist in Shanghai, trains pregnant women to manage childbirth pain. Photo: He Chunlei
"Anesthetists are always in short supply. … They are shared among different departments in our hospital and in most other hospitals in China," said the chief obstetrician at the Second Affiliated Hospital of Shantou University Medical College in Guangdong, who gave only her surname, Chen.
"There are five beds in our delivery room. Three of them are occupied most of the time. Theoretically speaking, an anesthetist per bed is required for the whole process (of painless delivery). Therefore, at least nine or 10 anesthetists are needed, taking into account the shifts. This is an impossible target."
Academics critical of anesthesia and other drug-dependent ways to reduce pain have been pushing for water birth and even acupuncture to lessen labor pain and postpartum injuries. But fewer than a third of hospitals in the country have facilities for water births, said a gynecologist from Beijing Haiying hospital who wished to remain anonymous. Although China is the birthplace of acupuncture, and several studies have shown its effectiveness in easing pain during delivery, the technique is rarely used in hospitals here.
The ongoing public debate on Chinese social media and professional forums for obstetricians focus on how techniques for pain management can be popularized without turning them into moneymaking gimmicks, especially for private hospitals. The inability to charge a premium for pain intervention due to government stipulations on medical service fees has discouraged most public hospitals from offering these options.
A woman in labor being given an epidurial anelgesia in preparation for a painless labor. Photo: Visual China
"I paid 3,000 yuan ($450) for painless delivery, or epidural analgesia, when I had my son in 2003, and the prices haven't changed much over the past 14 years," said Bao Yan, an employee for a state publishing house in Beijing. Currently, several private hospitals in the Chinese capital have advertised the same procedure for 50,000 to 70,000 yuan, an online search shows.
Chen, the gynecologist from Shantou, said pain intervention puts an extra burden on already underfunded public hospitals. "To be honest, we don't recommend it. It is mostly a publicity gimmick and a big business for many private hospitals."
Bao's experience shows that although the procedure is labeled "painless," in reality many things can go wrong. Epidural anesthesia involves administering small doses of anesthesia to areas around the spinal cord in the lower back. The medication given is just enough to relieve pain in the pelvic region, but the mother is able to use the strength to push the fetus out.
"Maybe the doctor didn't insert the needle at the right position. So the anesthesia took effect for only about 20 minutes. I was under a lot of pain for almost nine hours thereafter," said Bao. "Some pregnant women say they continued to feel pain in some parts of the body, while other parts were numb. Some said they couldn't feel their legs, but still felt pain in their abdomen."
Drugless pain reduction
Some families are opting for exotic methods like hypnosis instead of depending on drugs to relieve pain.
He, the hypnotherapist from Shanghai, said she has trained over 600 pregnant women since 2009.
"Hypnosis pays more attention to improving a woman's ability to endure pain without drugs," said He. "Our bodies can secrete pain-reducing hormones and natural endorphins that are more effective and safer than drugs."
A birthing-center room provides comforts for the mother-to-be. Photo: Visual China
"We rely on epidural anesthesia too much because people are so afraid of pain and ignore the spiritual meaning of childbirth," she said. "But after drugs are injected into the body, moms don't have to do anything. But hypnosis requires moms to learn, to train themselves."
Britain's National Health System has adopted hypnosis as an option to manage pain during childbirth. But the absence of an authorized certification body for hypnotherapists in China meant that public hospitals couldn't hire third-party experts to assist with pain management. There was also no way to guarantee the authenticity of hypnobirthing teachers who were offering private lessons.
Water births are also making a splash in the country, with more public hospitals willing to adopt the technique, given the low-cost infrastructure needed and proven clinical benefits.
"Compared to traditional delivery, the advantages of water birth are visible and measurable," said a gynecologist from Beijing Haiying hospital who wished to remain anonymous. The maternity hospital, founded in 2003, has conducted about 2,000 water births so far.
"Research has shown that it can reduce labor pain by almost 80% and cut delivery time by two-thirds," the doctor said.
It can also greatly reduce injuries due to childbirth. "The water we use for delivery is a 40 degrees Celsius (104 degrees Fahrenheit) isotonic solution that can help the leg muscle to relax," said Dr. Deng Yueyue from Hangzhou Maternity Hospital. "The buoyancy of the water helps women to control their body and gives more flexibility than just lying in bed. As a result, water delivery can reduce the amount of bleeding and the possibility of perineal laceration."
"Some people are worried that the baby might choke in the water. But the environment in a birthing pool is similar to the amniotic fluid in the mother's womb, so the fetus will soon adapt to this new external environment after leaving the mother's body," she added.
But due to the lack of public awareness, the high price and the fact that only a few hospitals have the equipment needed, water delivery isn't widespread in China.
Hangzhou Maternity Hospital — a public facility — charges 3,800 yuan for a water birth, whereas a normal vaginal delivery costs 1,700 yuan. But the special procedure could cost tens of thousands of yuan at a private facility.
"I spent around 20,000 yuan for a water birth, and 10,000 yuan for nursing at a private hospital in Chengdu," said Li Mingmin, a housewife who gave birth in June. "It is very expensive. … But I'm a coward when it comes to enduring pain and I cry even when I'm getting an injection. I knew that painless delivery can be conducted after the uterine orifice opens 3 centimeters (1.2 inches) wide and it can reduce 70% of the pain. So I decided to have a painless labor at the very beginning."
Li's online maternity diary, published on microblogging site Weibo, gives a glimpse of some of the fancier pain-intervention techniques for mothers available at high-end private hospitals in China.
"After I went into the labor room, a nurse started playing some soothing music. They turned off the lights and drew the curtains. There was a voice-over with the music, which helped me relax," wrote Li. "It was like I was being hypnotized and I felt my body floating in the clouds. I lay there for over an hour, until my birth canal had opened 4 centimeters wide." Although this is initial phase of dilation was the most painful according to several obstetricians interviewed by Caixin, Li said she wasn't in agony due to the pain management services.
"Then I went to sit on a yoga ball until I dilated further (before heading to a water pool for birth). The pain was similar to having menstrual cramps," she wrote.
The suicide of the 26-year-old from Shaanxi province has led to a spike in the number of patients choosing less-painful delivery options. But as one Weibo commentator with the online moniker yimingxiaodaren, wrote: "Now there is a class disparity even when giving birth. Those who can afford it will go to the U.S. to have a painless delivery, while ordinary mothers have to grit their teeth and stifle their screams."
You've accessed an article available only to subscribers
VIEW OPTIONS
Share this article
Open WeChat and scan the QR code

Caixin China Biz Roundup: China Cuts Key Interest Rates as Economy Weakens