Hainan Authorities Colluded With Developer to Break Environmental Rules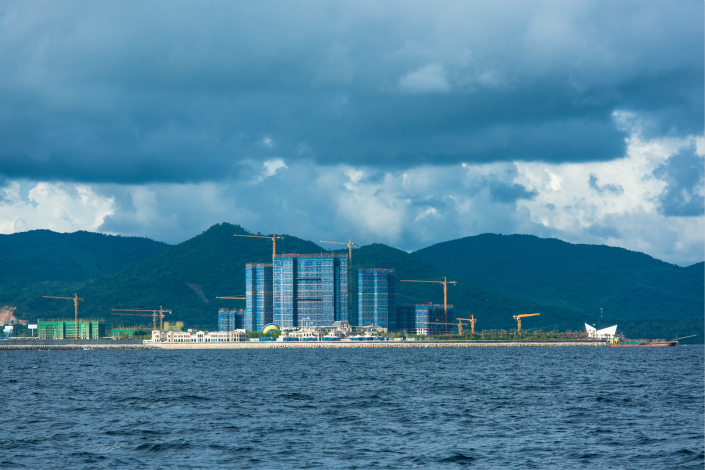 The pictured land reclamation project in Wanning, Hainan province, was initiated in 2015 without regional environmental and maritime authority approval. Work continued until inspectors arrived this year. Photo: Visual China
Authorities on the tropical island province of Hainan colluded with a major developer who flouted environmental laws during land reclamation, according to central government inspectors.
Excessive development of artificial islands without proper environmental impact assessments damaged coastal areas and destroyed parts of the island's maritime ecosystem, the No. 4 central environmental protection inspection team said in a scathing report released Saturday.
The report came after a month-long inspection that ended on Sept. 10. Both the city government in Danzhou and the provincial maritime authority allowed a developer to conduct environmental impact assessments on small parcels of land that were all part of a massive artificial island, inspectors said. The real impact of the development was masked with this approach.
The project damaged a coral reef and the habitat of a rare shellfish known as the white butterfly oyster, inspectors found.
The report didn't identify the developer, but Caixin found that the island in question was being developed by China Evergrande Group. Authorities allowed the company to build a tourist resort and theme park near the protected Dachanjiao coral reef reserve, despite knowing the "tricks" adopted to downplay its environmental impact, Caixin learned.
China has turned to building artificial islands off its coastline in recent years as a relatively cheap way of increasing the land area available for real estate projects.
The developer behind this artificial island resort in Danzhou, Hainan was found to have violated goverment rules on environmental impact studies to downplay the project's impact. Photo: Visual China
Another developer in October 2015 began work on a resort island on land reclaimed from Riyue Bay in the Hainan city of Wanning, without prior approval from the environmental and maritime authorities, inspectors said. Construction at this popular surfing spot didn't stop until inspectors turned up earlier this year, according to the report. Sand excavation in the area has scarred the shoreline.
The environment ministry didn't say whether anyone has been punished for these violations.
The inspection team sent to Hainan also included officials from the Central Commission for Discipline Inspection, the party's top graft buster, and the party's Organization Department, and therefore carried more weight compared to other teams sent by the ministry alone.
Such teams have been sent to eight provinces including Hainan and Qinghai to spot potential environmental violations from August 7 to September 15.
A team that toured Northwest China's Qinghai found illicit developments inside several nature reserves built in the catchment areas of major rivers including the Yangtze, Yellow River and Lancangjiang.
For example, an illegal Goji berry plantation was found inside the Suosuolin Nature Reserve in the Qaidam Basin.
The inspection team didn't say whether they have made any recommendations or set a deadline for the resolution of these problems.
Contact reporter Li Rongde (rongdeli@caixin.com)
You've accessed an article available only to subscribers
VIEW OPTIONS
Share this article
Open WeChat and scan the QR code

China Stories: The Rural Hardship Behind the Mine Murders That Shocked China