Daughter's Long Fight for Justice for Mother's Death in 'Black Jail'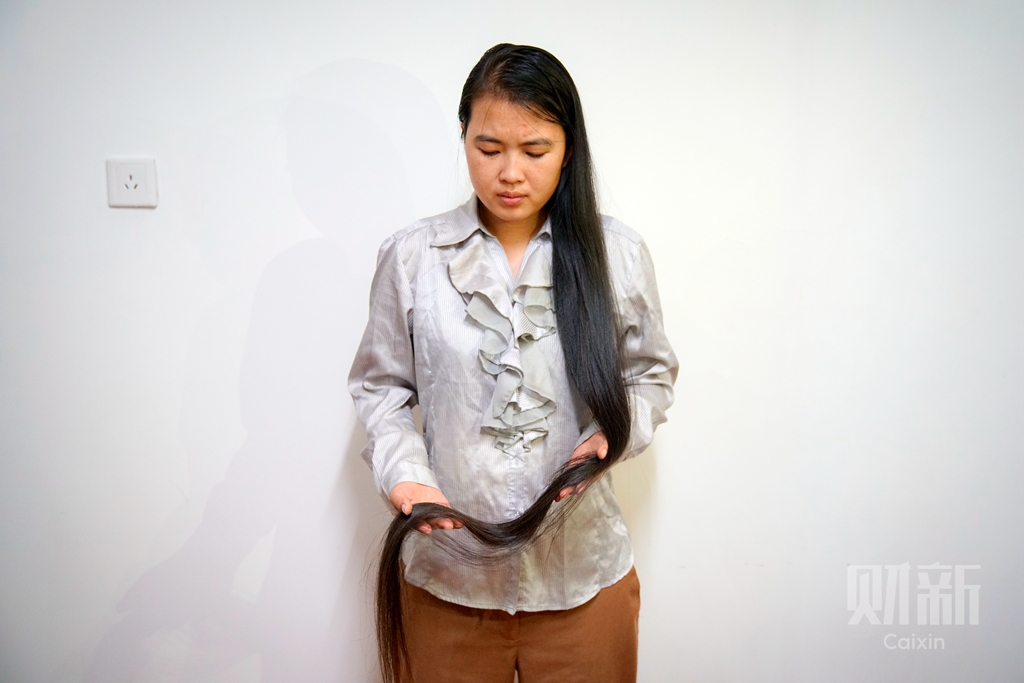 Li Ning vowed not to cut her hair until she brought the people responsible for her mother's death in 2009 to justice. Photo: Chen Liang/Caixin
Li Ning promised she wouldn't cut her hair until justice was served for her mother, who allegedly committed suicide after being tortured by private guards hired to dissuade her mother from petitioning against town authorities.
That was in 2009, when Li Ning was 22 and had a shoulder-length hair. Now her hair which reaches below her knees, has become a symbol of her resolve and a testament of her ordeal as she goes from door to door, petitioning official agencies in Beijing, while being harassed by thugs hired to stop petitioners for over eight years.
Li Ning has been bound, gagged, detained and even made to sit on an infamous torture chair in a hotel turned into a temporary prison in her small town of Longkou in the eastern province of Shangdong. But she persisted, even studying law at Renmin University in Beijing, believing her mother underwent even worse torture before her untimely death.
"My mother was not the first petitioner to be locked up, but she could have been the most miserable one," she said during a recent forum in Beijing. "I'm hoping that what I've been doing can result in fewer children like me losing their moms."
The family's ordeal started when Li Ning's mother, Li Shulian, got entangled in a lease dispute with a city government agency overseeing small shops and retail and wholesale markets in Longkou in 2002. Li Shulian had opened a small shop to sell fashion accessories after she was laid off as a factory worker in the early 1990s. The family had made a small fortune selling watches, jewelry as well as leather and fur coats over the next few years and even built a luxury home by local standards, according to Li Ning.
Li Ning's mother kept the pile of documents she used in her complaints to authorities in a pillow case. Photo: Chen Liang/Caixin
But the long-running disagreement, which allegedly involved town authorities confiscating her shop and goods after she violated a clause in the lease agreement, forced Li Shulian to submit petitions to various government departments in Longkou. After her complaints fell on deaf ears, she submitted petitions to officials in the provincial capital of Jinan, as well as Beijing.
Under the 2005 Regulation on Complaint Letters and Visits, the public can petition, or lodge complaints, with higher authorities if they feel due process wasn't followed when resolving disputes with local government departments or by lower courts.
However, such avenues have proven to be ineffective because higher levels of government, which are swamped by such complaints, often bounce the problem back to the same local government department for a resolution.
Each petitioner who submits a complaint to a higher-level authority also leaves a black mark on the work appraisals of lower-level officials. This has led to a dangerous cat-and-mouse game between petitioners and local officials who would come in person to Beijing, or provincial capitals, or hire private guards to detain petitioners. This form of extrajudicial detention has given rise to "black jails," or small hotels or residential apartments in metropolises that are turned into makeshift prisons refitted by small-town authorities, and used to temporarily lock up petitioners before they are sent back to their villagers.
"Black jails" were rampant in the years leading up to and following the 2008 Beijing Olympics. But the high-profile death of a petitioner in early 2011 prompted Beijing police to launch a six-month clampdown on illegal private guard services in December of that year. There are no statistics on how many such facilities are still in operation, or how many petitioners have died while in illicit detention. (https://www.caixinglobal.com/2014-04-23/101013411.html)
Li Ning was working in Beijing in 2009 when her mother was in town, to submit a petition to several central government agencies over her grievances. She had visited her mother's tiny room, which she had rented in the outskirts of the city, and the pair celebrated Li Shulian's 56th birthday on Aug. 23. They treated themselves to an austere meal of dumplings as the family's finance had depleted.
"But, I never thought that would be the last time I would see my mother alive," said Li Ning. "The next time I saw her, she was lying dead, in a morgue in Longkou, and her body was covered with cuts and large bruises."
The family was dumbstruck by this sudden death. Although officials said it was a suicide, the purple bruises left unanswered questions about the cause of death.
The family was in the dark about Li Shulian's final moments until they received a call from one of her acquaintances. The caller told Li Ning that her mother had received a call from an unidentified third party, telling her to go to the nearest police station to get a temporary residence permit that was required to stay in Beijing legally.
But, this request was simply used as bait to dupe Li Shulian into coming to the police station, where officials from Longkou were waiting to "abduct her" and take her back to Shandong, said Li Ning.
The family wasn't able to contact Li Shulian for nearly a month, and then they were told she had hung herself after she was beaten up by three guards during so-called "a study session" — a period of illicit detention where a petitioner is coerced her into giving up.
The Li family rejected this explanation because they felt Li Shulian would have never resorted to such an extreme measure.
A scuffle erupted between Li Ning's brother and police officers when he tried to take photos of her mother lying in a freezer in the morgue, according to Li Ning. She said she stared at her mother's corpse for several minutes, trying to memorize each cut and bruise on her body.
"I was telling myself that I've got to get justice for my mom if I could get out of Longkou," she said.
Local police detained the Li family in a local hotel and offered them 800,000 yuan (about $117,000 at the time) in return for an agreement to have her mother cremated, a proposal which Li Ning said she rejected upfront.
Her mother's corpse remains to this day in a freezer in a morgue in Longkou. The family has decided to keep her remains until all those who were linked to her detention are brought to justice.
The family was later released. Li Ning managed to flee Longkou and returned to Beijing, and started petitioning central government authorities to find the truth about her mother's death.
Li first worked as a waitress, and later a security guard, while studying law at Renmin University in Beijing, hoping to pass the national legal professional examination.
She also often stood long lines of petitioners in front of the State Bureau for Letters and Calls, a central government agency that handles petitions, the Ministry of Public Security and the Supreme People's Court to lodge complaints about the circumstances of her mother's death.
Li Ning has become a familiar face at a shelter in the south of Beijing, which was used by the government to lock up petitioners temporarily, several of her fellow petitioners said. Even some police officers would say: "Look, the girl from Renmin University is here again."
One day in March 2010, when Li Ning went to the top prosecutor's office to lodge a complaint, she was told her mother's case had been closed and the three guards linked to her mother's death had been arrested.
Staff at the office also warned her that she would be dealt with as "an unlawful petitioner," if she continued pushing ahead with the same complaint.
This was the first time the Li family was officially briefed about Li Shulian's case.
But Li Ning pressed on with her complaints, because she believed the officials, who authorized her mother's abduction in Beijing and who failed to prevent the guards from torturing Li Shulian, should also be brought to justice.
As she grew increasingly desperate, Li Ning went a step further in March 2012, and started kneeling in front of crowds in public venues such as shopping malls. Her high-profile campaign helped her reach Beijing-based lawyer Hao Yajie, who agreed to take up her case pro bono. Hao introduced Li Ning to several legal professionals who helped raise awareness of her case through forums and online campaigns.
Their collective efforts began to pay off and their first breakthrough came on May 21, 2013, when Li Ning's legal team was granted access to court documents from the trial of the three guards linked to her mother's death.
The documented showed that Li Shulian was sent back to Longkou, after being detained in Beijing, and was locked in a hotel room for "a study session" from Sept. 27 to Oct. 2, 2009.
The order came from three officials from a local neighborhood committee, named Yang Xinjun, Xie Shouquan and Wang Huanlei, court records showed.
The three guards, named Zhao Kun, Wang Linan and An Luxu, had admitted to beating Li Shulian with an electric baton and whipping her with a wet towel on several occasions before she was found to have hung herself on the night of Oct. 2, 2009.
Several bruises were found on large areas of Li Shulian's buttocks and on her head, as a result of the beatings, according to autopsy. A spoon was found in her system, although there were no traces of food. She died from strangling herself with her winter leggings.
Zhao Kun, was sentenced to two years in prison, while Wang Linan was jailed for 1 1/2 years for intentionally causing bodily harm in December 2012. The third guard's sentence was suspended immediately and he never served any jail time, according to court papers.
Li Ning and her legal team kept fighting because the three officials hadn't been brought to justice and Shang Songde, the party secretary of the neighborhood committee should also be held accountable for his role in Li Shulian's detention.
As pressure mounted, the prosecutor's office in Longkou in March 2014, brought similar charges against the three neighborhood committee officials as the ones leveled against the three guards.
Government representatives also apologized to the Li family over her mother's death — for the first time — in April 2017.
Later, the Longkou prosecutor's office altered the charges against the three officials from intentional bodily harm to extrajudicial detention that resulted in the death of Li's mother, a more grave offence under Chinese law.
Shang was removed from his post as the party secretary of the Donglai Neighborhood Administration. He is expected to stand trial at the Penglai court, according to a statement from the intermediate Court in Yantai in late November.
In early December, the judicial authority also moved the trial of the three officials to the Penglai court which administers both the courts in Longkou and Penglai in an apparent move to prevent any meddling by local authorities in Longkou.
But, Li Ning's campaign for justice is still wrought with uncertainties as no trial dates have been set so far.
Meanwhile, Li Ning and her family have paid a heavy price for her persistence.
In March 2014, Li Ning had her hands and feet bound and mouth gagged, while she was visiting the government-run shelter that served as a temporary prison in Beijing. She was bundled up into a vehicle and sent to a detention center in Longkou, where she was locked up for 10 days.
"I spent two days without food and was forced to sit on an interrogation chair for 20 hours, which aggravated my menstrual cramps," she said.
Li's aunt, Li Shufen, has supported Li Ning throughout her ordeals. She even divorced her husband because he insisted the Li family should settle with authorities and hasn't spoken to her own daughter for years.
Li Ning said no other petitioners from Longkou have died after her mother's incident and she is glad to think that her relentless pursuit to hold those accountable in her mother's case may have played a role in that.
"The government didn't care about petitioners who died, because their families chose a small cash settlement over justice," she said. "That led to my mother's death."
Contact reporter Li Rongde (rongdeli@caixin.com)
You've accessed an article available only to subscribers
VIEW OPTIONS
Share this article
Open WeChat and scan the QR code