How 'Being Buddhist' in China Morphed Into Ignoring Society's Pressures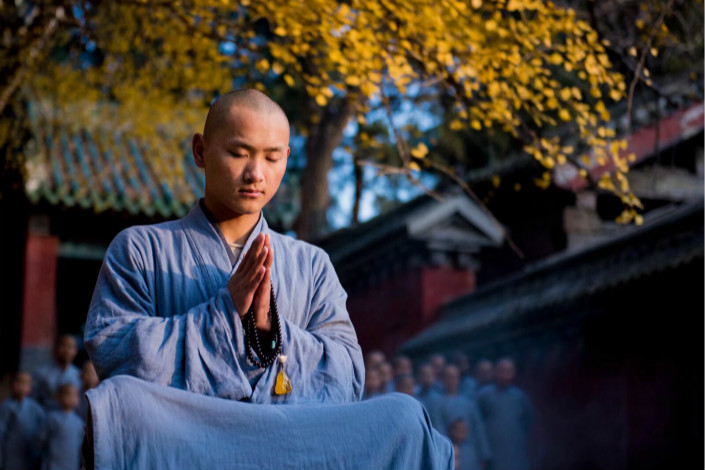 Buddhist monk sits in meditation at Shaolin Monestary in Henan province. "Foxi," or "being Buddhist," became a viral meme among Chinese millennials since December, who use it to refer to one who refuses to succumb to societal pressures. Photo: Visual China
Although Chinese millennials have grown up without the level of poverty or political turmoil their parents or grandparents experienced, a string of viral internet memes hint at a growing despondency among those 18 to 35 years old.
The latest catchphrase, trending since December, is "foxi" (佛系, pronounced "fuo-shee") —­ a twisted take on the Buddhist concept of giving up greed to find contentment. The term literally means "Buddhism," but in its latest reincarnation, it refers to several things, including not succumbing to social pressure, worrying too much, not being too obsessed with a goal, or simply: "Whatever!"
It also hints at the growing pains of the generation that grew up under the one-child policy. Many who were raised with their parents and two pairs of grandparents doting over them seem to crumble under pressure.
"After struggling to get a job, we are faced with overtime work pressure and are just chasing money and are frustrated by high home prices," said 24-year-old Yu Chenhuan. Some young people feel they don't want to be too competitive when pursuing goals, particularly those goals forced upon them by society, she said.
This has given rise to different avatars of foxi, such as the "foxi homebuyer," who remains unfazed by sizzling property prices; the "foxi employee," who isn't always gunning for a promotion; and the "foxi student," who feels less suicidal despite pressure from parents.
A string of recent viral internet memes hint at a growing despondency among China's post-'90s generation. Photo: IC
This current usage pattern, with no links to Buddhist philosophy, first surfaced in 2014, when a Japanese magazine introduced the word "foxi men" to refer to men who like to be alone, focus on their hobbies, and don't want to waste time on love. The word took Chinese social media by storm in December after it was used to describe the "quarter-life crisis" affecting the post-'90s generation. The sentiment was expressed in an article published on a WeChat public account, Xinshixiang, which runs commentaries on culture and lifestyle-related themes.
The article said young people were already experiencing depression, baldness and divorce, and were burdened with issues that come with middle age. It used the term "foxi youth" to show that this generation felt "there's no need to pursue or win anything." After spawning several popular internet memes, the word also spilled into mainstream media.
There are other trending terms such as "sang" (pronounced "sahng"), which highlight the sense of resignation that has overcome Chinese millennials who have a dim view of their career and marriage prospects, although the economy continues to grow at a healthy pace. Foxi is slightly different because it means people aren't giving up — they still have the willingness to do something, but they are refusing to follow rigid norms or goals set by society.
"It's just letting things happen when they happen," 25-year-old Chen Songying said.
However, older generations are critical of the meme, and say millennials are complaining too much. Best-selling author Zong Ning wrote in a column, published by think tank iResearch.cn, that middle-aged and elderly people in China grew up "seizing or fighting for" resources. During the Great Chinese Famine (1959-61) and the tumultuous decade of the Cultural Revolution (1966-76), many had to line up for hours for basic rations or go hungry. In the eyes of those who had such experiences, foxi denotes laziness, irresponsibility or passiveness.
Young people are fighting back. They say the meme is a way to convert stressful reality into something more bearable. Many commentators on social media say it's a way to express their struggles, which can be different from those faced by earlier generations.
Although the term is still widely used in China, some culture critics say it won't create a major dent on mainstream society. A social media influencer with over 2.4 million fans on Weibo who writes under the pen name "Yashalong" told Caixin: "Foxi shouldn't be a big concern since it's unlikely to become the mainstream of youth culture. Chinese youth culture can be defined as 'omnivorous,' influenced by many factors, so foxi will also end up being a marginal subculture like many others."
The winning opinion piece in a contest for university students, organized by state-run Hunan Daily, echoed the same sentiment in December. "An attitude of foxi might help ease pressure in the short run, but in the long run, one needs to learn how to maintain their inner peace while striving for better quality of life without giving up," it said.
You've accessed an article available only to subscribers
VIEW OPTIONS
Share this article
Open WeChat and scan the QR code

Caixin-Sinica Business Brief: China's First Homegrown Jet Sets Sights on Airbus and Boeing