Trapped In a Former Leper Colony
An aerial shot of Bingzhongluo township in Gongshan county, Yunnan province. The leprosy village was located on this island. Today it is also called the "Biggest Bay of the Salween." Travelers only pass by and gasp at its stunning scenery, without knowing anything about the people trapped deep down in the valley. Photo: Guo Xianzhong/ Caixin
Luo Zhongrong, 59, sat in front of his hut, snapping dry sticks. A worn walking stick lay on the ground within his reach. His physical features — claw-like hands, drooping wrists and red eyes all point to the stigma that he had suffered for decades, as a patient who has recovered from leprosy.
Luo has lived in the tiny village of Kantong in Yunnan province, on the southwestern edge of China, for over 30 years after he was left there by his family. His parents and his wife have never visited him.
The impoverished village on a teardrop-shaped piece of land, jutting out in to the roaring Salween river, was once home to a "leper colony." China started segregating leprosy patients in the early 50's as part of the national campaign to eradicate the disease. Thousands were sent off to villages tucked away in the lush mountains of southwest China, where the illness was most prevalent. Although this policy was abandoned in the mid 80's after the government started offering an effective multi-drug therapy for free, many who have recovered, like Luo, have stayed on in the these villages. They chose to stay put because they were worried about social stigma, or that their families would refuse to take them back due to ignorance, or because it's difficult to find work outside.
People like Luo survive on a meager government handout for those still living in former leprosy colonies. They receive somewhere between 30 yuan ($4.7) to 120 yuan per month as a living allowance and up to 22 yuan each month to buy medicine. Some non-governmental organizations have built adobe huts or other community facilities in some of the villages.
At present, there are 657 leprosy villages in China with about 20,000 former patients living in them, according to the China Leprosy Association. Many are now over 65 years old and about 64% are disabled or disfigured because of the disease and half in this latter group are need assistance from a caregiver. But only a few have access to care homes and many are left in isolated villages, served only by volunteer doctors who visit from time to time.
Luo lives in a log cabin with a bed made of boards, a desk and a stove. He has several chicks, a cat and an 18-inch television to keep him company. In the daytime, the sun slips through wide cracks between the logs into his room, casting circles of mottled light and shadows on the floor. The wind at night isn't so gentle, so the cracks near the bedside have been sealed with newspapers from 1997.
Luo is the only survivor of the dozens of leprosy patients who were sent to the village. He was only 26 when he was abandoned in Kantong.
"Those who were older than me have all died," he said.
The history of leprosy in China can be traced back to the Spring and Autumn Period (770BC-221BC). Due to fear and stigma, most leprosy patients were buried or burned alive before 1949.
According to the China Leprosy Association, there are 6,000 leprosy patients in the country at present. Only five regions — Shandong, Shanghai, Liaoning, Zhejiang and Jiangsu — have eradicated the disease. Data from the National Health and Family Planning Commission, showed there were 300 new patients in 2017.
Many tourists who come to trek in the nearby Danla mountain area or take photos of the "biggest bay" on the roaring Salween near the border between Tibet and Yunnan know little about the region's past as an open prison for leprosy patients or the abject poverty of the villagers. The Salween makes a U-shaped curve around the island, but the fate of the villagers here has remained stagnant for decades.
Trapped in paradise
Over the years Kantong village has expanded as some recovered patients married and had children. Today it has 26 inhabitants in 12 households. But due to ignorance and stigma, even the offspring of former patients are ostracized by society and therefore, are virtually trapped in the village. Authorities have turned a blind eye to their plight.
Nine families in Kantong live in abject poverty, earning 600 yuan to 1,900 yuan per year, according to local government records.
There are no paved roads and the village is connected to the outside world by one bridge. To reach the village, one has to climb and descend a mountain, cross the river, and climb another mountain and walk down to the valley below. Horses remain the only means of transport.
Wang Xiaobing, an able-bodied young man of 26, survives by mining slate used by the Nu and Lisu ethnic minorities in nearby villages to build roofs. He spends his day chipping slate off the face of a nearby mountain and cutting it into roofing tiles. Then he carries the tiles in a basket down the mountain and hires a horse-drawn cart to take it to town, where it's sold for 4 yuan per piece. Wang Xiaobing earns about 1,500 yuan per month for this back-breaking work.
When asked why he doesn't go to the nearby Bingzhongluo county to become a waiter at a restaurant, a comparatively easy job that pays 3,000 yuan per month, Wang said: "I don't want to go out and work in the town now since I am not accustomed to the food and accommodation."
But, the young man with a constant layer of dust on his face and a slightly curved spine later admits he fears it would be hard to for him find a job outside, given where his roots were.
Li Haisheng, 30, also lives in Kantong and earns about 1,800 yuan per month herding horses.
On his way home after taking slate to the market, Li buys a few bottles of the local barley-brew to share with friends at night. Both Wang and Li are bachelors. Almost all the young male villagers are single because there are only a handful of girls in the village and they all wanted to marry someone from outside Kantong.
Yearning to escape
Axiang, born in 2000, dropped out of middle-school and went back to Kantong six months ago. Only 2 out of the 42 students in her class were admitted to high school and the rest have gone home or gone to find work in nearby towns.
She now helps her grandmother cultivate their small plot of land and was carrying a woven basket full of sun-dried corn when I first saw her.
After her father drowned in the Salween, her mother remarried and took her brother but left her with an uncle and her grandmother. Axiang said she can barely remember her mother's or brother's face.
"When I am not feeding the chicks or cows or cooking, I feel like I'm just living in a daze," she said. The only television is locked up in her uncle's bedroom.
Posters of Taiwan actor Chris Wu are pasted on her bedroom wall. Her dream is to go to Shanghai and not get married until she is 22. "I don't want to get married too early," she said.
But, her uncle has other plans for her. He has recently bought a minibus and started a travel business. Therefore, he is no longer entitled to the government subsidy for poor families. He wants Axiang to help with the household chores and plans to get her engaged soon.
Axiang once ran away from home to find work in a nearby town. She also wants to learn to dance at a free class offered by a Christian church in Baoshan Mountain. But, all she can do is while away the hours staring at the mountains and the roaring Salween.
* Nvzei is the penname of the founder of Words Collection Creative Cultural Products Institution
The only bridge on the island with the Salween flowing below. Photo: Guo Xianzhong/ Caixin
The few young women among the village's 26 residents dream of marrying an outsider. Most young men are struggling to find a bride. Photo: Guo Xianzhong/ Caixin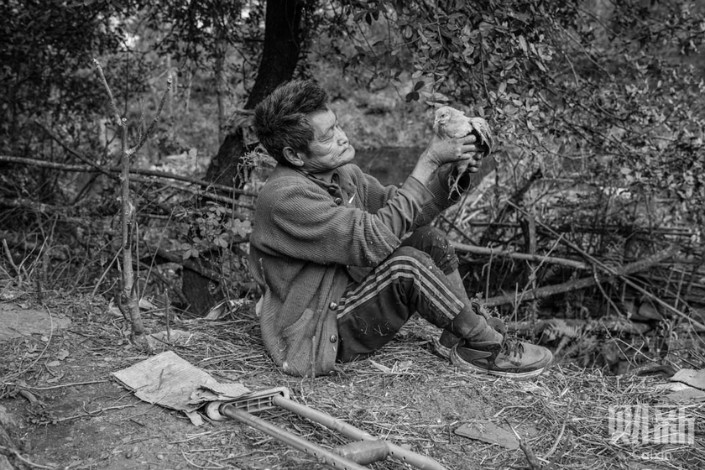 Luo Zhongrong, 59, murmurs to his chick "I have indeed recovered." He is the only survivor of the former leper colony and continues to live in the village because his parents and wife have abandoned him. Photo: Guo Xianzhong/ Caixin
Axiang has lived at home since she dropped out of middle school. Only two out of the 42 students in her class were admitted to high school and the rest have gone home or gone to find work in nearby towns. Photo: Guo Xianzhong/ Caixin
Villagers try to eke out a living by poultry farming. Photo: Guo Xianzhong/ Caixin
Most young men make a living by cutting and transporting a special type of slate, used by people of the Nu and Lisu ethnic minorities to build roofs. This kind of slate doesn't shatter when nails are hammered into it and can be carved with knives. Villagers carved the shale into tiles and sell each piece for 4 yuan ($0.62). Photo: Guo Xianzhong/ Caixin
A child rides on a stick while his mother looks on. Children and women are a rare sight in Kantong. Photo: Guo Xianzhong/ Caixin
You've accessed an article available only to subscribers
VIEW OPTIONS
Share this article
Open WeChat and scan the QR code

00:02

Mar 21 17:12

Mar 21 17:16

Mar 21 16:52

Mar 21 15:49

Mar 20 19:25

Mar 20 18:20

Mar 20 17:07

Mar 20 16:06

Mar 20 16:43

Mar 20 14:49

Mar 20 14:36

Mar 20 12:35

Mar 20 01:57

Mar 19 20:56
GALLERY