Oct 27, 2018 05:56 PM
WORLD
Progress Made in Sino-Japan Relations During Abe Visit To Beijing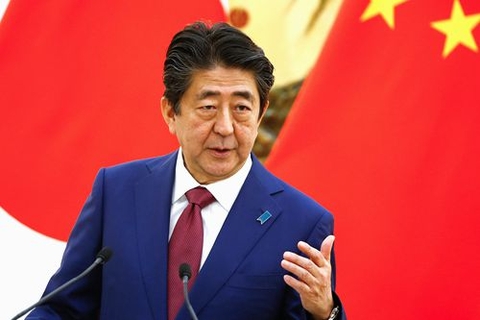 Japanese Prime Minister Shinzo Abe pays the first visit in China in seven years between Oct. 25 and 27, 2018. Photo: VCG
Progress was made in Sino-Japanese relations on diplomacy, the economy, maritime security and, never to be overlooked, pandas, during Japanese Prime Minister Shinzo Abe's visit to China that ended Saturday.
Japanese Foreign Ministry press secretary Takeshi Osuga told media at a press briefing on Friday evening that the two sides exchanged "constructive" proposals and had agreed to pursue a relationship that was "not threatening" to the other.
Abe will visit China again next year during the China–Japan–South Korea trilateral summit. The Japanese prime minister has invited Chinese President Xi Jinping to visit to his country next year, as well.
While a number of commercial deals were announced during the trip, there was no mention of a possible high-speed rail project in Thailand, which, according to rumors, will be co-constructed by China and Japan.
The countries said they would contribute to each other's diplomatic efforts. China expressed willingness to facilitate the G20 leaders' summit in Osaka next year, while Japan pledged to support the "ASEAN Plus Three" conference (The Association of Southeast Asian Nations and the three East Asia nations of China, South Korea, and Japan), which China will co-host in 2019.
During Abe's visit, the two nations established sea and air communication mechanisms to avoid clashes in disputed areas, and inked agreements on search and rescue cooperation on the ocean.
But Osuga, citing Abe, said there could be no true improvement in the relationship without stability in the East China Sea, an uneasy region where China and Japan had long been at odds over territory and exploitation of resources.
The two nations expanded economic partnerships, signing 52 agreements, including a currency swap deal and a memorandum to facilitate the cooperation between securities markets in the two countries.
Abe's visit to China was closely watched by the world to see how Japan, as a major Chinese trading partner but a firm security ally of the United States, would position itself on the Belt and Road Initiative, Beijing's international mega infrastructure investment project.
Abe said during his meeting with Xi that the Belt and Road concept had potential and that Japan was willing to strengthen its cooperation with China in various areas, including exploring third-party markets. However, no specific deal on support of the initiative was agreed during the visit.
Abe suggested the Belt and Road Initiative should take full account of international standards for openness, transparency and financial sustainability of infrastructure projects, Osuga said.
The Japanese delegation proposed leasing pandas from China for zoos in Sendai and Kobe. Beijing first presented Japan a pair of giant pandas in 1972, and there are now nine giant pandas kept in three Japanese zoos, according to Chinese government-owned media People's Daily.
The two sides will hold further talks on cooperation in raising giant pandas.
Osuga said that the talks during the meeting also touched on issues involving the Korean Peninsula, Japan's cessation of its 40-year-long development assistance to China, climate change, the 2020 Summer Olympics in Tokyo, the 2022 Winter Olympics in Beijing as well as youth communications and exchanges.
Contact reporter Coco Feng (renkefeng@caixin.com)
Share this article
Open WeChat and scan the QR code