Charts of the Day: Throwing Cash at Pledged-Stock Crisis
The total number of pledged shares on China's stock markets declined for the first time this year in November, after local authorities and financial institutions set up bailout funds worth billions of yuan in total to rescue distressed companies that have seen their shares pledged as collateral for loans.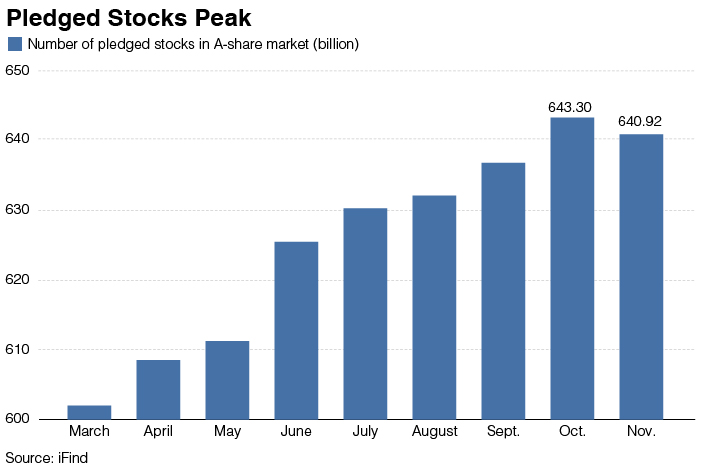 Graphic: Gao Baiyu/Caixin
These companies' financial problems stem from the government's crackdown on shadow banking and heightened regulatory scrutiny of the financial sector.
With alternative funding channels drying up, many major shareholders pledged a large portion of their holdings as collateral for loans. As the stock market slid, they had to hand over more shares or cash to compensate lenders for falling prices.
Graphic: Gao Baiyu/Caixin
Graphic: Gao Baiyu/Caixin
Graphic: Gao Baiyu/Caixin
Brokerages and banks that lent money on the back of the pledged shares also started dumping the holdings to minimize their losses when borrowers failed to come up with the additional collateral or to pay back their loans, creating a vicious cycle of downward pressure on share prices that has rattled authorities.
Following the call of the central government to "unwaveringly support the private sector," local governments started to set up rescue funds in mid-October, and as of Dec. 4, more than 15 local governments have set aside 25.5 billion yuan ($3.73 billion) to bail out affected companies, according to a calculation by Caixin based on public records.
Financial institutions, including brokerage firms and insurance companies, have also joined the rescue campaign. According to the Securities Association of China, as of Nov. 23, 26 brokerage firms have promised to invest 44 billion yuan to set up asset management products that aim to help public companies.
After the China Banking and Insurance Regulatory Commission encouraged insurers to invest in quality private companies to help ease liquidity risks, six insurance companies have set up 86 billion yuan worth of special products.
However, as stock markets have been boosted by the authorities' support, some shareholders decided to cash out their shares as soon as possible. According to data compiled by iFand, major shareholders sold more than 11.2 billion yuan worth of shares in November, nearly triple the amount in October.
Contact reporter Liu Jiefei (jiefeiliu@caixin.com)
You've accessed an article available only to subscribers
VIEW OPTIONS
Share this article
Open WeChat and scan the QR code

Apr 03 18:41

Apr 03 16:11

Apr 03 13:37

Apr 03 10:13

Apr 02 18:19

Apr 02 15:27

Apr 02 14:02

Apr 02 13:46

Apr 02 09:22

Apr 01 16:00

Apr 01 15:51

Apr 01 13:31

Apr 01 10:40

Apr 01 03:10

Apr 01 03:06
GALLERY