Tongji University Suspends Professor After Student Suicide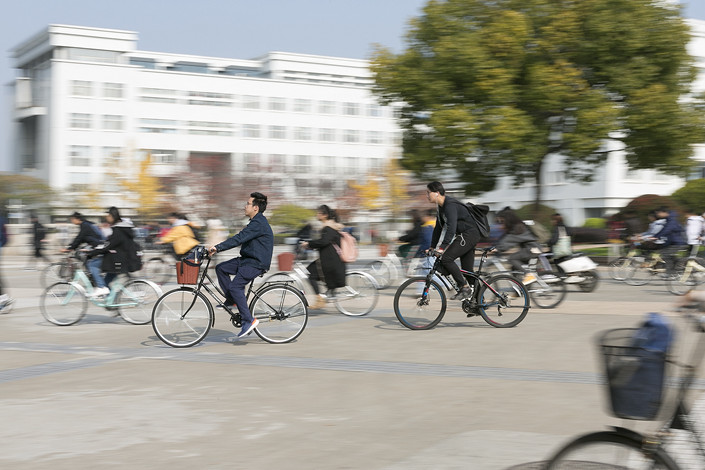 The campus of Tongji University in Shanghai is seen. Photo: VCG
Shanghai's elite Tongji University has suspended a professor accused of overworking master's-degree student Lu Jingwei before Lu's suicide in December.
Lu Yanjun (no relation to Lu Jingwei), a faculty member from Tongji's medical school, has temporarily been barred from teaching while Tongji conducts an investigation, university spokesperson Zhu Dazhang told Caixin on Monday.
Lu Jingwei, 24, died on campus on Dec. 13. His family has blamed Lu Yanjun, who supervised Lu Jingwei's studies in oncology, for the death.
"Lu Jingwei worked ceaselessly for his supervisor, Lu Yanjun, nearly 365 days a year since July 2015, without vacations and without pay," read a letter that appeared to have been written by Lu Jingwei's father and was posted on Weibo (link in Chinese) on Friday.
Caixin Global was unable to verify the authorship of the letter, which has been reposted more than 22,000 times and republished by Chinese media.
The letter claimed Lu Jingwei had failed to complete his master's program on time in 2018 because he had repeatedly missed classes in order to work on experiments for Lu Yanjun, and that Lu Yanjun had asked him to spend his time on papers unrelated to his major. The letter's author said the student had sent a message to his supervisor shortly before his death, saying, "I'm going to jump off a building. (College Vice Dean) Zhang Xiaoqing will be looking to speak with you."
Tongji's spokesperson said officials had found no clear evidence so far to suggest that Lu Jingwei's death was due to being overworked by Lu Yanjun. Caixin was unable to reach either Zhang or Lu Yanjun, who the university said was currently abroad, for comment.
"There are almost always multiple causes (for suicide), including psychiatric illnesses, that may not have been recognized or treated," according to information jointly provided by U.S. organizations that include the American Foundation for Suicide Prevention. "However, these illnesses are treatable."
Students at Tongji's medical school told Caixin it was common to experience significant pressure from supervisors.
"The school wants to improve its ranking, so it must publish more papers, take on more projects, and therefore squeeze each faculty. The faculty members then assess the supervisors, so the supervisors pressure the students," one student, Ma Bo, told Caixin.
Chen Le, another medical student at Tongji, said supervisors had strict requirements, and that she had to rush to the laboratory every day, and frequently had no time for meals. "I cried every day," Chen said.
Contact reporter Teng Jing Xuan (jingxuanteng@caixin.com)
You've accessed an article available only to subscribers
VIEW OPTIONS
Share this article
Open WeChat and scan the QR code

05:20 PM

12:55 PM

Mar 08 07:15 PM

Mar 08 07:11 PM

Mar 08 04:59 PM

Mar 08 03:40 PM

Mar 08 03:17 PM

Mar 08 02:48 PM

Mar 05 06:10 PM

Mar 05 04:12 PM

Mar 05 01:56 PM

Mar 05 12:55 PM

Mar 04 05:33 PM

Mar 04 12:46 PM

Mar 04 12:32 PM
GALLERY