Apple Chief Counsel Accuses Qualcomm of Holding Phone-Makers for 'Ransom'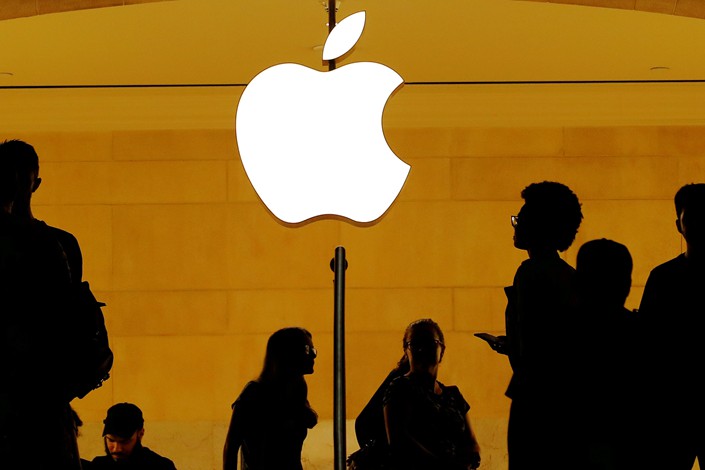 The Apple Store at New York City's Grand Central Station is seen on Aug. 1. Photo: VCG
* Krall claims that Qualcomm is "trying to get an injunction in either China or Germany or somewhere to force a settlement that would not only be bad for Apple, but for the entire industry"
* "There is no settlement at all on the horizon" because "Apple and Qualcomm are just way too far apart on all of these issues," she said
(Beijing) — Apple Inc.'s chief litigation counsel has accused Qualcomm Inc. in an interview of holding smartphone-makers for "ransom" and making "misleading" claims to the media.
Speaking with Caixin, Noreen Krall said Qualcomm's collection of patent fees amounted to "licensing ransom," and said smartphone-makers have to sign up to "unfair" deals to purchase from the U.S. chip giant.
"If you need a CDMA chip in your device so it would operate on certain networks like China Telecom or Verizon, you don't have a choice. You've got a gun to your head," Krall said.
Her comments came after a court in Fuzhou, Fujian province, last month ruled Apple infringed two Qualcomm patents, and issued injunctions against the sale of six older versions of the iPhone in China.
The two U.S. companies are locked in a worldwide dispute over licensing fees. Apple has argued Qualcomm unfairly leverages its position as the biggest supplier of chips for smartphones to force payment of the unfair royalties. Qualcomm has countered that Apple is using Qualcomm's intellectual property without paying for it, and its legal cases are aimed at forcing it to lower licensing charges.
Apple has taken immediate measures after the Chinese rulings, and "there is no settlement at all on the horizon," Krall said by phone on Wednesday.
Below is an edited excerpt of the interview.
Caixin: A few days after the Chinese ruling, a Munich court also ordered an injunction against Apple over a claim in Germany. Apple said it would stop selling the iPhone 7 and iPhone 8 at its stores there, but you are still carrying them in China. Why is that?
Krall: Qualcomm filed over 20, I think 27, different patent lawsuits in six different provinces in China against Apple. And it told us straight up in negotiations that we have to, their words are, we had to run the table and win all these cases, because they were trying to get the leverage of an injunction over Apple in order to hold us to licensing ransom for billions and billions of dollars, and that's really what they're trying to do.
They're trying to get an injunction in either China or Germany or somewhere to force a settlement that would not only be bad for Apple, but for the entire industry. And more recently, Qualcomm has been making misleading statements to the press, to consumers.
And I think in an effort to influence the court, they're making misleading statements about our compliance with the injunction in Fuzhou. Right after Apple was served with the rulings in Fuzhou, we immediately identified impacted units, phones that had the operating system that was accused of infringement. We didn't know about this preliminary injunction, we didn't have the full chance to defend against it. But we removed them from sale in all our retail stores, except for the phones that were manufactured by Pegatron because Pegatron has a license. (Editor's note: Taiwan-based Pegatron Corp. is one of the contractors that assemble iPhones. Since Pegatron has a license, it isn't subjected to the injunction.)
Also, immediately after we got this ruling, our engineers worked immediately on developing a new switcher and users wallpaper and to find the contract functions that would take out the technology that Qualcomm accused of infringement. By Dec. 13th, we removed all units for sale and source that had that version of the operating system on them. By Dec. 17th, we had developed and tested and validated new software and rolled it out on Dec. 18th. And by Dec. 27, we updated all of the phones that we have for sale in China with the new iOS 12.1.2, which took the technology out that Qualcomm claimed was infringing.
Apple fully respected the court's decision and made tremendous efforts to comply with the ruling of the court. And we filed our evidence of compliance with the Fuzhou Intermediate Court on, I think, Jan. 3. And at this point, we're waiting for a ruling on our request for confirmation of our compliance. In light of everything Apple did, for Qualcomm to be calling on the court to enforce an injunction against products that don't even have the software in them anymore that they accused of infringement, it's really bad for consumers and impacts consumer choice. It's bad for the industry there. I mean, all of the phones that we're selling are actually manufactured there. It's just not good for innovation and competition.
Why were the iPhones recalled in Germany but not China?
So to be clear, in both China and in Germany, we immediately identified the phones units that were accused of infringement and stopped selling them. The difference between China and Germany is that the patent in Germany was unrelated and it has to do with a hardware chip developed in our phone. And so we couldn't, we can't just take that chip out of the phone. So we took those phones out of the store.
In China, the accused infringement was against two features in iOS. We immediately took those features out of iOS, and we would not be selling phones with those accused features in them. And we replaced it with new software within 10 days. The claims at Qualcomm brought against Apple did not include our carriers, and our third-party resellers, but in China we made sure that all of the products that even they would be selling had the new software in them as well and took accused features out.
Apple has accused Qualcomm of threatening and monopolistic behavior. Did that impact Chinese makers?
I have trial quotes from a senior person at Huawei who basically said both direct and implicitly that if they did not extend their CDMA patent license agreement, Qualcomm would stop supplying chipsets to us (Huawei). And that would be a big disruption of Huawei's business. We signed the CDMA license on terms Huawei regarded to be non-FRAND (fair, reasonable, and non-discriminatory) because we had no choice. That's direct testimony from Huawei.
There was actual, there's threats twice against Sony that if they (Sony) didn't sign up because of the CDMA license terms, Qualcomm would recall chip supply. They actually said that in court today (Wednesday), and the cross-examination of Irwin Jacobs, the (Qualcomm) founder himself, he personally threatened LG, that if they didn't sign up to the CDMA terms, that they would and they did withhold chip supply.
And if you need a CDMA chip in your device so it would operate on certain networks like China Telecom or Verizon, you don't have a choice. You've got a gun to your head at that point in time. But this was the actual trial testimony that came in, in the FTC (U.S. Federal Trade Commission) case over the last week and a half.
Is there any potential for a settlement? Because Qualcomm said Apple is negotiating for that, but Apple CEO Tim Cook has denied that.
There is no settlement at all on the horizon. The company hasn't talked settlement. Apple and Qualcomm are just way too far apart on all of these issues — on no license, no chips, patenting exhaustion, the royalty rates. When parties are this far apart, you really need to go and get some third party to help moving forward. I think the FTC case as I started to call it was very strong. I think they put it in a very strong case and Qualcomm really has an uphill battle, and the FTC decision will be an important next step here, and then Apple has its own case with additional claims against Qualcomm that'll go forward in April.
Contact reporter Jason Tan (jasontan@caixin.com)
You've accessed an article available only to subscribers
VIEW OPTIONS
Share this article
Open WeChat and scan the QR code