China's Forex Head Vows to Hold Yuan Stable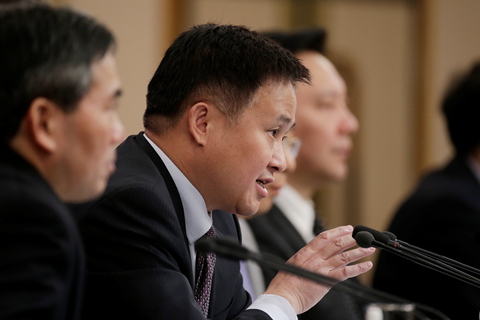 Pan Gongsheng. Photo: VCG
China will keep the yuan basically stable at reasonable and balanced levels, Pan Gongsheng, vice governor of the central bank, said Monday at a forum.
The vice governor's comments came after the yuan gained 3% against the dollar so far this year. Trade talks between the United States and China continue with the exchange rate as a key issue.
Pan, who is also the director of the State Administration of Foreign Exchange (SAFE), attributed the yuan's strength to China's continued strong economic fundamentals. Looking ahead, he said China's economy will remain in a strategic transformation period with sufficient resilience and great potential, and its long-term growth trend won't change. He made the comments at the China Development Forum 2019 in Beijing.
Pan cited several uncertainties facing the yuan, including the possibility of a global economic slowdown, trade protectionism and geopolitical conflicts.
China and the U.S. will resume trade talks this week following the last round of talks in mid-February. U.S. Trade Representative Robert Lighthizer and Treasury Secretary Steven Mnuchin are set to travel to Beijing on Thursday, while a Chinese delegation led by Vice Premier Liu He will visit Washington next week, according to China's commerce ministry.
U.S. officials have said any trade deal will include a provision to bar China from competitively devaluing its currency to help exporters.
China's renminbi is not freely convertible, but under a managed system of floating exchange rates, the yuan is allowed to rise or fall by 2% daily from a central parity rate against the U.S. dollar which the People's Bank of China sets each trading day.
In recent years, the flexibility of the yuan against the dollar has increased significantly. The swing between the highest and lowest rates within a year widened to 10.2% in 2018 from 2.8% in 2012.
The market will play a decisive role in the exchange rate regime and China will continually maintain a flexible yuan exchange rate, Pan said. The central bank will improve the transparency of how the central parity rate is set, he said.
Pan said the newly passed Foreign Investment Law will help to further open up China's markets, protect foreign investors' rights and interests, and create a stable, transparent, predictable and fair market environment.
The new Foreign Investment Law was passed at China's annual meeting of legislators earlier this month and will take effect at the start of 2020. Under the measure, China vows to fully implement policies for foreign investors to be treated on a par with domestic ones in the early stages of setting up a business in China, and a negative list of industries in which foreign investment is limited or prohibited.
The new law also bans the practice of forcing foreign firms to transfer proprietary technology to Chinese joint venture partners.
Pan emphasized that foreign investors will be allowed to freely remit their investments, profits, capital gains, proceeds from asset disposals, intellectual property license fees and other compensation received legally either in renminbi or foreign currencies.
Last week, SAFE issued a new rule on the capital management of multinational companies operating in China, simplifying the registration process for multinational companies borrowing from abroad or lending money abroad, and making it easier for them to manage cross-border capital flows.
In the next step, SAFE will continue to simplify its administrative process and deepen the reform of capital accounts to further improve convenience for foreign investors, Pan said.
The focus of China's opening-up efforts will be the financial services sector, Pan said. China will ease restrictions on foreign access to banking, securities and insurance industries and step up opening of domestic bond, stock, forex and derivatives markets to foreign investors, he said.
Contact editor Han Wei (weihan@caixin.com)
You've accessed an article available only to subscribers
VIEW OPTIONS
Share this article
Open WeChat and scan the QR code