Networking-Gear Maker Takes Aim at Huawei With Foray Into 5G, CEO Says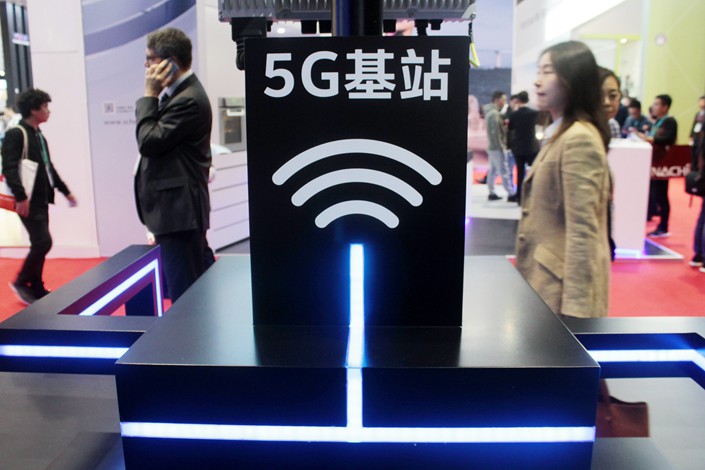 5G provides a lot more bandwidth than past mobile technologies, but it requires more hardware to implement, which network equipment-maker New H3C sees as its next business opportunity to. Photo: IC
Network equipment-maker New H3C wants to break into the market for 5G micro base stations and it doesn't mind taking on industry giants like Huawei and ZTE to do it, the company's CEO Yu Yingtao told Caixin.
At the company's annual meeting over the weekend, Yu unveiled the shift in strategy to focus on next-generation telecommunication technology that will support up-and-coming businesses like autonomous vehicles.
For New H3C, which is controlled by Tsinghua Unigroup, the in-house asset management arm of Tsinghua University, 5G mobile tech represents a business opportunity that it only now can pursue.
5G provides a lot more bandwidth than past mobile technologies, but it requires more hardware to implement, Yu said over the weekend. That means the rollout of 5G will compel network operators to buy more routers and switches, and will push the corporate owners of facilities like factories and industrial parks to install more micro bases stations.
"4G was unable to meet the needs of business clients in their applications such as in the industrial internet. But in the era of 5G, these applications have merged, and they will not work out if there's no complete and continuous signal coverage," said Yu, who is also New H3C's president.
New H3C Technologies Co. Ltd. was set up in 2016 by Tsinghua Unigroup Co. Ltd. and U.S.-based HPE, with the former holding a controlling stake of 51%. Tsinghua Unigroup bought the shares for around $2.5 billion from HPE-forerunner Hewlett Packard in 2015.
Huawei-3Com Co. Ltd., the China-based networking equipment-maker known as H3C, was a joint-venture originally established in 2003 by China's tech giant Huawei Technologies Co. Ltd. and American network communications veteran 3Com Corp., with its business focused on routers and corporate switches. After several acquisitions, the company was renamed New H3C and became a crucial part of Tsinghua Ungroup's foray into cloud computing and networking technologies, competing directly with companies including Huawei and Lenovo Group Ltd.
Yu said H3C had an agreement with Huawei that stipulated New H3C stay out of the mobile networking equipment industry, but that agreement has since expired.
In the 5G market, the niche of macro base stations has left little space for new competitors because four big players — Huawei, ZTE, Nokia, and Ericsson — control most of the market. Still, there might be a foothold for New H3C in the business of micro base stations.
Veteran equipment-makers such as Huawei and ZTE Corp. have been working in the domestic market for some time. The first 5G-equipped railway station and airport in the country, for example, have adopted Huawei's services and products to roll out their indoor 5G coverage.
New H3C, however, also does not plan to give up its longstanding edge in wireless networking gear, according to Chief Technology Officer You Xuejun. The wireless technology will most likely merge into 5G as the new telecommunication era unfolds, but the company will not abandon their existing advantage.
You estimated that 5G and its related "edge computing" technologies will be carried out in early stages as pilot programs in a handful of locations. The central government aims to have the commercial use of 5G up and running next year, but the industry will not be able to manage a large-scale rollout of 5G and edge computing technologies before telecom operators can prepare the network infrastructure.
"New H3C has identified edge computing as our key direction going forward," You said in the interview.
Contact Reporter Isabelle Li (liyi@caixin.com)
You've accessed an article available only to subscribers
VIEW OPTIONS
Share this article
Open WeChat and scan the QR code