Hong Kong Giant CK Hutchison Sets Up Telecom Holding Company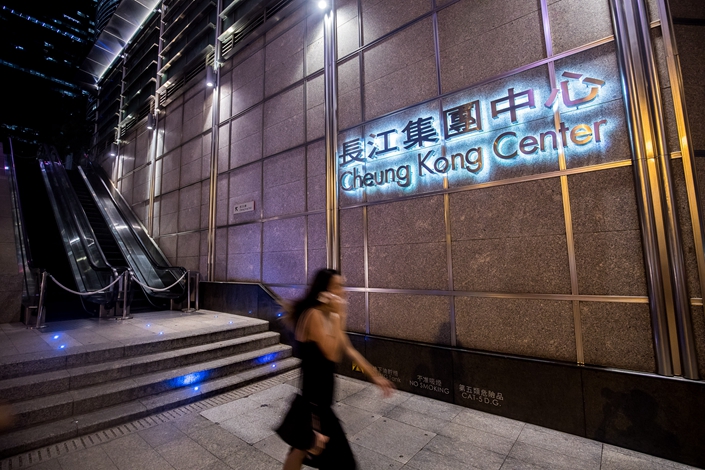 Photo: VCG
Ports-to-telecoms conglomerate CK Hutchison Holdings Ltd. said it is moving two of its main telecom assets into a single newly formed holding company, as part of a process to lower costs and improve efficiencies.
CK Hutchison, the flagship of Hong Kong billionaire Li Ka-shing, said that CK Hutchison Group Telecom Holdings (CKHT) was formed last month as part of the restructuring. The holding company's assets will include the parent's 3 Group Europe operation, which contains telecom networks in Britain, Italy, Sweden, Denmark, Austria and Ireland; and a network in Hong Kong owned by the publicly listed Hutchison Telecommunications Hong Kong Holdings Ltd.
Officials revealed the plan Thursday at an investor conference to discuss the company's first-half results, explaining the move would provide more clarity for investors, reduce costs and debt, raise operational efficiency and boost its future cross-border business opportunities. The move will also give the new company more flexibility in fundraising. Telecom is one of CK Hutchison's five core businesses, accounting for more than 20% of its revenue.
The three big ratings agencies, Moody's, Standard & Poor's and Fitch, have all already assigned or given their planned assignments for the new holding company's debt. Those ratings were all investment grade in the upper- and lower-medium grade bracket, and all three have given the company a "stable" outlook.
In addition to 3 Group Europe and the Hong Kong-based telecom operator, CK Hutchison also has an Asian unit that offers mobile services in Indonesia, Vietnam and Sri Lanka. But those Southeast Asian assets will not be included in the new holding company.
In addition to housing the European and Hong Kong telecom networks and services, the new holding company will include a telecom infrastructure company called CK Hutchison Networks Holdings. That company will be capitalized and receive assets by the end of this year, including 28,500 base stations in Europe. Another 9,000 base stations in Asia will also be injected into the infrastructure company in the future.
The shuffle could provide the company with greater efficiency and flexibility in its rollout of cutting-edge 5G services, allowing it to save costs and expenses, a spokesperson said.
The shift comes as many wireless carriers worldwide are facing slowing growth as penetration rates reach 100% and even higher when some people open multiple accounts. Most are facing declining revenue from traditional voice services, though that is largely being offset by rapid growth in data services. At the same time, many carriers are having to spend heavily to build expensive 5G networks.
The 3 Group Europe posted HK$43.5 billion ($5.56 billion) in revenue in the first half of the year, up 20%, while earnings before interest, tax, depreciation and amortization rose 27% to HK$16.3 billion. But the group's total users slipped 3.85% to nearly 50 million, and its active users fell an even larger 6.5% to 41.7 million. Average revenue per user (ARPU), a common industry metric, also fell 12% to 15.46 euros per month, while data use soared 39%.
Meantime, the Hong Kong unit saw its revenue tumble 37% to HK$2.5 billion in the first half of the year, mostly as a result of falling revenue from sales and of smartphones and other hardware. Net profit also fell 5% to HK$188 million.
Contact reporter Yang Ge (geyang@caixin.com; Twitter: @youngchinabiz)
You've accessed an article available only to subscribers
VIEW OPTIONS
Share this article
Open WeChat and scan the QR code

Caixin China Biz Roundup: What Does the U.S. CHIPS Bill Mean for China?