Photo Essay: Fishermen Out of Water
Fisherman Shi Jinhua, 46, paddles his boat to Hongze Lake on Aug. 6. He relies on fishing for his livelihood, but this year's drought caused him losses of nearly 200,000 yuan. And he's still better off than many fishermen here in Gaojiayan town, in Huai'an city of Jiangsu province. Photo: Ding Gang/Caixin
Liu Yanming's caged fish farm is at a crisis point. It was once part of China's fourth-largest freshwater lake, Hongze in Jiangsu province. The net that drew its boundary still stands, but the lake has retreated 700 or 800 meters.
Liu expected little rain this year, but nobody could have foreseen that searing late-July heat would completely dry up his pond, killing more than 30,000 kilograms (66,139 pounds) of fish and crabs and inflicting hundreds of thousands of yuan in losses.
Liu's family has been in the aquaculture industry for generations. He began raising fish with his parents. They've never seen things this bad.
During a visit in early August 2019, Caixin reporters found the pond had transformed into a dried-up, cracked scar of clay scattered with clam shells, dead fish and crabs.
This summer, parts of northern Jiangsu suffered severe droughts of the likes not seen in 60 years. Drought relief experts at the provincial water resources department say rainfall in the Huaihe River Basin from May to July was less than half that of the same period last year, at 195 millimeters (7.7 inches).
From June to July, 80% less water flowed into the upper reaches of the Huaihe River. As of July 26, the four main water sources for northern Jiangsu — Hongze Lake, Luoma Lake, Weishan Lake, and the Shilianghe Reservoir — had 424 million cubic meters (14.9 billion cubic feet) of available water, 83% less than a year before.
Scorching temperatures and low rainfall saw half the water in Hongze Lake evaporate, leaving the fishermen who depend on it for their livelihood to suffer. An early August visit by Caixin to counties and towns around the lake showed many had lost vast amounts of their fish, shrimp and crab stocks.
Heavy drought strikes
Yang Qihai is director of the Hongze Lake Fisheries Management division, which manages resources and the environment. He told Caixin that the water level in Hongze Lake was often low in May as it was used for agriculture during the summer planting season. By July, the level usually rises again. "But this year the situation was quite unusual," he said. "There was no water coming from upstream."
Since July 22, Jiangsu officials have issued three extreme heat warnings. "The most fish died when the temperature got up to 36 C (97 F) or 37 C for a few days. Even if there is still a little water, the fish burn to death," Liu said.
By the time Typhoon Lekima brought rain on Aug. 11 it was too late, Liu said. "After a few days of rain, the water level came back 20 centimeters (7.8 inches), but the fish farms can only be started once a year. Now the season has passed," he said. 
Droughts are more difficult to handle, especially in protected areas where fish farming within the lake is prohibited. The fishermen cannot expand or widen the embankment area based on the real lake boundaries, so in drier years they have no way to get water since reclamation and damming are prohibited. 
Local water conservation officials have tried to adapt. According to Liu, some fishermen have been able to apply to the department for permission to build new dikes, with a deposit and a guarantee that the new dikes would exceed the height of the old one.   
At one point, Liu hired a mechanical digger from Yangzhou city for 550 yuan ($76.87) per hour. It took a few days to arrive at Huai'an, and by the time it finally got there the fish were already dead. Then, the machine wouldn't start. On top of that, its sheer size meant it toppled 20 trees being transported through the narrow country roads and knocked a big hole in someone's fishing boat. Liu didn't know whether to laugh or cry. He could owe up to 30,000 yuan in compensation, he said.
Yang Hongxuan, a 52-year-old fisherman in Zhongyang town of Suqian city, also watched helplessly as his fish died. According to Liu, some fishermen have been able to apply to the department for permission to build a new dam ridge, with a deposit and a guarantee that the new dam ridge would not exceed the height of the old one. More than half of his 1-square-kilometer (0.4-square-mile) of caged fish farms were seriously damaged. Nearly 551,155 pounds (250,000 kilograms) of silver carp were lost — a hit of nearly 2 million yuan.
"I've been raising fish for more than 20 years and I have never seen such a severe drought," Yang said. He asked water conservation officials to let him dam his pond but they initially did not allow him to do so. It was only later when many of his fish had died that they suggested he dig a ditch in the pond. "But if the water is stagnant, the fish will still die," he said. He was out of options. "No matter your attitude or intentions, the fish will not survive. It's better to be optimistic that the government will provide some relief or compensation. Whatever happens, there's not much I can do about it."  
Yang Qihai told Caixin that the Hongze Lake Fisheries Management Office had found more than 1,100 fishermen had suffered serious losses from the drought and the affected area of the lake is close to 26 square miles. Yang said that it was up to the office to handle a response, "but as for whether the state will provide subsidies, I have no specific statement at present."
Fish farming itself takes a toll on the environment. Zhang Limin of the Jiangsu Academy of Environmental Sciences wrote in 2010 that the early reclamation of Hongze Lake had seriously reduced the lake's size and its capacity to discharge water in the event of flooding. He said it destroyed the lake's ecosystem, damaged the wetlands and aquatic plant life, and aggravated pollution issues.
Some fishermen deny their farming is a major cause of ecological degradation. Zhang Qipin, a fish farmer from Zhongyang town, said even before they began farming the lake was polluted with harmful blue-green algae, which depletes oxygen, killing fish. He says the government even encouraged them to farm silver carp because the fish eats the algae.
The fish farmers pointed to other sources of pollution such as sewage, industrial wastewater and excessive chemical pesticides washing into the lake after rain.
Bi Xingwei, a senior official in charge of Sihong county — which has jurisdiction over 40% of the lake's water area — for the Hongze Lake Management Office, said that the office was working to reduce the number of cage farms on the lake and improve their quality.  
The fishermen are reluctant to "withdraw" their fish farms, partially because they fear missing out on subsidies ranging from 1,500 to 2,000 yuan per mu of land. A mu is a bit more than six acres. "If the country wants you to stop, you have to stop," Zhang said. "It's just that the plan has not reached our area yet."
Zhang said frankly that if he were to be compensated for losing his fish farming grounds, he might go find another pond outside the lake area to continue farming. But for the professional fishermen who live by the lake, "exiting" is a difficult choice. While the rents for fishing areas are getting higher, a bigger obstacle is developing new skills to be able to change careers.
In Zhongyang town, Suqian city, Zhang Kejun's fishing pond has all but dried up. The drought has cost him more than 800,000 yuan. Photo: Ding Gang/Caixin
A dried out lakebed in Zhongyang town. Photo: Ding Gang/Caixin
In Gaojiayan town, the drought has killed huge numbers of crabs. Photo: Ding Gang/Caixin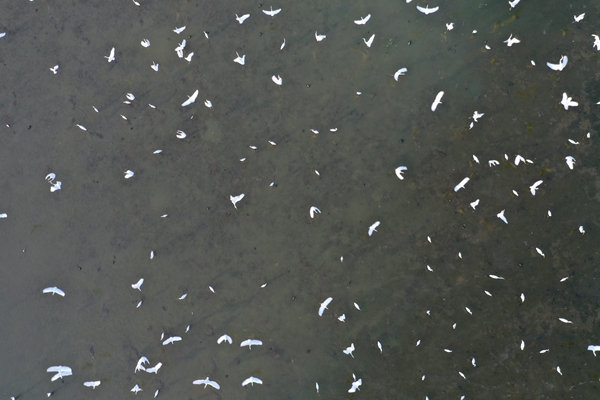 In Zhongyang town, seagulls search for dead fish. Photo: Ding Gang/Caixin
In Longji town, on the east coast of Hongze Lake, fishermen have trouble navigating their boats through the now-shallow waters. Photo: Ding Gang/Caixin
In Gaojiayan, fishermen walk along grasslands that used to be part of the lake. They joke that they could start farming here — after the amount of fish that have died in the last three years, they wouldn't need fertilizer. Photo: Ding Gang/Caixin
Yang Hongxuan, 52, was the first fisherman in Zhongyang town to practice cage farming. This year, he lost more than 2 million yuan in the drought, the most of all the fishermen in his town. Photo: Ding Gang/Caixin
An elderly fisherman from Zhongyang town complained that a string of scorching hot days killed many of his fish. Photo: Ding Gang/Caixin
Zhang Kejun looks out at his dried-up fish pond. Of more than 100 tons of fish, not a single one is left. He dares not tell his family. Photo: Ding Gang/Caixin
Contact reporter Ren Qiuyu (qiuyuren@caixin.com)
You've accessed an article available only to subscribers
VIEW OPTIONS
Share this article
Open WeChat and scan the QR code

Caixin China Biz Roundup: Police Interrogate Woman for Kimono Photoshoot