In Depth: Reporter Faces Controversial Criminal Charge for Articles Based on Phony Documents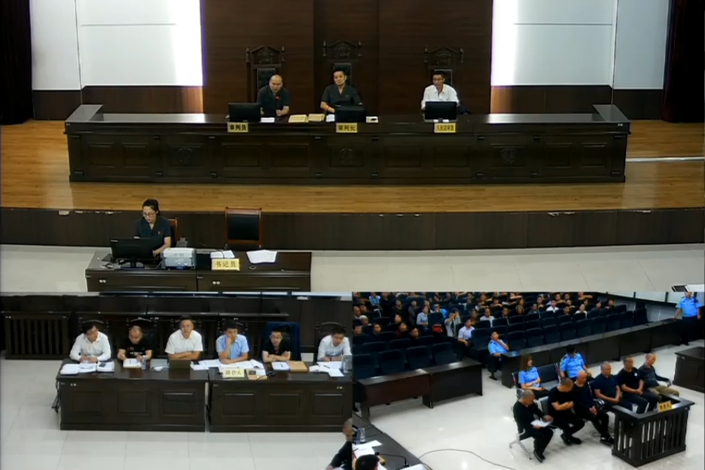 A court in the city of Shenmu in Northwest China's Shaanxi province holds a hearing on Sept. 5 in the case of Li Jun and others suspected disturbing public order. Photo: Supreme People's Court
The trial of a journalist accused of fabricating stories has raised concerns over local governments stretching the definition of criminal "disorderly conduct" to silence dissent.
Li Xiaogen, also known as Li Gen, has been accused of offenses including disorderly conduct and "provoking trouble" for articles he wrote for the Hunan Contemporary Business Daily in 2018.
Li published stories about the seizure of a village-owned coal mine based on documents provided by villagers in Northwest China's Shaanxi province.
Those documents were forged, but Li claims he didn't know this when he published his stories.
Prosecutors argue he damaged the government's reputation and caused online "chaos," during a trial that took place between the end of August and early September this year at a court in Shenmu, a county-level city under the administration of Yulin, Shaanxi.
A verdict has yet to be reached, but Li and other defendants involved in this case argue that they were themselves victims of fraud, while a prominent academic says Li's actions aren't severe enough to constitute a criminal offense.
A tale of two mines
Shijiaota Coal Mine, located in Yulin, opened in 1989 as a "poverty alleviation coal mine" built with funds collected by the residents of Shijiaota village. The mine could produce 30,000 tons of coal annual across its 1.17 square kilometer (0.45 square miles) site.
However a slump in the Chinese coal industry that hit soon after the mine opened meant it lost money for a decade, until 1999 — when it was one of 114 mines in the province shut down for not having coal production licenses.
The mine was given a license a year later, but the Yulin government cancelled its license in May 2003 as part of a national push to cut production.
Then, in 2004, coal prices began to rise as supply dropped. Shijiaota asked Shenmu's mining regulator for permission to reopen the mine in both 2005 and 2007. But the application was denied both times, ostensibly for "policy" reasons.
However in 2007, Shenmu issued mining and production licenses to the nearby Dongliang Coal Mine after it was acquired by a Mu Shuyuan, a local businessman, for 1.65 million yuan.
This caused villagers in Shijiaota to question the authorities' impartiality, with rumors spreading that Mu's brother's position at the Shenmu County Mine Management Office had helped the Dongliang mine get special treatment.
Tensions rose in 2008, when one Shijiaota resident, Li Xingming, realized that the Dongliang mine was excavating coal on a site that had previously belonged to the Shijiaota mine. In March 2009, the provincial land authorities issued a new license to Dongliang that expanded the scope of its mining sites to include 30,000 square meters (322,920 square feet) of land from Shijiaota mine.
'Disturbing public order'
In 2011, Li Mingsheng, Shijiaota's then Communist Party secretary, led a fundraising effort to fight for the village's right to operate its mine, documents from the recent trial show. Li Mingsheng and other leaders of the fundraising efforts said that, if the coal mine reopened, donors would receive a tenfold return on their investment. Many villagers, including some from the nearby village of Lijiata, were eager to join, with total donations hitting 76.536 million yuan.
That year, several hundred residents from Shijiaota and Lijiata gathered at the Dongliang mine to block its operations, resulting in three arrests for "inciting a crowd to disturb public order."
Similar events took place in 2015, court documents showed.
Court documents say that, on the morning of July 1, 2015, over 100 villagers from Shijiaota and Lijiata set up camp outside the entrance of the Dongliang mine to protest against its use of the 30,000 square meters that formerly belonged to Shijiaota mine.
The next day, deputy commissioner Wang of Shenmu county led more than a dozen officials from the public prosecution, land, and mining authorities in a negotiation with Li Jun — Li Mingsheng's successor as Shijiaota party chief — and other village representatives. Later, the Shenmu government issued a document saying that a special task force had been set up to investigate the dispute over the Shijiaota mine.
Shijiaota villagers said that, after the document was issued, they repeatedly asked the authorities for the results of the investigation, but they had never received concrete answers.
Four years later, during the recent trial, three men including Li Jun, were accused of organizing more than 140 villagers to "disturb social order," which shut down the Dongliang mine for six days and cost the mine over 700,000 yuan in lost profits.
The defendants denied the charges, arguing that the villagers had remained outside the mine's gates, and that no vehicles had attempted to pass through the gates while the villagers were there. Additionally, the defense lawyers argued, Dongliang's coal sales remained at zero for months despite the villagers' actions taking place over only a few days in 2015.
Fake documents
In 2015, after years of unsuccessful efforts to have their mine reopened, the villagers of Shijiaota turned to the press. In August that year, Li Jun and other village leaders approached Ma Yifeng, a reporter at the local government-affiliated Shaanxi Health Guide newspaper, court documents show.
Li Jun and the other village representatives hoped Ma would be able to obtain internal documents proving wrongdoing in the case of Shijiaota mine. Specifically, they wanted evidence that parts of Shijiaota mine's land had been acquired by Dongliang.
Ma accepted 300,000 yuan from the villagers, using a friend's name and bank account, according to court documents. He provided the villagers with two batches of forged documents over the next two years, including some that appeared to disclose that local officials' had taken a stake in the Dongliang and Shijiaota mines. Ma also falsely claimed that Dongliang's owners had contacted him to discuss shares in the mine.
Ma was eventually arrested in August 2018 and convicted of fraud in October that year. Records from his trial showed that Li Jun and the other villagers were unaware that Ma had forged the "evidence," and that Li Jun had circulated the forged documents online after Ma Yifeng had repeatedly failed to produce any results in his negotiations with Dongliang's owners.
Shenmu city authorities learned of the fake documents as early as December 2017, but the case wasn't reported to the police for half a year, trial documents show.
Praying for the mine
In the meantime, Li Xingming, the villager who had initially discovered Dongliang's use of Shijiaota's mining site, contacted Li Xiaogen, a reporter at Hunan Contemporary Business Daily, based in Changsha, Central China's Hunan province. Li Xingming showed Li Xiaogen the documents Ma had forged.
Li Xiaogen published an article in January 2018 headlined, "Twelve Shareholders of Shenmu Private Coal Mine Have the Same Names as Local Officials," in which he described the seizure of poverty alleviation coal mines and villagers' poor living conditions.
The villagers contacted Li Xiaogen again in June 2018. According to prosecutors during the most recent trial, Li Xiaogen proposed that village chief Li Jun ask villagers to kneel at a temple and pray for the early recovery of the mine. Li Xiaogen then published another story featuring a photo of the kneeling villagers, with the headline, "Shenmu Village-Run Coal Mine Has Been Seized by the Powerful, and Village Cadres and Residents Pray for Its Recovery."
Li Jun also paid Li Xiaogen more than 155,600 yuan between January and June 2018, prosecutors allege. Li Xiaogen and Li Jun are suspected of disorderly behavior, damaging the government's image, and encouraging superstition, among other charges.
Li Xiaogen argued that he had accepted the money on behalf of aerial photographers hired by the villagers, and did not keep the money for his own use. Additionally, Li Xiaogen and the other defendants argued that they were victims of Ma Yifeng's forgery and did not know that the documents he had provided were fake.
Li Xiaogen also said that, in his many years of experience as a journalist in China, government departments generally refuse to provide or verify the authenticity of documents requested by reporters. "Journalists aren't public security officers," Li said. "They can't demand relevant materials from the relevant departments. They won't respond to us."
Zhan Jiang, a journalism professor at the Beijing Foreign Studies University, said that while Li Xiaogen's trust in Ma Yifeng's documents was naive, "he should at most bear civil tort liability, and it is obviously inappropriate to use criminal penalties to punish him," as he did not intentionally fabricate falsehoods.
Zhan said that it is easy for the crime of "provoking trouble" to be used as a catch-all for any activity that is inconvenient for local authorities. "As long as local authorities take this shortcut to deal with those who have allegedly defamed them, in the name of maintaining stability, there is an obvious violation of the constitution and regulations on government information disclosure," Zhan said.
Contact reporter Teng Jing Xuan (jingxuanteng@caixin.com)
You've accessed an article available only to subscribers
VIEW OPTIONS
Share this article
Open WeChat and scan the QR code

Caixin China Biz Roundup: Chinese Ambassador Warns U.S. Against Meddling in Taiwan