Popular Walking App Qubu Faces Financial Fraud Probe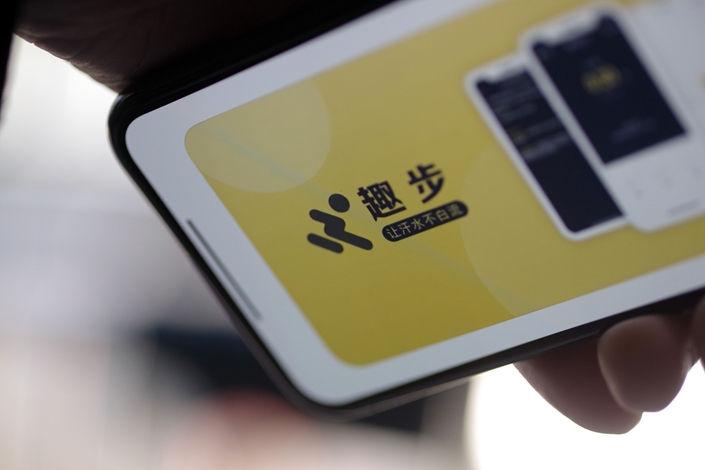 The Changsha government has received more than a dozen letters asking about the legitimacy of Qubu. Photo: IC Photo
It seems almost too good to be true: a mobile app that tracks how many steps you take each day and provides cash rewards depending on how far you walk.
And so it may well turn out, as Chinese authorities are investigating if blockchain-based fitness app Qubu is a scam.
Public security officials in Central China's Hunan province are investigating alleged illegal fundraising and financial fraud at the company behind the program, amid claims that it operates a Ponzi-like business model.
The app rewards users who walk more than 3,000 steps a day with "candy coins," a type of digital currency that can be exchanged for real cash through virtual-coin trading platform Global Health Blockchain Club.
A man surnamed Lin, speaking on condition of anonymity, started using Qubu in April this year. He said he made a few thousand yuan in six months, but it was not easy money. He had to keep pulling in more new users in order to profit, he told Caixin.
Lin, from East China's Shandong province, is one of over 30 million users who signed up for the app and got drawn into its business model after it was launched in June last year, according to the website of its developer, Hunan Qubu Network Technology Corp. Ltd.
Qubu charges new users 1 yuan ($0.14) to sign up as a member, including providing personal information such as mobile phone number and a referee's name.
The app, whose name translates as "interesting step" in Chinese, calculates how many "candies" a user can amass though a complicated formula that rewards completion of certain tasks and prioritizes referring the app to new customers.
User instructions released last November on its official Weibo account described the "candy coin" as a type of virtual currency. But in a system update this July, the company changed its tune and said it was not a virtual currency. The change was assessed by industry insiders as an attempt to avoid regulatory scrutiny.
Chinese authorities, including the central bank, announced in 2017 that activities related to the issuance of new digital currencies would be classed as illegal fundraising and not allowed.
Chief industry researcher Kong Deyun at OKEX, a global leader in bitcoin trading, told Caixin the Qubu model was a "typical pyramid sales model" that rewarded older users through the addition of new users.
But he said there was no real blockchain technology involved and the money in the system circulated between users themselves. Once there were not enough new users coming in, the capital chain would be cut off.
The municipal government of Hunan's capital city, Changsha, has received more than a dozen letters asking about the legitimacy of Qubu.
Earlier this week, in a written response to one letter on the government's website (link in Chinese), local public security authorities confirmed the company was now under criminal investigation for suspicion of illegal business operations.
Qubu has been removed from both Apple and Android app stores but can still be downloaded via invitation codes from other users. However, Caixin has found that a few other apps that endorse a similar profitability model of "earning by walking" are still available in Android app stores.
Contact reporter Isabelle Li (liyi@caixin.com)
You've accessed an article available only to subscribers
VIEW OPTIONS
Share this article
Open WeChat and scan the QR code