Update: More Airlines Suspend China Flights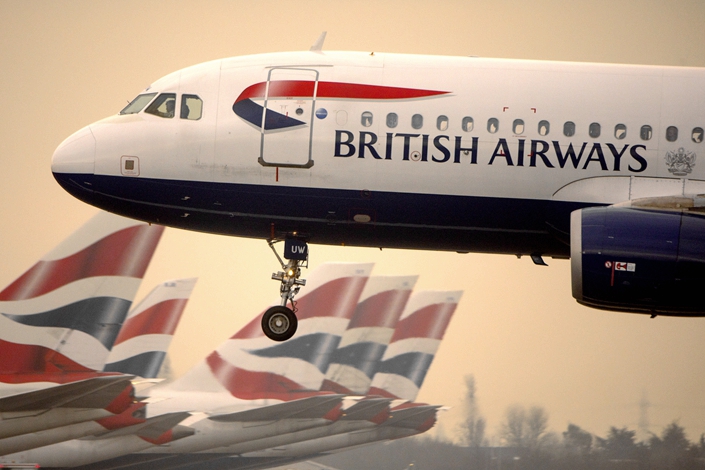 Photo: VCG
More airlines around the world have suspended flights to China amid fears about the deadly coronavirus that is known to have infected more than 7,700 people in the country and killed 170.
Lufthansa, Swiss and Austrian Airlines were some of the latest to cancel all flights to mainland China, with their joint owner Lufthansa Group announcing on Twitter the suspension of China trips until Feb. 9.
On Thursday, Scandinavian Airlines, the flag carrier of Denmark, Norway and Sweden, said it was canceling all of its flights to and from China from Jan. 31 until Feb. 9, and stopping sales of flights to and from Beijing until Feb. 29.
Air Canada said Wednesday that it would suspend all direct flights to Beijing and Shanghai from Thursday until the end of February, citing advice from the Canadian government. The company said a day before that it would scale back the number of flights.
Several other airlines have suspended routes to virus-affected cities.
U.K. flag carrier British Airways (BA) indefinitely suspended all flights to and from the Chinese mainland on Wednesday, in what was then the most dramatic action taken by an airline over the outbreak. The same day, Indonesia-based Lion Air said it would suspend all flights from February, the Wall Street Journal reported.
"We apologise to customers for the inconvenience, but the safety of our customers and crew is always our priority," British Airways said in a statement.
BA and Air Canada cited advice from their home governments about the dangers of coronavirus, whereas United Airlines, which cancelled some flights to Wuhan and three other cities for a week from Feb. 1, cited a "significant decline in demand for travel to China."
"The slew of airlines that are cancelling flights will almost certainly extend their decisions not to fly to China unless the (Chinese) government shows tangible progress on how it is containing the virus," said StrategicAero Research Chief Analyst Saj Ahmad. Airlines simply would not risk their staff or customers being in China right now, he said.
"China's inability to rein in this problem underscores the right decisions airlines are making in scrapping flights to the country and I expect that the longer this drags on, the more economic damage and isolation China will suffer," Ahmad said.
Alexander Sehmer of Falanx Assynt, a risk consultancy, said commercial rather than public health concerns were motivating the decisions. "The simple fact is that there is little-to-no demand to fly to either Shanghai or Beijing at this moment in time."
"How quickly flights are resumed is largely dependent on how the coronavirus is contained. This will affect the official Government travel advice and ultimately, demand to travel to mainland China."
Several other airlines, including American Airlines, Japan's ANA, Russia Airlines, Singapore Airlines, and Korea's Asiana Airlines have already offered to waive fees for rescheduling flights.
On Tuesday, the U.S.-based United Airlines announced the suspension of 24 flights to Wuhan and three other Chinese cities between Feb. 1 and Feb. 8, citing reduced travel demand.
"We will continue to monitor the situation as it develops and will adjust our schedule as needed," the company said.
Hong Kong, Macao and Taiwan all enhanced their precautionary measures by reducing transportation links with the Chinese mainland or imposing entry restrictions.
Flights between Hong Kong and the mainland will be reduced by half and high-speed trains, tour buses and ferries between the two regions will be suspended from Thursday onwards, Hong Kong Chief Executive Carrie Lam said Tuesday.
Macao advised visitors holding passports issued in Wuhan to leave voluntarily if they do not show any signs of an infection.
Contact reporter Flynn Murphy (flynnmurphy@caixin.com)

Register to read this article for free.
Register
Share this article
Open WeChat and scan the QR code