Reporter's Notebook: The Wuhan Community Workers 'Running Naked' With the Coronavirus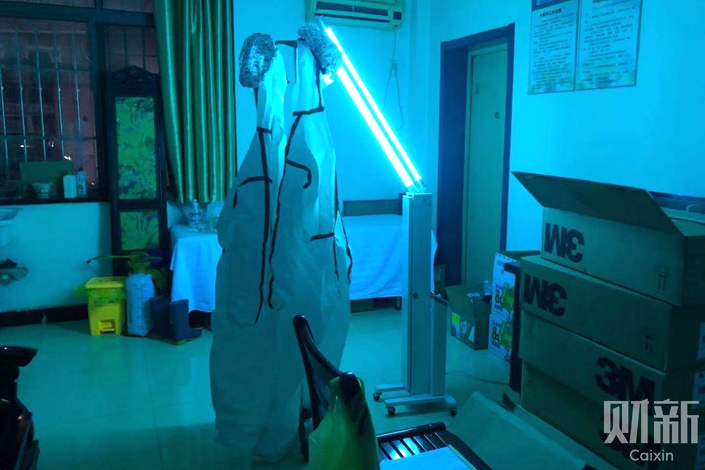 A community clinic in Wuhan sterilizes its sole hazmat suit with ultraviolet light for reuse. Photo: Xiao Hui/Caixin
(Wuhan) – Wearing a simple face mask, Zhang Li waited for an elderly couple at the entrance of their apartment building in an ordinary residential community in Wuhan on Tuesday.
She was nervous. The couple had reported that both have had a high fever for a few days, and suspect that they are infected with the novel coronavirus that has spread across the city rapidly this month. Zhang's job as a community worker at the epicenter of the virus is to help the couple travel safely to a designated hospital.
Zhang has read in the media that that the virus is highly contagious. There were two staff members from a local hospital waiting there with her, both covered from head to toe — wearing protective goggles and hazmat suits. Standing by them wearing a mask she has used for several days already, Zhang felt she was almost "running naked with virus."
But the mask is all she has.
On the frontline
Wuhan, capital of Hubei province, desperately needs to tame the spread of virus which first emerged there in December. As of Thursday, Wuhan has reported 2,261 confirmed cases and 129 deaths. It has been on virtual lockdown since Jan. 23, cutting off transport in and out of the city. Two days later, it also shut down urban public transport. Wuhan has 14 million residents. The city government said that 5 million left the city before the lockdown, which means 9 million are still inside.
There have been two key battlegrounds. The first is the city's medical institutions, which have been completely swamped. The second, less visible battleground is the residential communities which have been charged with making sure essential supplies are available, and identifying and quarantining potentially infected people as early as possible.
But this massive community management system is being given inadequate official support, with workers lacking the necessary training and protective gear.
Wuhan's core urban area is divided into 1,159 communities. Each has its own community workers who cover hundreds of households. A total of 6,000 cars were assigned to these communities after the lockdown, to deliver food and other essential supplies and transport people to medical facilities.
The role of community workers will be incredibly important in taming the virus, but they feel they are not equipped with adequate resources. They can barely even protect themselves.
One half of the elderly couple Zhang was visiting on Tuesday, a 64-year-old man, came to her office that morning. He told Zhang that he has had a fever since Jan. 17 and a CT scan had revealed he had infections in both lungs. But because the hospital didn't have enough beds, he returned home. By that morning, both he and his wife were running 38 degrees Celsius fevers and needed urgent medical care.
Zhang and her supervisor made non-stop phone calls for three hours before finally getting access to one of the designated cars. She said she felt worried about being around the couple while only wearing her mask. It's her last mask and she has been attempting to clean it every day using rubbing alcohol — something she read about online.
"Even masks are in short supply at the community center, let alone goggles or protective clothes," said Zhang.
Zhang and her colleagues are in charge of 900 households in Qingshan district. Since mid-January, she has visited every household to see if residents are displaying signs of infection.
On Jan. 26, Zhang's throat began to feel sore and she took her own temperature – 37.5 degrees Celsius, a low fever. She immediately sanitized all the clothes she was wearing on that day and quarantined herself from her family members. Again, these were measures she learned online by herself.
Her experience is far from unusual. "We are on the frontline facing residents and tackling all kinds of emergencies. We won't even know when we get infected," another community worker posted in an instant messaging group chat.
No power, no experience
Not only are there over 10,000 confirmed and suspected cases in the city, there are still many people who have been infected but show no visible symptoms — the virus has an incubation period of as long as two weeks. Identifying these hidden cases will be essential in slowing down the virus.
The importance of community work in that effort has been recognized. "We must rely on the mobilization power of the communities, including in rural areas, to conduct a blanket search. Make sure that protective control systems reach every household and every person," said He Qinghua, an official with the National Health Commission at a news conference on Jan. 27.
Zhong Nanshan, a leading Chinese respiratory disease expert and the head of a specialist team at the National Health Commission, also said that early identification and quarantine is the most primitive, but most effective, measure in containing the spread of the virus.
"The state told people that the community will help whenever you have a problem. But community centers lack resources and staff, and we can't do anything about it," said Zheng Ling, director of a community center in Wuhan's Jiang'an district.
Zheng has 23 workers at her center and is responsible for a community of 2,000 households – each worker oversees about 200 households. They usually know these families well, setting up instant messaging groups to respond to their needs in real time.
Since the outbreak and lockdown, Zheng's center has been on high alert. If elderly people don't have enough food and water, community workers will deliver supplies. The community has a resident who needs to go to the hospital regularly for dialysis, so the workers have arranged transport with one of their four assigned cars.
"The most difficult is how to handle suspected virus cases," said Zheng. "Community workers don't have any professional training. There is clearly fear and panic."
At the beginning, community workers equipped with face masks were required to visit households twice a day and record any sign of fever, the most common symptom of coronavirus infection.
Zheng's community has now found 17 suspected coronavirus patients, two of whom have died. Moreover, two community workers have recently developed fevers. Zheng rapidly stopped the daily visits and substituted them with daily phone calls.
On the evening of Jan. 25, the first day of the Lunar New Year, an 82-year-old man with a high fever died in Zheng's community. He hadn't been able to be tested for coronavirus but was a suspected case. His relatives called Zheng and asked the community to help with his body.
Zheng made many calls, but found out the process was almost impossible — the funeral house required a thorough sanitization before it would accept the body, but Zheng could find no one to sanitize it. She called everywhere she could think of, including the local center for disease control and local clinics, but the lines were either busy or the people on the other end of the line simply said they'd need to talk to their superiors, with no subsequent reply.
The second morning, the dead man's relatives threatened to leave his body at the community center. Zheng finally got the community clinic to sanitize the body before the funeral house agreed to move it.
The relatives filed a formal complaint against Zheng, saying she was too slow.
"We don't have any power, and we don't have any experience either," said Zheng. "I didn't even know who I should call, and the government bodies I consulted didn't know either. But we are the ones facing the residents and bearing the brunt."
Sharing a suit, reusing disposable gear
Worries about experience and resources are shared by community clinics too. Wuhan's hospitals were swamped by patients after the lockdown, leading to easy cross-infection. The government then required local clinics to first diagnose fever patients and only send suspected coronavirus cases to hospitals.
I visited a community clinic in Jiang'an district on Jan. 27. The medical workers wore masks, but there were no goggles or hazmat suits in sight.
Yang Qinghong, director of the clinic, told me that there are total of 60 medical workers in the clinic but only one hazmat suit. They had been sanitizing it with ultraviolet light, and whoever dealt with suspected coronavirus cases was allowed to wear the suit.
Moreover, they had to reuse medical caps, which are meant to be disposable, and they were running out of masks too.
Luckily, the shortage has been relieved for a time. Yang called me at the end of that day, telling me that they just received 35 hazmat suits and a batch of masks.
The same day, Zheng received a donation of 3,000 masks. She thanked the donors, and handed out 2,800 to 14 nearby communities, keeping 200 for her team.
Contact editor Joshua Dummer (joshuadummer@caixin.com)

Register to read this article for free.
Register
Share this article
Open WeChat and scan the QR code

China Stories: Illuminating the Silver Screen for the Visually Impaired