Experts Move to Calm Fears of Inaccurate Diagnostic Tests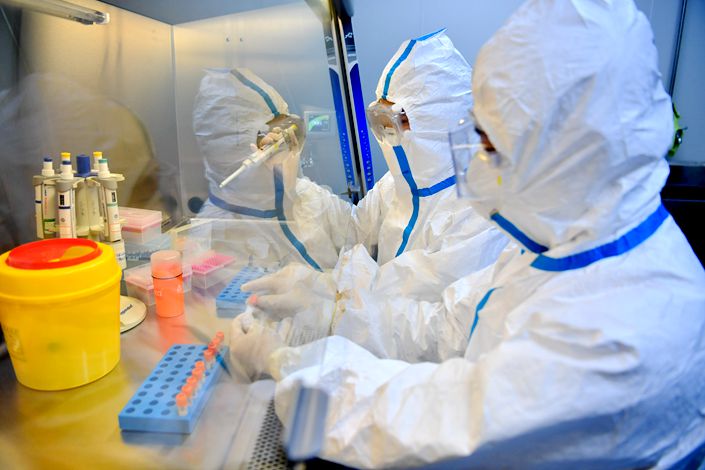 Samples are tested for the new coronavirus in a laboratory in Sichuan province on Feb. 18. Photo: China News Service
Chinese health experts have moved to ease concerns that an important test used to diagnose patients with the new coronavirus might be returning high numbers of false negatives.
The comments by public health researchers and medical industry insiders come after Wang Chen, a critical-disease expert and director of the Chinese Academy of Medical Sciences, appeared to tell state broadcaster CCTV earlier this month that the so-called nucleic acid tests (NATs) used to screen for the deadly pneumonia-causing virus "only come back positive 30% to 50% of the time" in people who had the disease.
NATs are a cheap and widespread mechanism for testing patient samples for specific molecules found in the virus's genes. Wang's comments stoked concern that large numbers of people infected with the pathogen, also known as Covid-19, were going unnoticed and mixing with the general population.
However, several other health experts have since played down Wang's words. On Feb. 9, the day after the CCTV interview aired, She Danyang, a deputy director of the respiratory unit at the General Hospital of the People's Liberation Army in Beijing, said Wang had meant to say that 30% to 50% of suspected cases return positive NATs. Suspected cases also include people who do not have the disease.
NATs from approved manufacturers generally have a sensitivity of 85% to 90% or higher, She said, meaning the vast majority of patients with the virus should produce positive results if tested correctly. Multiple other medical industry experts gave Caixin similar estimates.
Chen Weijun, CEO of a Shenzhen-based subsidiary of medical technology firm BGI Genomics Co. Ltd., said Wang Chen could have been referring to suspected cases among fever or pneumonia patients in the severely affected central province of Hubei, not to clinically diagnosed coronavirus cases.
However, variations in the performance of the reagents in different companies' diagnostic kits may have also led to concerns about the reliability of the test results during the epidemic's early stages, Chen added.
At a State Council press conference Monday, Wang Guiqiang, the head of the infectious diseases department at Peking University First Hospital in Beijing, said NATs were a broadly reliable diagnostic tool and any false negatives were mainly caused by "sensitivity problems" relating to the testing reagent's response to the sample.
"NATs remain our gold standard for confirming Covid-19 diagnoses. Only after patients return positive NATs can we confirm the presence of the disease," Wang Guiqiang said.
China has been ramping up production of NAT diagnostic kits following severe shortages as the coronavirus outbreak spread rapidly last month. Hospitals with the facilities to do so also rely on CT image scanning to confirm coronavirus cases.
As of 10 a.m. Wednesday, the virus had infected 74,279 people in China and killed 2,007.
Contact reporter Matthew Walsh (matthewwalsh@caixin.com) and editor Michael Bellart (michaelbellart@caixin.com)
You've accessed an article available only to subscribers
VIEW OPTIONS
Share this article
Open WeChat and scan the QR code