Dilemma for Chinese SMEs: Resume Business But Risk Spreading Virus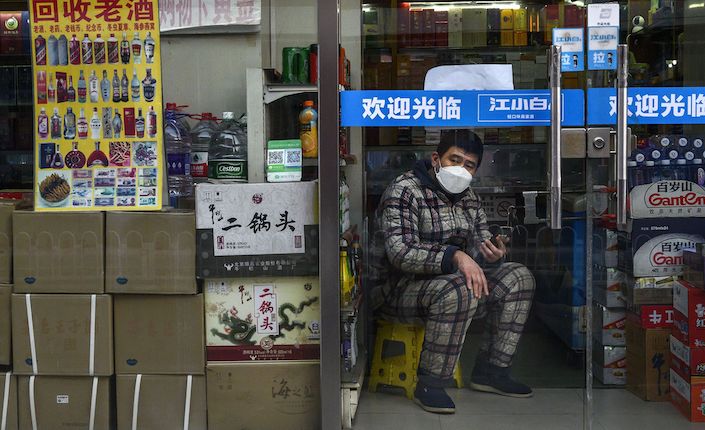 A shopkeeper wearing mask is waiting for customers at a liquor store in Beijing on February 25. Photo: Bloomberg
Less than one-third of Chinese small- to medium-sized enterprises (SMEs) have returned to work as of Wednesday and many companies are struggling to get financing to survive the Covid-19 epidemic.
As of Wednesday, 32.8% of 18 million Chinese SMEs have resumed operation, up 3.2 percentage points from Sunday, Zhang Kejian, vice minister of the Ministry of Industry and Information Technology, said Thursday at a State Council press conference.
SMEs have been hit especially hard by the epidemic, which led to mandatory closure of most businesses from late January to February 10. Even after the government allowed companies to resume operations, many manufacturers have found it difficult to reopen amid a shortage of workers, disrupted supply chains, and sluggish demand.
Businesses are caught in a dilemma. Facing cash flow pressures, they are eager to restart their operations to make up the losses suffered during the closure, but they also face the risk of virus spreading among their workers once factories reopen.
China had 18.07 million SMEs at the end of 2018, accounting for 99.8% of all companies. If these companies can regain their footing, employment and the economy will stabilize, Zhang said.
Small private business owners incur expenses for labor, rent, and utilities even while closed. For example, rent and utilities for restaurants could account for 15-20% of their total costs, 30% for barber shops and small retailers, and as much as 50% for small mom-and-pop grocery stores, Tang Jun, deputy director of the State Administration for Market Regulation, said at the press conference.
More than 85% of Chinese SMEs expect to run out of cash within three months, according to a survey of nearly 1,000 companies conducted by China Europe International Business School.
As many villages and rural towns remain in lockdown, migrant workers are unable to return to their jobs, which is another reason many small to medium-sized companies remain closed.
The resumption rate among manufacturers and Internet companies is relatively higher. More than 40% of small- to medium-sized factories have reopened, boosted by their link to larger manufacturers' supply chains, Zhang said. In the online education, software, and IT service sectors, more than 40% have resumed operations.
Read more
Caixin's coverage of the new coronavirus
Banks have provided more than 950 billion yuan ($136 billion) of emergency credit support during the epidemic, according to the top bank and insurance regulator. But banks lend first to large enterprises and medium-sized companies with collateral, plus medical-supply producers, said Bai Ruodi, former director of the organizing committee at China SME Investment & Finance Expo. Many SMEs are excluded from the special epidemic-related loans, he said.
An executive at a restaurant chain in Beijing told Caixin that he enquired about SME loans from banks and was told the terms and interest rates were the same as before the epidemic.
Contact reporter Denise Jia (huijuanjia@caixin.com)
Caixin Global has launched Caixin CEIC Mobile, the mobile-only version of its world-class macroeconomic data platform.
If you're using the Caixin app, please click here. If you haven't downloaded the app, please click here.
You've accessed an article available only to subscribers
VIEW OPTIONS
Share this article
Open WeChat and scan the QR code

Caixin China Biz Roundup: Mystery Deepens After Missing Teen's Body Found Behind School