China's Hawaii Clamps Down on Property Pre-Sales as Free-Trade Zone Looms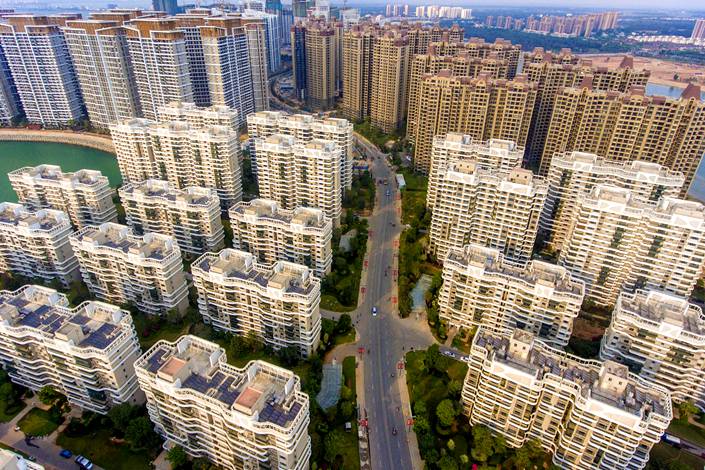 "Pre-sales," in which developers sell homes in residential complexes before they are completed, have been commonplace in China's property industry for more than two decades. Photo: VCG
Real estate developers will no longer be able to sell homes before they are built in South China's Hainan province, as the local government seeks to curb property speculation and keep prices stable on the island.
Putting an end to the longstanding practice, the Hainan government announced at a press conference Saturday, aims to make it harder for developers to get away with certain bad practices, including delays in handing over keys to buyers and disappearing after collecting payments, said Huo Juran, head of the provincial housing department.
The change also aims to "better serve the establishment of the Hainan free-trade zone," which is set to open by the end of this year, according to the local government.
"Pre-sales" in which developers sell homes in residential complexes before they are completed have been commonplace in China's property industry for more than two decades. During that time, the practice has become a cornerstone of many developers' business models because the revenue they receive allows them to fund themselves while construction continues. Typically, it takes more than two years from the date of purchase for buyers to officially take possession of their new homes.
The changes could deal a blow to the already flagging housing market amid the corovavirus outbreak. "Without access to funds during construction, developers may have to suspend a majority of the projects currently under construction, or delay delivery," said Deng Haozhi, a property expert.
He considered the measure a signal that Hainan would maintain strict restrictions on its local property market.
Over the last few years, the island province has instituted several measures to keep a lid on housing prices, including banning people without local residency from buying property there since April 2018. The average home price on the province was 15,000 yuan ($2,164) per square meter (10.8 square feet) in 2019, when sale prices fell 38.8% from the previous year, according to state-run Haikou Daily.
Purchasing restrictions have now also been applied to local residents, who can no longer buy a home if they already own two. The measure announced Saturday aims to further curb speculation and guarantee there is enough space for the planned free-trade zone, Huo said.
Contact reporter Lu Yutong (yutonglu@caixin.com) and editor Michael Bellart (michaelbellart@caixin.com)
You've accessed an article available only to subscribers
VIEW OPTIONS
Share this article
Open WeChat and scan the QR code