Europe Pulls Out All the Stops to Approve Covid-19 Test Kits From China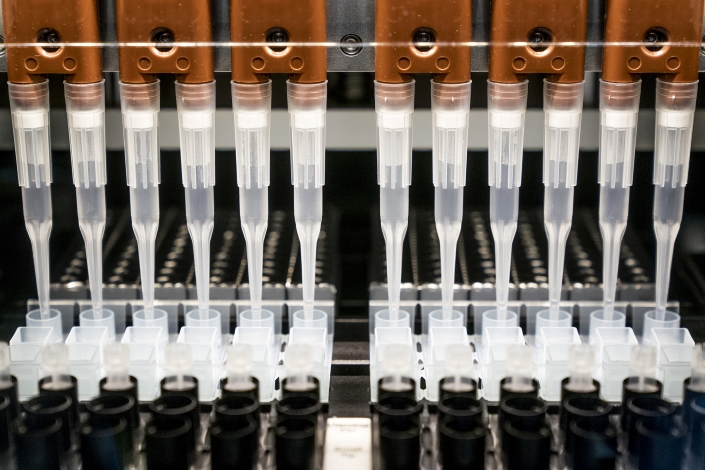 Photo: VCG
As dozens of Chinese companies scramble to meet the foreign demand for Covid-19 test kits amid the worsening epidemic, European regulators seem to have cut red tape and sprinted ahead with approvals while the U.S. has barely budged.
Last Monday, China's National Medical Products Administration said that 11 companies that make either blood and antibody-based tests or in vitro diagnosis (IVD) tests, which use a sample of tissue or bodily fluids, had met European CE marking requirements, a certification that indicates the product meets the region's health and safety standards and can be sold across the European Economic Area.
By Thursday, just four days later, the China Association of In Vitro Diagnosis (CAIVD) said that some 64 Chinese companies that make IVD tests were exporting to the European Union.
In contrast, according to the U.S.' Food and Drug Administration (FDA), only eight non-American companies had applied for approval for their Covid-19 tests as of Wednesday March 18, among them China's genetics heavyweight BGI Genomics Co. Ltd., and biotech company 3DMed. As of Sunday, not one Chinese company had yet received FDA approval, though in an unusual move, the regulator granted BGI permission to market its product even prior to formal review.
Europe races ahead
Since early this month, companies including BGI, Guangzhou Wondfo Biotech, Maccura Biotechnology Co., Ltd. and others have announced they have obtained the European Economic Area's CE mark for their Covid-19 tests. And as a result, purchases are flooding in.
"Since last week, orders from overseas have noticeably increased," said a salesperson at the medical lab company Da An Gene Co, which received CE certification March 3. The person added that the company requires orders to start at a minimum of 50,000 test kits and has a maximum capacity of 500,000 a day. Orders from abroad have ranged between 200,000 to 300,000 units, the person said.
A representative at Samsure Biotech, whose products received approval the same day, said that its nucleic acid tests are already being shipped to a total of 30 countries and regions across Europe, South East Asia and Africa. BGI, which has a European subsidiary, announced its CE certification March 2, adding that it has an output that can be dialed up from 100,000 units to 300,000 depending on need and that its kits have been sent to more than 30 countries and regions.
The head of marketing at Xi'an Tianlong Science and Technology Co. Ltd., another test maker, said that since March 3, the company has received orders from more than a dozen countries and regions including South Korea, Dubai, Singapore, France and Turkey. Orders have spiked since then, the executive added, and the company now receives at least 10 to 20 orders a day, amounting to tens of thousands or hundreds of thousands of units.
Foreign customers were more concerned over the delivery date than the prices, the person said.
Chinese industry insiders told Caixin that Europe appeared to have dramatically cut much of its own red tape surrounding the import of test kits resulting in a process that has seen approvals faster on the continent than even back home in China.
For nucleic acid-based tests, China normally requires hundreds of clinical trials and poses other manufacturing hurdles before granting approval, a process that can take about two years.
According to a statement from biotech company Dongfang Shengwu, in Europe, Covid-19 tests have been categorized under the type of medical apparatus requiring the least regulatory supervision, accelerating the approval process and requiring only a declaration from a Europe-based representative who bears any associated legal responsibilities.
One test kit maker told Caixin that his company's antibody test took only two to three weeks to go from preparation to approval.
It has led several manufacturers to go to market in Europe before doing so domestically.
Global bottlenecks
According to a director of overseas sales at another IVD company who asked not to be named, most biotech manufacturers are concentrated in East Asia, namely China, Japan South Korea, the U.S., and Europe, specifically Germany and Switzerland. In the early days of the epidemic, he said, overseas companies underestimated the risks of the disease.
"Not many companies joined in on making these products," the director said.
He added that most of the tests being used around the world are being made in China, South Korea and the U.S. While European manufacturers have released products, they started late.
More than a hundred companies in China are researching and developing test kits as part of an industry that is expected to grow by double digits this year.
This story has been updated to clarify the U.S.' progress in approving test kits made by non-American companies.
Contact reporter Dave Yin (davidyin@caixin.com)
Related: Genome Giant BGI Gets Regulator Approval to Sell Coronavirus Test Kits
You've accessed an article available only to subscribers
VIEW OPTIONS
Share this article
Open WeChat and scan the QR code