As Its New Energy Car Sales Slump, BYD Finds Profits in Face Masks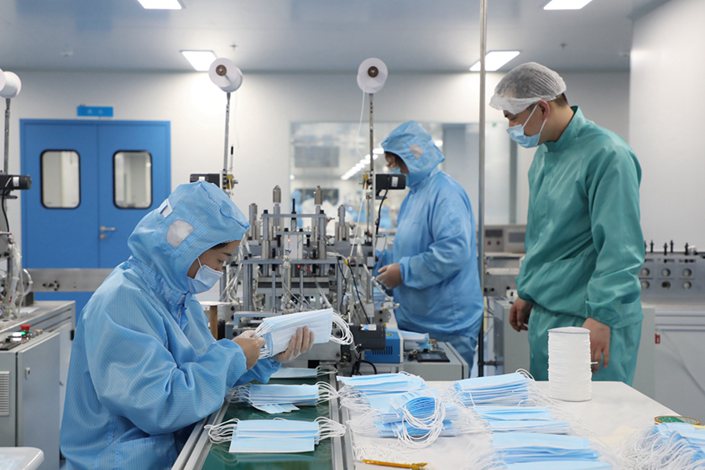 Workers produce protective masks in Shijiazhuang, North China's Hebei province, on March 28. Photo: vcg
BYD Co. Ltd., best known as a new energy car maker backed by billionaire investor Warren Buffett, has temporarily shifted gears, finding profits by making and exporting face masks during the global Covid-19 pandemic.
BYD is one of many Chinese companies that have rushed to produce medical supplies, such as masks and disinfectants, to meet demand since the global outbreak began in Central China. As China's own outbreak eased the group of newcomers has shifted to exporting, filling a need but also creating problems due to substandard products coming from some inexperienced producers.
BYD's daily mask output surpassed 20 million as of April 17, according to a company statement (link in Chinese). A BYD official told Caixin that the company still has the potential to expand mask capacity by 1 million to 2 million per day if demand is strong.
BYD first decided to produce masks at the end of January, and from then took seven days to develop necessary machinery, the company said last month (link in Chinese).
As China's domestic outbreak has eased, with only a single new case reported on Friday, it has focused on providing masks to clients in the U.S., France, Italy and Japan, among others.
The firm recently got a huge order of masks that was the largest the U.S. has ever placed with a Chinese company, a source familiar with the matter told Caixin. That came as the U.S. has become the world's worst-hit country, with more than 1.1 million confirmed cases – about a third of the world's total – and 65,000 deaths as of Saturday, according to Johns Hopkins University.
Mask sales are expected to "provide positive contribution" to the company's profitability, the company's BYD Electronic (International) Co. Ltd. subsidiary said, after last month getting access to the U.S. market upon receiving emergency use authorization (EUA) from the U.S. Food and Drug Administration for its KN95 masks.
Citic Securities Co. Ltd estimated BYD's profits would get a sharp lift from mask exports starting in the current quarter. The business is expected to contribute more than 10 billion yuan ($1.4 billion) in revenue and 5 billion yuan in profits for the whole year, the report said.
The strong mask sales come as sales of BYD's main car business come under pressure due to slumping demand created by both the pandemic and steep cuts to government subsidies for new energy cars. The company's net profit dropped 85% year-on-year in this year's first quarter and 41.9% for all of 2019.
Its new energy vehicle sales fell for the first time in 2019 after rising for several years, and the share of revenue from such cars fell to 31.4% of the company's total for the year from 40% in 2018.
Contact reporter Guo Yingzhe (yingzheguo@caixin.com) and editor Yang Ge (geyang@caixin.com)
You've accessed an article available only to subscribers
VIEW OPTIONS
Share this article
Open WeChat and scan the QR code