Editorial: For a Pandemic-Battered Economy, Reform Is the Answer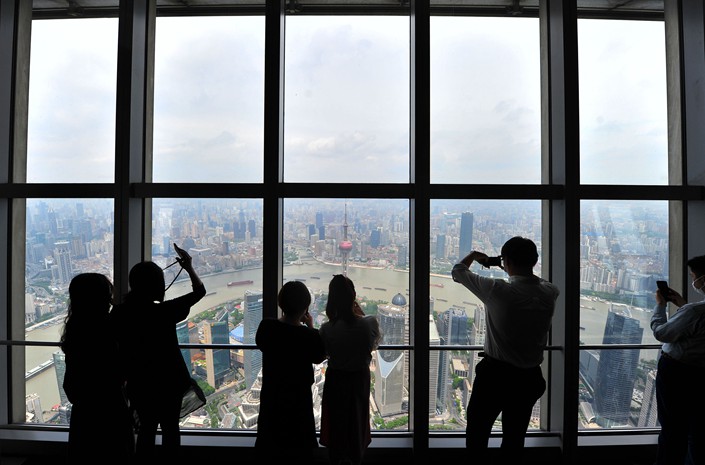 Tourists take photos from the heights of the Shanghai World Financial Center in Shanghai on May 15.
China has finally opened its most important annual political conferences, the "Two Sessions," after a coronavirus-induced delay of more than two months. Prior to the meetings, the ruling Communist Party and the State Council — China's cabinet — published a set of recommendations on "accelerating the improvement of the socialist market economy in the new era."
Given a key reformist leading group passed the recommendations as far back as Feb. 14, the decision to publish them now undoubtedly carries deep meaning. They chime perfectly with the contents of this year's work report and express belief in China's determination to further advance market reforms.
Notably, following recent profound changes in the domestic and international situation, the emphasis in Chinese reform and opening has shifted from "using opening to push for reform" to "using reform to push for opening."
At various historic turning points in the last 40 years, the Chinese government has made similar proclamations to gather consensus and lead the country's development orientation. The new recommendations reiterate China's general commitment to upholding market reforms and expanding its openness to the outside world. That's important enough in itself.
As the coronavirus pandemic severely impacts the world economy and pushes globalization further into reverse, China faces its sternest economic troubles since the reform period began. Unavoidably, the situation has some people casting around for solutions to the crisis.
The harder things get economically, the greater the need for reform. This year's government work report gets right to the point, saying we "must use the method of reform and opening to stabilize employment, guarantee living standards, and encourage consumption; promote the market and stabilize growth; and walk a new path toward effectively responding to the impact and realizing virtuous cycles."
The recommendations recognize that China's market systems are not yet comprehensive enough, efforts to foster markets remain inadequate, and the relationship between government and the market have not yet been completely ironed out. There are persistent problems of insufficient market incentives, poor circulation of production factors, inefficient resource allocation, and a lack of microeconomic vitality, it says, adding that a number of systemic and mechanistic hurdles continue to hinder the promotion of high-quality economic development.
For that reason, the recommendations suggest "further liberating thought, resolutely deepening market reforms, expanding high-level openness, and continuously innovating meaningful reforms to key, fundamental economic systems." Additionally, it advocates "building a more systemically developed, maturely constructed high-level socialist market economic system."
We might say that the recommendations are the government's newest roadmap for the economic system, an extension of and upgrade to the continuous reform measures enacted during the pandemic, which will certainly inject strong impetus into China's economic recovery and development.
Many of the reform tasks highlighted in the recommendations have in fact previously appeared in other documents. This just goes to show that these fields are the so-called "hard bones" and "deep waters" of reform that need to be worked on over the long term.
Some parts of the recommendations are relatively rich in new meaning, or call for deeper thinking, having supplemented or amended existing formulations. For instance, the document speaks of "better respecting the general norms of the market economy and reducing the government's direct allocation of market resources and direct intervention in microeconomic activities to the greatest extent possible."
Then there's this: "For mixed-ownership enterprises, explore and construct governance mechanisms and regulatory systems that differ from those for state-owned and wholly-owned companies. For mixed-ownership enterprises that are no longer under the absolute control of state capital, explore and implement more flexible and efficient regulatory systems."
And finally: "Improve and support detailed rules and specific methods for the nonpublicly owned economy to enter the electricity and oil and gas sectors, greatly relax market access in the service sector, and give more development room to social capital."
These proposals stick closely to the so-called "pain points" and "difficult points" in the contemporary Chinese economy.
As everybody knows, "using openness to push for reform" has been a fundamental experience of Chinese economic policymaking over the last 40 years. But now, that maxim is being reversed, something that comes back to the current domestic and international environment.
China's economy is transitioning from high-speed to high-quality development. Although the transformation of this growth impetus has made some progress, it is yet to achieve a significant breakthrough. The downward pressure on growth is continuously growing in strength. At the same time, international support for multilateralism and globalization has taken a hit, and protectionism and unilateralism are on the rise.
The coronavirus pandemic has only sharpened this situation. Many people pessimistically predict that even after the outbreak is over it will be hard to recover cross-border flows of people, goods and capital, at least in the short term.
Others assert that globalization as we know it is finished. Recently, the head of the World Trade Organization (WTO), Roberto Azevedo, announced he was stepping down before the end of his term, a move that some have interpreted as a symbol of the predicament of the current multilateral trade system with the WTO at its core.
In recent years, China's opening up to the outside world has shifted from a model based on the flow of consumer goods and production values toward one based on rules and systems. This transition is especially apparent in the development of the financial sector.
However, the policies, rules and regulations announced by the government do not imply that opening up has been automatically achieved. Some may have been watered down by old systems and old mechanisms. That means their effects are not particularly obvious, causing some international players to misunderstand China's commitment to opening up.
The only way to dispel those misgivings and realize the original intention of opening up is to follow through with "using reform to push for opening" and, by deepening reforms, make our domestic systems, regulations and social environment good for playing the decisive role in market resource allocation, good for fair competition, and good for entrepreneurs looking to give free play to their talent.
At the moment, "using reform to push for opening" is meaningful from both a domestic and international perspective. Domestically, deepening reform can encourage a work and production in the short term, and strengthen economic development in the long term.
Internationally, faced with a filthy wave of "decoupling," China can make its position clear and continue flying the flag for free trade. Deeper reforms will help make international trade and investment freer and more convenient, something that, in practical terms, preserves the multilateral trade of the WTO-led system. As long as the world's second-largest economy keeps using reform as an engine for further opening, the mistaken notion of decoupling is unlikely to succeed.
Of course, no matter whether you promote more reform through opening or more opening through reform, we are merely emphasizing different points at different times. Reform and opening are intrinsically linked and inform each other's development.
Faced with significantly declining fiscal revenues and bleak times for small and midsized businesses, all government departments and regions should be deeply aware of the urgency and difficulty of "using reform to push for opening."
We should use the opportunity given to us by publishing the recommendations on the eve of the Two Sessions to further promote systemic reform and demonstrate our position to the world: namely that, now as before, China's reform is real reform and its opening is real opening.
Contact translator Matthew Walsh (matthewwalsh@caixin.com)
You've accessed an article available only to subscribers
VIEW OPTIONS
Share this article
Open WeChat and scan the QR code

China Stories: Strict Rules at Home Push Chinese Metaverse Entrepreneurs, Investors Overseas