Jun 08, 2020 05:29 AM
WORLD
Cover Story: How George Floyd Protests Expose America's Systemic Racism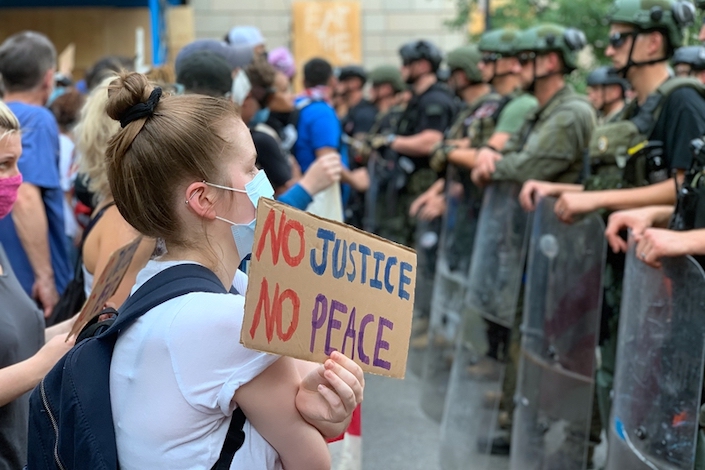 Police and protestors in front of the White House June 3. Photo: Zhang Qi/Caixin
On Saturday, a hot and humid early summer day, thousands of demonstrators gathered at the Lincoln Memorial in Washington, D.C., to protest police brutality and racial oppression. It was where Martin Luther King Jr. delivered his inspirational 1963 "I Have a Dream" speech. On this day Americans protested that King's dream is still far from reality more than a half-century later.
It was the ninth day of massive protests in the U.S. capital and other cities over the death of the African American man George Floyd at the hands of Minneapolis police. The protests, mostly peaceful, have been accompanied by riots and looting of retailers from Apple Stores to mom-and-pop retailers across the country. Many iconic luxury stores on New York City's Fifth Avenue boarded their windows against potential looters.
As of Tuesday, at least 13 people were killed in the riots, more than 10,000 were arrested in connection with looting, burglary and property damage, and numerous protestors and police were injured in confrontations. More than 20,000 National Guard troops have been deployed around the country to suppress riots and looting.
This was not the first massive protest against police brutality and racial inequity since the Civil Rights movement of the 1960s. Amid a series of police shootings of African-Americans in the past few years, the Black Lives Matter movement has brought racism to the center of public discussion.
Systemic racism remains
Even though the Civil Rights movement eventually led to the sweeping Civil Rights Act of 1964, officially barring racial segregation as well as employment and voter discrimination, systemic, institutional racism has long continued. The more disguised racism exists in everyday thinking at a systemic level ranging from education to hiring to whom police are more likely to stop.
The timing of the most recent outburst, amid the Covid-19 pandemic and ahead of a presidential election, has given the issue greater gravity. The pandemic has hit the black community disproportionately hard, spotlighting social inequities in public health. Meanwhile, President Donald Trump's disapproval rating is near a record high as two-thirds of Americans say he has increased racial tensions in the U.S., according to a new NPR poll.
On May 25, Minneapolis police officers arrested Floyd, a 46-year-old black man, after a deli employee called police and accused him of buying cigarettes with a counterfeit $20 bill. Video from bystanders and security cameras show that Derek Chauvin, a white police officer, kept his knee on Floyd's neck for more than eight minutes despite Floyd's pleas of "I can't breathe." The police officer did not remove his knee even after Floyd lost consciousness.
In the wake of Floyd's death, the Minnesota Department of Human Rights opened a civil rights investigation into the city's police department. Chauvin was fired and charged with murder and manslaughter. Three other police officers involved in the arrest were also fired and charged with aiding and abetting second-degree murder. Minneapolis police will be prohibited from using chokeholds and neck restraints under reforms negotiated by city and state authorities.
Minneapolis police used neck restraints on 428 people since 2012, and at least 58 of them, or 14%, lost consciousness, according to a CNN analysis of use-of-force data from the police department. About two-thirds of the people placed in neck restraints were black in a city where black residents make up 19% of the population. Meanwhile, cases of black people being pulled over by the police were 44% more than for white people, data from the police department show.
Reforms are not enough
When Medaria Arradondo became the city's first African American police chief in 2017, many hoped he could change the culture of excessive force and discrimination against people of color. He made some quick changes, including training on equal treatment for minority groups, diversity recruitment and toughening the department's policy on use of body cameras.
Minneapolis was one of six cities that participated in the National Initiative for Building Community Trust and Justice, a demonstration project aiming to address the deep mistrust of police among minorities, most particularly in African American communities. The Minneapolis Police Department put in much work to implement the initiative over the past three years, but it wasn't enough, according to the Urban Institute, a Washington think tank leading the initiative.
In an evaluation survey on the effect of the initiative, fewer than a quarter of community residents agreed that the police department holds officers accountable for wrong or inappropriate conduct in the community, the Urban Institute said.
Difficulty in getting officers punished for wrongdoing is also the biggest obstacle to reform within the police system, law enforcement people said. Former St. Louis Police Chief Daniel Isom told NPR that there is a structural problem within law enforcement agencies. Police chiefs don't really have the mechanisms to hold officers accountable for repeat violations, he said.
Chauvin had 18 prior complaints filed against him. Only two of them were closed with discipline, including official letters of reprimand, according to the police department.
Since 2012 more than 2,600 complaints have been filed against Minneapolis police officers by civilians, according to data reviewed by The Wall Street Journal, provided by Dave Bicking, who was part of the city's Office of Police Conduct Review. The data showed that just 12 complaints resulted in an officer being disciplined. Among those, eight received written warnings. The most severe penalty was a 40-hour suspension.
In a more effective police system, an officer like Chauvin who had already drawn a number of civilian complaints would not have been on the street, said Omar Wasow, an assistant professor of politics at Princeton, who studies protest movements and their effects on politics and elections.
"The failure is not just that this individual police officer engaged in a brutal act of racist violence," Wasow said. "It's also that the police force kept him on, even after that pattern had started to become apparent."
Mugabe and Talib Thompson at a protest in Washington D.C. on June 2. Photo: Zhang Qi/Caixin
Talib Thompson and his father Mugabe were among protestors in Washington. Watching videos of police using teargas to disperse protesters, said the 9-year-old African-American boy in blue T-shirt and zebra-pattern facial mask, "it's like we're back in the 1940s. I thought it's like segregation is back."
"I don't want him to wake up and realize he has to look over his shoulder every time he sees a police car or he may get pulled over," said Mugabe, holding his son's shoulder.
Even though discrimination is formally illegal in the U.S., in practice there is a system of widespread formal and informal discrimination against African Americans, said Wasow at Princeton.
"Even if a law says everybody's going to be treated equally, it doesn't mean that the attitudes of an individual person who might have inherited attitudes from their parents, who had from their parents, are going to change overnight," Wasow said. "We still very much have in our policing a set of procedures and cultures that it's not only OK to be especially aggressive towards African Americans, but also there's a culture of fear and terror of police in black neighborhoods and among black people."
Covid-19's toll on black communities
While mask-wearing protestors expressed anger at police brutality against African Americans, black communities are also hit harder by the Covid-19 pandemic. A report compiled by nonpartisan research group APM Research Lab found that black people were more than twice as likely to die of Covid-19 as whites, Latinos and Asian Americans.
Public health practitioners say pandemics have a political economy element in which substandard living and working conditions connected to social inequalities produce more exposure to disease.
Racial inequalities also result in higher rates of unemployment among black workers than in white communities, a new study by research group Economic Policy Institute showed. The research revealed that while few black workers were part of the work-from-home group, the majority of black workers suffered a record number of job losses from March to May and were disproportionately employed in low-paying jobs considered essential, such as grocery, public transit and health care, leaving them with higher exposure to infection.
Trump versus Biden on protests
With five months before the presidential election in November, the nationwide unrest spurred by the killing of Floyd is hurting Trump more than his opponent, the presumptive Democratic nominee former Vice President Joe Biden. Trump was losing by a substantial margin to Biden, according to the NPR poll. Trump's approval rate declined by 2 points since March, but his overall disapproval number jumped 5 points to 55%.
Following the clashes between protesters and police in Minneapolis, Trump tweeted, "When the looting starts, the shooting starts," and declared himself a "president of law and order." The tweets sent a message that he would get tough on protestors, opening the door for Biden to present a contrast.
"It might be that people say, I want change, and even though I think Trump might be kind of tougher on crime, I am just tired of the degree to which he brings chaos, and so I'm going to vote for Joe Biden who I think could bring calm and 'law and order,'" Princeton's Wasow said.
Biden's campaign has quickly adapted to the development by emphasizing empathy and unity and pushing for police reforms. In a speech Tuesday in Philadelphia, Biden attacked the president's handling of the protests and pledged that as president he wouldn't "fan the flames of hate. I'll seek to heal the racial wounds that have long plagued our country."
Historian and Pulitzer Prize-winning author Rick Perlstein said that history suggests the looting and sometimes violent protests could hurt Trump in November because people usually blame disorder on the person in charge.
Lu Wen, Bai Yunpeng, Zhao Ziwen and Liu Peilin contributed to this report.
This story is derived from the cover story of the June 8 edition of Caixin Weekly magazine.
Contact reporter Denise Jia (huijuanjia@caixin.com) and editor Bob Simison (bobsimison@caixin.com)
You've accessed an article available only to subscribers
VIEW OPTIONS
Share this article
Open WeChat and scan the QR code

Caixin-Sinica Business Brief: China Overhauls IPO Rules