Gome Retail Shares Jump as Founder Gets Early Release From Prison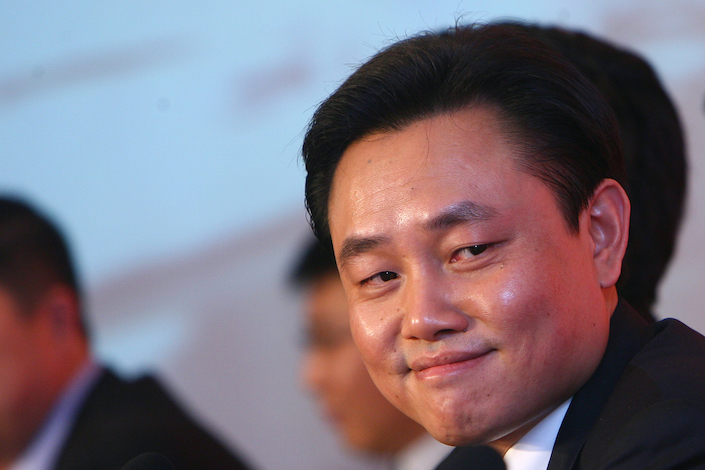 Huang Guangyu, founder of Gome, in 2006.
Huang Guangyu, also known as Wong-Kwong-yu and founder of China's largest bricks-and-mortar electronics retailer, was released from prison on parole after serving nearly 12 years for insider trading and corporate bribery.
His release boosted Gome Retail Holdings' shares by nearly 18% in Hong Kong Wednesday as the 51-year-old legendary billionaire is expected to lead the electronics retailer he built from scratch back from years of losses. But what awaits the former richest businessman in China is a retail landscape that's completely transformed from 12 years ago and now dominated by e-commerce giants.
At age 17, Huang, a middle school dropout from a southern village, opened a 1,000-square-foot electronics shop with his brother in Beijing in 1986. Back then, home appliances were a seller's market as household appliances and consumer electronics rose to the top of the shopping list for average Chinese families. Relying on small profits and high turnover, the Huang brothers quickly expanded Gome to six stores by 1993 and turned the retailer into a national chain by 1999.
Huang was known for winning price wars by delaying payments to suppliers, earning him the nickname "price butcher." At age 36, he became the richest businessman in China. When he was arrested in 2008 on suspicion of "economic crimes," Gome was at its peak as China's largest electronics retailer with annual net profit of more than 1 billion yuan ($148 million).
In 2010, Huang was handed a 14-year jail sentence and 600 million yuan fine on charges of bribery, insider trading and illegal business operations. His term was cut short for good behavior.
Gome's co-founder, brother Huang Junqin, left Gome in 1993 and went to the real estate business, founding Towercrest Group. After Huang Guangyu was sent to prison, Huang Junqin was charged with insider trading, fraud and bribery in 2010 and was sentenced to three years in prison. He was released in 2012. People familiar with the matter said the two brothers' cases were unrelated.
While Huang Guangyu was in prison, his wife Du Juan ran Gome as chief executive officer. She has been actively trying various transformation measures. Under her leadership, Gome spent 50 million yuan in 2010 to launch an online shop. But in an increasingly crowded e-commerce market, Gome's price war strategy led only to deeper losses.
In an effort to reverse the losses, Gome started to retreat from e-commerce and focused on transforming its bricks-and-mortar stores. In 2017, Gome removed "electronics" from the company's name, expanding its presence into other nonretail sectors, including real estate, finance and online consumer financing.
Gome is in the midst of a major transition and restructuring of its bricks-and-mortar stores. Over the past two years, Gome has made a series of attempts to change its image as a home appliance store, including opening large, comprehensive, living-experience stores in first and second-tier cities. The strategy is to combine low-frequency consumption of household appliance with sales of higher-frequency products. It is also expanding its physical store network into low-tier cities and rural locations across China.
All these efforts have not succeeded in turning profits. In the past decade, Gome has been outgrown by its former smaller rival Sunning.com Co. Ltd. In 2019, Suning's revenue was 4.5 times that of Gome. Now out of prison, Huang takes the helm of a declining retailer with three consecutive years of revenue declines and four years of losses.
Before Huang's release, Gome announced strategic deals with two Chinese e-commerce giants. JD.com agreed to buy $100 million of convertible bonds in the retailer after Pinduoduo agreed to subscribe to $200 million of Gome's convertible bonds. With those deals and the comeback of Huang, the market expects an intense catch-up race.
Contact reporter Denise Jia (huijuanjia@caixin.com) and editor Bob Simison (bobsimison@caixin.com)
You've accessed an article available only to subscribers
VIEW OPTIONS
Share this article
Open WeChat and scan the QR code