Overseas Demand Pushes Some Chinese Stocks to Their Limit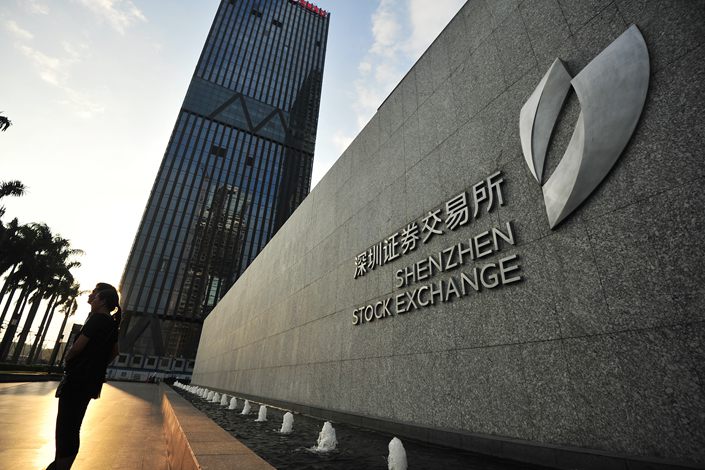 The Shenzhen Stock Exchange on Wednesday issued alerts for five listed companies whose foreign ownership was approaching the upper limit of 30% of the total number of shares issued. Photo: IC Photo
As foreign institutions scramble to get their hands on popular Chinese stocks, they are increasingly running up against regulatory limits on overseas holdings.
The Shenzhen Stock Exchange on Wednesday issued alerts for five listed companies whose foreign ownership was approaching the upper limit of 30% of the total number of shares in issue. When holdings reach 28%, a suspension is automatically imposed on any further purchases by overseas investors, including those from Hong Kong, Macao and Taiwan.
According to the exchange (link in Chinese), the overseas ownership of Suofeiya Home Collection Co. Ltd., Midea Group Co., Ltd., Venustech Group Inc., Hangzhou Tigermed Consulting Co. Ltd. and Glodon Co. Ltd. all crossed the alarm line of 26% as of Tuesday, which prompts a disclosure notice from the bourse. Furniture-maker Suofeiya Home Collection has seen foreign ownership of its shares cross the 26% line 26 times since May 25.
Current regulations stipulate that overseas ownership of any listed Chinese company cannot exceed 30% of its total shares. Purchases made via the stock connect programs that link mainland bourses with Hong Kong are suspended after holdings rise to 28% and cannot resume until they fall below 26%.
Overseas funds have poured into mainland stock markets this year through the stock connect programs after global index providers added Chinese companies to their indexes and foreign investors' confidence in the Chinese economy improved as the country recovered from the Covid-19 pandemic. Data from Wind Information Co. Ltd. show that net buying by overseas investors through Hong Kong was 118.5 billion yuan ($16.8 billion) in the first half of 2020, up from 96.4 billion yuan in the same period last year.
The growing number of suspensions has fueled debate about whether China should raise the foreign ownership cap, especially as market-opening measures implemented by the government are encouraging international investors to enter mainland capital markets.
In the first half year, the benchmark Shanghai Composite Index outperformed most major benchmark indexes in Asia and around the world, dropping only 2.15%. Many analysts are optimistic about the second half of the year as the Chinese economy is expected to be one of the earliest to recover from the impact of the coronavirus pandemic, and there is abundant liquidity in the financial markets.
Analysts at Beijing-based investment bank China International Capital Corp. Ltd. said in a report (link in Chinese) that the prospects for recovery could continue to raise investors' risk appetite and attract funds into the domestic stock markets.
Liu Mingdi, a China strategist at UBS Group AG has told Caixin that increased foreign participation in the Chinese mainland markets will help improve the corporate governance of listed companies and encourage them to follow global standards.
However, a senior manager at a foreign institution said maintaining the limit does have its advantages as it will push investors to expand their horizons and look for other good opportunities rather than sticking to buying and selling a few well-known and popular stocks. "It's not always good to see overseas investment focus on just a few stocks," the manager told Caixin. "This can be very risky because if there are any signs of trouble in their investment in a company, foreign shareholders might all rush to sell simultaneously, which would crush that company's share price."
Contact reporter Guo Yingzhe (yingzheguo@caixin.com) and editor Nerys Avery (nerysavery@caixin.com)
Caixin Global has launched Caixin CEIC Mobile, the mobile-only version of its world-class macroeconomic data platform.
If you're using the Caixin app, please click here. If you haven't downloaded the app, please click here.
You've accessed an article available only to subscribers
VIEW OPTIONS
Share this article
Open WeChat and scan the QR code

Caixin-Sinica Business Brief: Venture Capital Giant Sequoia to Carve Out China Business Over Geopolitical Concerns