China's Homegrown Satellite Navigation System Has 'World-Class' Tech, Official Claims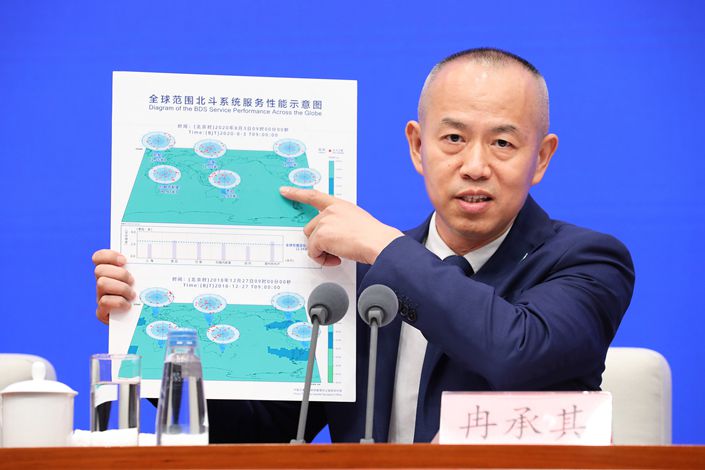 Ran Chengqi, director of the China Satellite Navigation System Management Office and spokesman for the BeiDou Navigation Satellite System, speaks at a press conference Monday in Beijing.
China says it has mastered "world-class" satellite navigation technology for its BeiDou system and has promised to ramp up investment to create a complete industrial chain of manufacturing and services.
The BeiDou Navigation Satellite System was officially commissioned by Chinese President Xi Jinping on Friday. In June, the 55th and final satellite was put into orbit, completing the navigation network that has been in development since 1994.
BeiDou's core components are "100% made in China," said Ran Chengqi, director general of the China Satellite Navigation Office, at a press conference on Monday.
The 28-nanometer chips that enable mobile devices to receive signals from the satellite are now being domestically mass-produced with the more advanced, high-precision 22-nanometer chips to soon follow suit, showing that China has mastered "world-class" technologies for satellite navigation chips, Ran said.
BeiDou is currently the world's fourth operating global navigation system, besides the U.S.-owned GPS, Russia's Glonass and the European Union's Galileo.
China's navigation system can provide global positional accuracies of under 10 meters (32 feet) and serves more than 100 million users in about 120 countries, supporting services such as smart ports and land mapping, according to Ran.
Chinese companies' participation significantly lowered the costs of components, Ran said. A high-precision panel used in a satellite navigation system could have cost over 100,000 yuan ($14,300) a decade ago, but now Chinese manufacturers can make them for less than 3,000 yuan and still profit, he said.
Ran said China will create a complete industrial chain of chips, boards, and satellite services for BeiDou. In the past decade, the total output value of China's satellite navigation and location services industry has grown at an average annual rate of more than 20% and is expected to exceed 400 billion yuan in 2020, according to Ran.
BeiDou has to some degree already surpassed GPS in terms of technologies, said Chen Jinpei, CEO of a positioning company linked to Chinese ecommerce giant Alibaba Group Holding Ltd. But Chen said the Chinese system is still far behind in adoption and commercial application.
However, the upcoming technology revolutions brought by 5G networks will be a chance for the Chinese system, Chen said. In future, more and more objects will be connected to the internet, creating a whole new market, and generating new demand for positioning services, he added.
Download our app to receive breaking news alerts and read the news on the go.
Contact reporter Mo Yelin (yelinmo@caixin.com) and editor Joshua Dummer (joshuadummer@caixin.com)
You've accessed an article available only to subscribers
VIEW OPTIONS
Share this article
Open WeChat and scan the QR code