Joe Biden Chooses Kamala Harris as Running Mate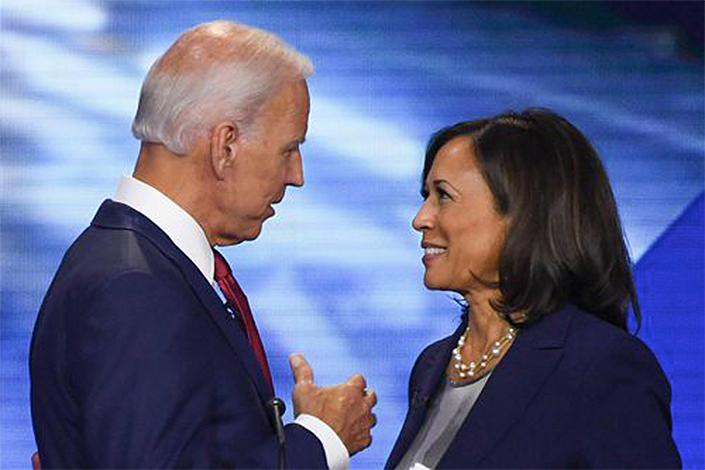 (Bloomberg) — Presumptive Democratic Party presidential nominee Joe Biden chose Senator Kamala Harris as his running mate Tuesday, betting that her ties to the African-American community and self-branding as a "progressive prosecutor" will help propel him to the White House.
Harris, 55, who ran against Biden in the Democratic presidential primaries, becomes the first Black woman and first Asian-American on a major party presidential ticket. Known as an aggressive campaigner, the junior senator from California has won statewide elections in the most populous U.S. state three times. She built her early career as district attorney of San Francisco and later California attorney general.
"I have the great honor to announce that I've picked @KamalaHarris — a fearless fighter for the little guy, and one of the country's finest public servants — as my running mate," Biden tweeted.
Harris tweeted her own response, pledging to help Biden defeat President Donald Trump.
"@JoeBiden can unify the American people because he's spent his life fighting for us. And as president, he'll build an America that lives up to our ideals. I'm honored to join him as our party's nominee for Vice President, and do what it takes to make him our Commander-in-Chief," she said.
The presumptive Democratic nominee announced the selection six days ahead of the party's convention, which begins Aug. 17.
The two candidates will appear together in a virtual fundraiser on Wednesday and at events in Delaware in the coming week. Harris will face Vice President Mike Pence in an Oct. 7 debate scheduled to be at the University of Utah.
Biden made his decision based on his own eight years as Barack Obama's vice president. He often said he hoped to choose a running mate with whom he'd be compatible and shares values, even if she came from a very different background than his.
Obama said Biden had "nailed this decision."
"Now Joe has an ideal partner to help him tackle the very real challenges America faces right now and in the years ahead," Obama said in a statement.
With her history in law enforcement, Harris could help Biden revamp the U.S. criminal-justice system, which has been under intense scrutiny since nationwide protests after the May 25 death of George Floyd in Minneapolis police custody. Her tough stance for police reform in recent months, including co-authoring a Senate bill to ban police chokeholds and other steps, has helped mute criticism from advocates of her own record as a prosecutor.
Harris has drawn criticism over her aggressive prosecution of men of color, some of whom were later exonerated, for serious crimes. Harris responded to that criticism by describing herself as a progressive prosecutor who worked to thread the needle between law-and-order toughness and a protective instinct for those who needed it.
Since 2016, Harris has used her position as U.S. senator from California to push for a rise in the minimum wage, bail reform, and greater legal protections for immigrants and refugees.
She has also been a staunch advocate for protecting U.S. intellectual property, putting forward a bill late last year that would broaden the power of public prosecutors to go after foreign hackers who target American trade secrets.
In May, Harris and other senators introduced a resolution opposing Trump's use of the term "Wuhan virus" to describe the pathogen that causes Covid-19, and condemning "all manifestations or expressions of racism, xenophobia, discrimination, anti-Asian sentiment, scapegoating, and ethnic or religious intolerance" in the United States.
Biden committed to choosing a woman even before he'd won the nomination, making a surprise announcement during the final debate of the primary in mid-March. Harris endorsed Biden on March 8, throwing her support behind his candidacy after sharply criticizing him in the Democratic primaries.
Trump said he was "a little surprised" that Biden selected Harris as his running mate, saying she had been "nasty" to the former vice president in primary debates, using a term he usually reserves for women.
"I thought she was the meanest, the most horrible, the most disrespectful of anybody in the U.S. Senate," Trump said.
The Trump campaign released a Harris attack ad within minutes of the announcement.
China features heavily in the foreign policy of both main U.S. parties as the presidential election approaches.
On Tuesday, Trump repeated his stance that Biden would take a weak stance on the rising Asian power, saying in a radio interview that "China will own the United States" if his opponent wins the election.
Biden, meanwhile, has signaled a more hardline attitude toward China while casting Trump's approach as a failure. The 77-year-old Democrat has previously criticized Beijing for the crackdown on anti-government protests in Hong Kong and for alleged rights abuses in the far western region of Xinjiang, accusations that China denies.
Du Zhihang and Matthew Walsh contributed to this report
Contact reporter Matthew Walsh (matthewwalsh@caixin.com) and editor Yang Ge (geyang@caixin.com)
Download our app to receive breaking news alerts and read the news on the go.
You've accessed an article available only to subscribers
VIEW OPTIONS
Share this article
Open WeChat and scan the QR code