Chinese Buy Up Real Estate but Hold Off on Dining Out, Gambling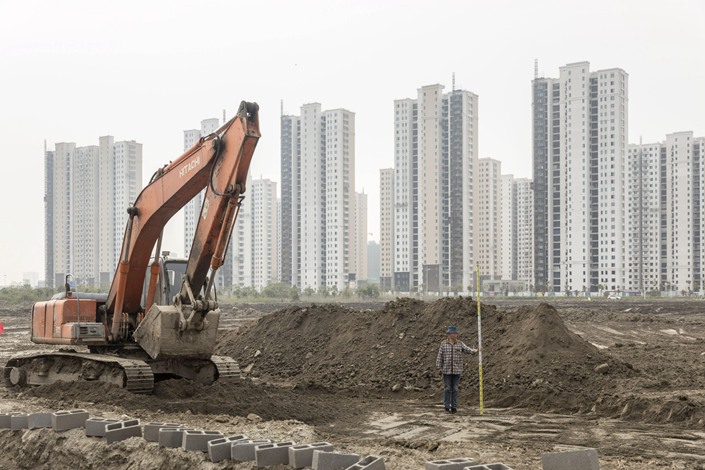 A worker stands with a level staff next to an excavator on April 26 at a construction site for a school in Ningbo, East China's Zhejiang province. Photo: Bloomberg
(Bloomberg) — Chinese households are putting more of their savings into property but still holding back on discretionary spending, as a slow and fragile economic recovery keeps confidence in check.
That is the insight from the latest data ranging from property spending to dining out, gambling to travel, as part of a regular, comprehensive look at the health of the Chinese consumer.
There's still little sign yet of the hoped for broad rebound in consumption. Even though the virus is basically under control in China, households are facing job losses, stagnant wages and surging prices, undercutting any pent-up desire they might have to buy more or go out to restaurants.
Retail sales shrank 1.1% in July from a year ago, according to data released last week. In the first seven months of this year, total sales were down almost 10% from 2019.
While sales of goods eked out a 0.2% rise, people's unwillingness to go to eat out was a big drag on consumption, with spending on catering down 11%.
Auto sales
The rebound in car sales in July was one recent bright spots, but that obscures the weakness in the sector after more than a year in decline. The rise in retail car sales was much slower than the increase in car production, and that can be seen in the higher number of unsold cars, with inventories at auto companies up 11.6% from a year ago.
That mirrors the two-speed recovery in the broader economy, with industrial output returning to the speeds seen last year but private spending still lagging.
And even with the recovery, it's not enough to make up for the damage from the first half of the year. Car sales are still expected to be down 10% in the whole of 2020, after dropping in 2019.
Housing recovery
On the other hand, the housing market has seen a big up tick in activity and prices in recent months, showing that even as people hold back on discretionary spending, they're willing to buy houses, which are seen as a safe place to store wealth.
China home-price growth slowed for the first time in five months in July, as authorities maintained a more measured pace of monetary easing and clamped down on speculative demand. The value of home sales was lower than in June, when it hit monthly record of 1.84 trillion yuan ($265 billion), Bloomberg calculations show, but was still above the amount sold in July 2019.
Less travel
Travel data also show a picture of incomplete recovery. Highways and rail passenger traffic still shows fewer people traveling in June than in the same period last year, indicating that not many are traversing long distances, whether for work or tourism.
That trend is still evident in subway usage as well.
Gambling
Gambling in Macau is traditionally a good indicator of discretionary spending in China, as people would go there to wager, play or move money. That came to a crashing halt in February, after the borders between Macau and the Chinese mainland shut to try and control the Covid-19.
The announcement last week that China would start issuing tourist visas for Macau again might start to reverse that collapse.
Contact editor Yang Ge (geyang@caixin.com)
Support quality journalism in China. Subscribe to Caixin Global starting at $0.99.
You've accessed an article available only to subscribers
VIEW OPTIONS
Share this article
Open WeChat and scan the QR code