Gallery: Tourists Cheek by Jowl as Travel Peaks
Oct. 7, 2020
Share this article
Open WeChat and scan the QR code
Thousands of tourists visit the former residence of Lu Xun, modern China's most famous writer, on Sunday in Shaoxing, East China's Zhejiang province.
A tourist holds up a handful of Chinese flags on Tuesday while visiting the Sihang Warehouse Battle Memorial, which commemorates a World War Two battle in Shanghai.
Tourists ride camels across a desert Saturday at the Crescent Lake scenic spot in Dunhuang, Northwest China's Gansu province.
Tourists take photos of the surging tidal bore along the Qiantang River on Sunday in Haining, Zhejiang. During the first four days of the National Day Holiday, about 425 million people made trips domestically, according to the Ministry of Culture and Tourism.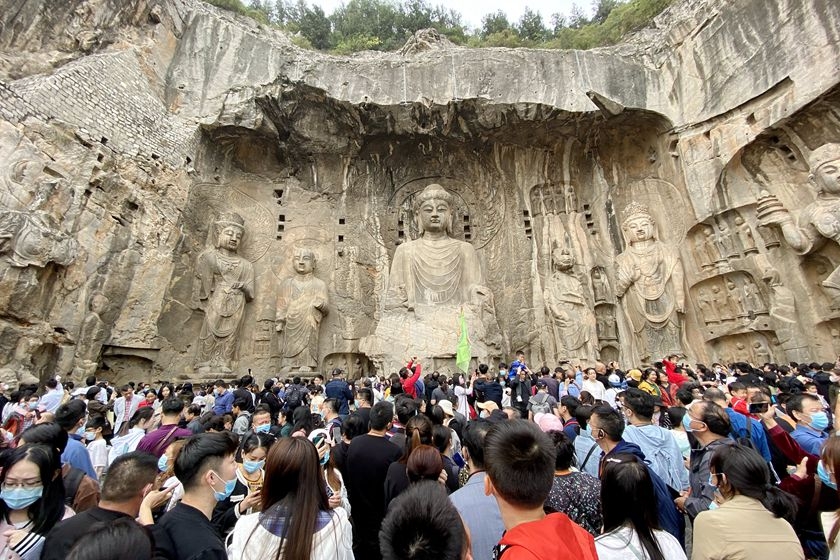 Tourists flock to the Longmen Grottoes, a popular tourist attraction in Luoyang, Central China's Henan province, on Sunday.
Tourists throng in the Shenyang Station on Wednesday in Shenyang, Northeast China's Liaoning province.
Passengers wait for their trains at Shenyang Station on Wednesday. As the eight-day holiday for the National Day Holiday and Mid-Autumn Festival is close to an end, many railway stations have seen a large number of passengers ready to return home.
Drivers get stuck in a traffic jam Tuesday on the Tongxi highway in Nantong, East China's Jiangxi province.
Next Gallery

Recent Galleries
Load more...