BMW's Chinese Partner Cancels Hong Kong Share Pledge Amid Debt-Dodging Complaints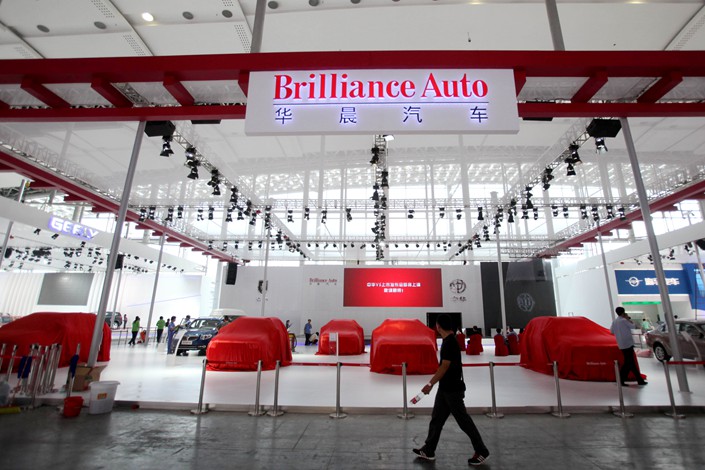 Brilliance Auto, the parent of BMW's main Chinese joint-venture partner, has cancelled a plan to pledge shares in a Hong Kong-listed subsidiary to secure a loan. Photo: IC Photo
The parent of BMW AG's main Chinese joint-venture partner has canceled a plan to pledge shares in a Hong Kong-listed subsidiary for loans amid accusations that the state-owned automaker was deliberately failing to pay its debts.
Liaoning Xinrui Automotive Industry Development Co. Ltd., a wholly owned subsidiary of Brilliance Auto Group Holdings Co. Ltd., has terminated the plan to pledge a 30.4% stake in Hong Kong-listed Brilliance China Automotive Holdings Ltd., according to a Wednesday statement (link in Chinese) issued by Brilliance Auto.
The move by the Liaoning province-based company indicates that investor complaints have had an impact as Brilliance Auto had defaulted on (link in Chinese) debts totaling 6.5 billion yuan ($995.2 million) as of Nov. 14, along with 144 million yuan in interest payments.
Over the past few weeks, financial regulators have vowed to crack down on delinquent debtors, as the defaults by some state-owned enterprises sent shockwaves through the bond market and weakened investor confidence.
The statement cites difficulties in the cross-border share pledge process and negotiations with Brilliance Auto's major creditors as reasons for the decision. Last month, Liaoning Xinrui reached an agreement with Jilin Province Trust Co. Ltd. to pledge the shares as collateral for loans.
Those shares were valued at about HK$10 billion ($1.3 billion) by the close of trade on Wednesday. These are seen by many investors as core assets of Brilliance Auto as Hong Kong-listed Brilliance China owns a 50% stake in BMW Brilliance Automotive Ltd., a joint venture with BMW and a major contributor to Brilliance Auto's revenue.
Some investors suspected that Brilliance Auto may have deliberately failed to pay its debts by offloading core assets, as the company reached an agreement to transfer all of its shares in Brilliance China to Liaoning Xinrui just one month before it defaulted on a bond in October.
Brilliance Auto began restructuring after a Chinese court accepted a creditor's request in November.
At a creditors' meeting at the end of last month, proposals (link in Chinese) were submitted requesting that Brilliance Auto stop disposing of assets and pledge to honor its debts.
Brilliance Auto is perhaps best known for its collaboration with German car giant BMW. That joint venture is an important player in China's luxury passenger car market. In the first half-year, it contributed 4.4 billion yuan to the net profit of Hong Kong-listed Brilliance China who would have seen a net loss without the contribution. Over the same period, Brilliance Auto reported (link in Chinese) a net loss of 195.9 million yuan.
Contact reporter Guo Yingzhe (yingzheguo@caixin.com)
Download our app to receive breaking news alerts and read the news on the go.
You've accessed an article available only to subscribers
VIEW OPTIONS
Share this article
Open WeChat and scan the QR code