Editorial: Innovation Is China's Only Path to High-Quality Growth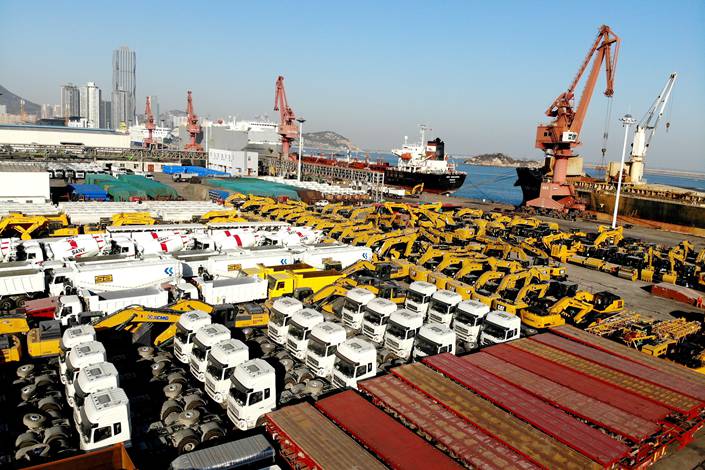 After more than 40 years of painstaking efforts at reform, China managed to drive its GDP over the 100 trillion-yuan for the first time.
China's total economic output has reached a new high. The National Bureau of Statistics recently revealed that in 2020, China's GDP amounted to 101.6 trillion yuan ($15.7 trillion), exceeding 100 trillion yuan ($15.4 trillion) for the first time. This exciting figure serves as an important testimony to China's remarkable growth in overall strength.
However, the nation's lack of innovation capacity remains an obvious bottleneck hindering the high-quality and sustainable development of China's economy. To maintain the economy's galvanization, the country needs to deepen reform and opening-up while strengthening its capacity to innovate through institutional reform.
After more than 40 years' painstaking efforts at reform and opening-up, China managed to drive its GDP over the 100 trillion-yuan threshold for the first time. It was truly a hard-won achievement. Even more impressive is that amid the world-threatening Covid-19 pandemic, China was the only major economy to maintain positive growth in 2020.
Yet despite these successes, China remains the world's the largest developing country, its GDP per capita below the global average and far behind that of developed countries. In terms of GDP per capita, studies show that China's relative position in the world today is much lower than that of the U.K. and the U.S. when they successively rose to the position of leading world power. Furthermore, this will continue to be the case for the next 20 years.
As the commissioner of the National Bureau of Statistics said: "China's basic national condition is still in the primary stage of socialism. Unbalanced and inadequate development is a pressing problem confronting our country. There is a notable gap between urban and rural development, and innovation capacity is entirely too weak to support high-quality development." This assessment hits the nail right on the head. If China does not break all institutional and ideological barriers restricting innovation, its innovation deficiency will become the national economy's "Achilles' heel."
While the quantity of economic growth is certainly significant, its quality is even more important, especially for upper-middle-income countries, like China. The principal contradiction in Chinese society has evolved to exist between people's ever-growing need for a better life and the imbalance and inadequacy of development.
High-quality development is absolutely key to resolving this contradiction and meeting the most pressing challenges of stimulating consumption, improving income distribution and enhancing environmental protection. High-quality development finds expression in the specific requirements of the five major development concepts: innovation, coordination, greenness, openness and inclusiveness. Among these, innovation is first and foremost.
As a next step, the Chinese authorities should introduce index, policy, standard and statistical systems as well as mechanisms for performance evaluation and appraisal to promote high-quality development, while encouraging regional governments to explore effective drivers of high-quality development. The strengthening of innovation capacity should undoubtedly be a top priority.
Innovation capacity is directly related to the quality and sustainability of economic development. From 1978 to 2020, China's GDP soared from 364.5 billion yuan ($56.3 billion) to 101.6 trillion yuan. However, the extensive economic growth model that fostered this phenomenon is still in play today, despite the steady decline in total factor productivity, an indicator of growth efficiency.
Today the innovation problem is more prominent than ever, greatly stalling China's shift toward high-quality development. Games among superpowers and an intensified anti-globalization movement in recent years have only further exposed China's development stumbling blocks, which are essentially a conglomerate manifestation of its insufficient innovation capacity.
Thus while it accelerates establishment of a "dual circulation" development pattern in which the domestic economic cycle plays a leading role and the international economic cycle serves as its extension and supplement, China needs to step up efforts to strengthen innovation capacity with a greater emphasis on basic research and original creation. Without original innovation, China will be stuck in a passive position where it can only keep up by imitating developed economies.
When driving high-quality development through innovation, there are a number of paths that the country should be careful to avoid. The first is the path based on the "glide theory." Some believe that China can sustain economic growth as long as it acts in accordance with existing policies. Some even seem to think that the country is blessed with unstoppable growth momentum. The truth is that no economy can simply glide all the way up without being proactive. Innovation is a dynamic concept, and the developed world will not simply stand aside as China moves ahead.
Another undesirable path is based on "input theory." Here, large-scale human, financial and material resource inputs over a certain period give the false sense that innovation capacity will be cultivated naturally, and problems arising in any field will be solvable simply through collective effort. Both glide theory and input theory bear a nihilistic attitude toward institutional mechanisms and view innovation in isolated and pragmatic terms. This is utterly unwise.
To predict the future, we can only look to the past. How did China's economy manage to stand against all forecasts of its decline and maintain growth to this day? The answer is reform and opening-up. Now, moving forward from a new starting point, the country must act in accordance with the deployment of policymakers to set up an advanced market economy system and further improve economic openness.
The strengthening of economic innovation capacity requires not only the development of specific products but also the establishment of a complete set of institutional mechanisms. China needs to enhance the protection of property rights and guarantee fair competition in the market to stimulate the vitality of market entities.
Meanwhile, it needs to push ahead with all-around reforms in scientific research, education and the political system. China has never been short of outstanding people; what it has lacked is a relaxed, tolerant and generous environment where the wisdom of its people can be brought into full play.
Using innovation to drive China's high-quality economic development depends on a favorable international environment as well. Following the release of China's latest GDP data, multiple international research institutions issued predictions that China would overtake the U.S. and become the world's largest economy by 2028. Precisely for this reason, we can anticipate the continuation of superpower games into the foreseeable future, which bring with them the risk of "technological decoupling."
Under such circumstances, China must resolutely safeguard its legitimate rights and interests, while striving to create a new pattern of international cooperation and a new model for major power relationships. China should proactively uphold and improve the rules of multilateralism, and learn from best practices in terms of institutional mechanisms. The world eagerly awaits signs that China-U.S. relations are entering a new stage with the inauguration of the new U.S. administration.
In ancient times, China long held the title of the world's largest economy. In its modern history, however, China's rigid systems and concepts, including isolationist policies, stuck it in a passive position. Its share in the global economy slipped to the point where it was disproportionate with the size of its population. Its economic growth was negligible in quantity, to say nothing of its quality. Lessons drawn from this history are fresh in the minds of the Chinese people. China still has a long way to go before the great rejuvenation of the Chinese nation is achieved. Bearing history in mind, China must continue to deepen reform and opening-up, setting its economy on a track for high-quality development driven by innovation.
Support quality journalism in China. Subscribe to Caixin Global starting at $0.99.
You've accessed an article available only to subscribers
VIEW OPTIONS
Share this article
Open WeChat and scan the QR code

China Stories: Strict Rules at Home Push Chinese Metaverse Entrepreneurs, Investors Overseas