Mar 02, 2021 08:23 PM
CHINA
China's Pace of Vaccinations Is a 'Great Concern,' Disease Expert Warns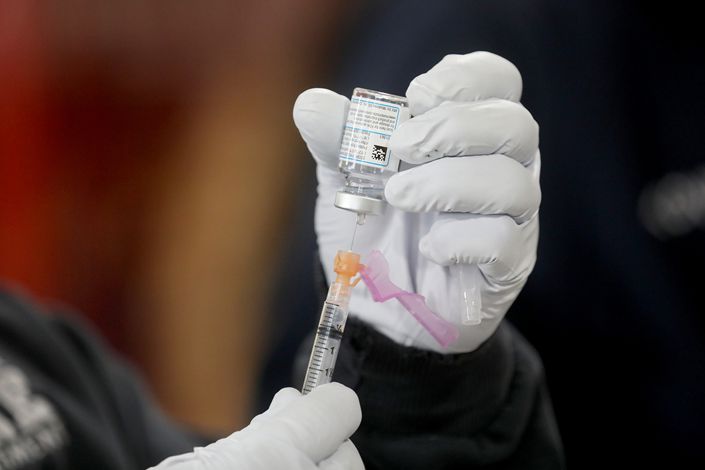 China should speed up the pace of vaccinations to plug the immunity gap against Covid-19 in the population, a top epidemiologist has warned.
Zhang Wenhong, director of the infectious disease department at Shanghai's Huashan Hospital, told an online event hosted by the Washington-based Brookings Institution on Monday that China has sufficient Covid-19 vaccine production capacity, but the pace of vaccination is of "great concern."
Zhang said the production output of Covid-19 vaccines in China is expected to be increased to 2.1 billion by year-end, more than one dose per person for the whole Chinese population.
"So, I don't think we need to worry about capacity in China," he said.
Read More
Tip Sheet: Key Facts to Know About China's Vaccine Race
However, "I have great concerns about the speed of administering the vaccination," he said.
Even with 10 million doses of inoculation being administered every day, he estimated it will take up to seven months to vaccinate almost 70% of the population, a threshold believed necessary for herd immunity.
Herd immunity occurs when a high percentage of the community is immune to a disease through vaccination and/or prior illness, making the spread of the disease from person to person unlikely.
Even individuals not vaccinated would then be offered some protection because the disease had little opportunity to spread within the community.
The percentage of people who need to be immune in order to achieve herd immunity varies with each disease. For example, herd immunity against measles requires about 95% of a population to be vaccinated, while for polio, the threshold is about 80%. The threshold for Covid-19 is not known, according to the World Health Organization (WHO).
Citing sources at China's Center for Disease Control and Prevention (China CDC), prominent epidemiologist Zhong Nanshan, told the same Brookings event that China is planning to vaccinate about 40% of its entire population by end of June.
"That would be OK, but it still needs time to reach the so-called herd immunity," he said.
"The key point around the world is for people to receive the vaccine as soon as possible," said Zhong, also head of an expert group at China's National Health Commission. "The longer it takes for you to get the vaccine, the more likelihood for mutation of the virus. That's a big problem."
He urged that the world "should speed up the production of all the vaccines and prepare some new type of vaccines sensitive to variants of the virus."
Since Feb. 9, China has administered a total of almost 41 million doses of Covid-19 vaccines, according to Zhang, also head of Shanghai's anti-Covid-19 clinical expert team. This equates to nearly 2 million doses per day, but Zhang said the country should be administering at least 5 million doses per day to finish before June.
According to Our World in Data's global vaccination dataset of doses administered per 100 people in various countries, China had vaccinated 3.56% of its population as of Feb. 27. Israel had vaccinated 92.46%, the United Arab Emirates 60.82%, the United Kingdom 30.13%, and the United States 22%.
"China's current strategy is to promote the establishment of the global immunity effort in an internationally coordinated framework," Zhang said. "Meanwhile, we will ensure that our own vaccination strategies are gradually improved."
Read More
China Chat 02: Vaccine Passport, Chinese Consumption, US-China
Contact reporter Lu Zhenhua (zhenhualu@caixin.com) and editor Michael Bellart (michaelbellart@caixin.com)
Download our app to receive breaking news alerts and read the news on the go.
Follow the Chinese markets in real time with Caixin Global's new stock database.
You've accessed an article available only to subscribers
VIEW OPTIONS
Share this article
Open WeChat and scan the QR code

Caixin-Sinica Business Brief: TikTok CEO Pushes Back on Security Concerns